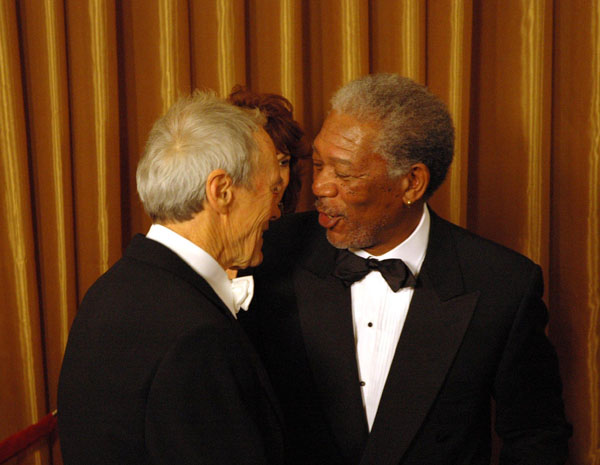 Clint Eastwood and Morgan Freeman on 1/29/05 at the Directors Guild Awards. Credit: WENN
Even though it would be nice to view Morgan Freeman and Clint Eastwood as immortal, it's not the case. Day by day, Clint Eastwood seems to be revealing himself as either a humorously out-of-touch casual racist from a bygone era or a truth-telling wise mahatma who simply is too old to care. Morgan Freeman, on the other hand, had his mortality tested last year when he got into a bad car accident with a woman who probably was not his mistress, but is very litigious.
Clint and Morgan are old friends, having worked together several times over the past two decades. When Clint was on "Inside the Actor's Studio", he alluded to the fact that they were friends even before they worked together, and Morgan probably has a great affection for Clint because Morgan finally won his well-deserved Oscar for an Eastwood film (Million Dollar Baby).
Several months ago, it was announced that Clint would be directing the Nelson Mandela bio-pic called The Human Factor, and he was casting his old friend Morgan as Mandela. These director and actor choices were hailed as brilliant all-around, but now the insurance companies are giving the whole thing a second look. It seems the only way the funding will go through is if there is an on-set doctor to look after both Morgan and Clint. PR Inside has more:
The producers of Clint Eastwood's new movie starring Morgan Freeman have hired a private doctor to remain on-set at all times to look after the veteran stars, according to a new report.

Freeman, 71, who plays Nelson Mandela in upcoming drama The Human Factor, is allegedly being monitored carefully by the medic, following a serious car crash in August (08) that left him with a broken arm and shoulder and a paralysed hand.

And movie bosses also want to make sure Eastwood, 78, is looked after during filming.

A source tells the New York Daily News, "There's a huge budget for the film at stake."

These guys are getting up there in age. Sure they had physicals before leaving – everyone has to. But (the private doctor) was just an agreed upon decision on all sides of the table."
From PR Inside
It would be easy to come up with half a dozen crotchety-old-man jokes, but I don't have the heart for it. I'm more worried about Morgan's health than Clint's. Clint's mother is still alive and kicking it well into her 90s, and I have a feeling Clint will probably take after her. I really hope Morgan makes it through what will be a grueling film – playing Nelson Mandela could be his greatest role.