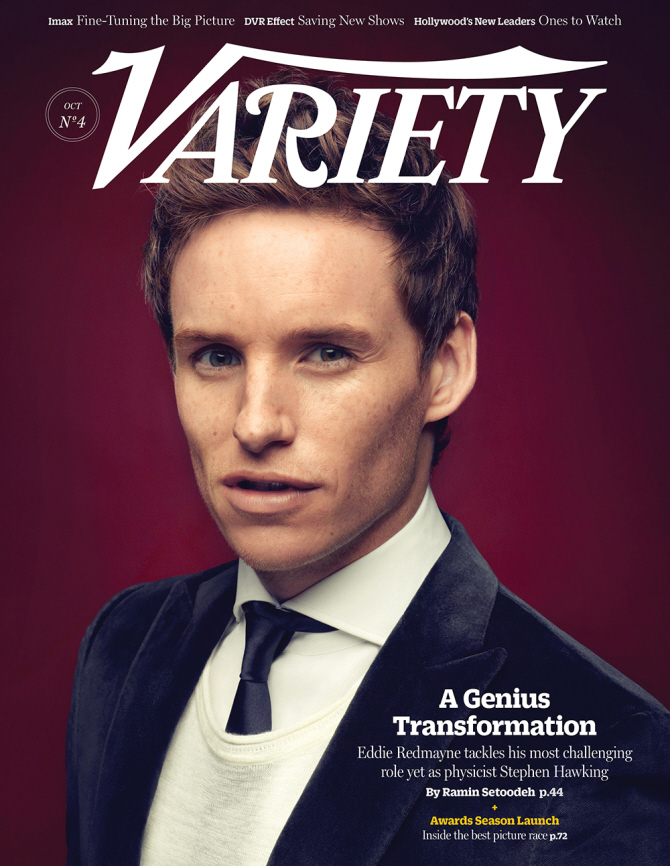 Eddie Redmayne isn't my particular cup of tea, looks-wise. He's too pretty and model-y for my taste, although I've seen many photos of him where all I can think is "wow, such a beautiful, interesting face." So, is this the best photo of Eddie on the cover of Variety? Nope. I think they were aiming for sultry and it just became… weird. The Variety article is about Eddie's career thus far, how he struggled to find work in the early days, and how he prepared for The Theory of Everything and playing Stephen Hawking. It's a great read – go here to read the whole thing. Eddie comes across as a really nice dude with a big group of friends and colleagues who adore him. He even talks about Benedict Cumberbatch and the possibility that two posh Brits could be going head-to-head for the Best Actor Oscar. Some highlights:
Eddie on his friend Benedict Cumberbatch: "I totally see why people are (comparing us), because of the subject matter; we both play geniuses. But I won't be engaged in that. I think he's the most beautiful actor. I've long admired his work, and continue to do so. I hope there's room for both our films." Cumberbatch had played Hawking in a 2004 BBC TV movie, and the actor's name even showed up on set one day, when "Theory of Everything" was filming at his old boarding school. "There was this hilarious moment when we were shooting a scene at Harrow School," Redmayne says. "There was a wooden board with names engraved on it, and by my head was 'B. Cumberbatch.' I'm like, 'Dude, you're haunting me!' I took a selfie of me dressed as Stephen and sent it to Ben."

He's not a movie star: "A movie star is someone who has to open a film to gazillions of dollars. I'm just trying to pay my mortgage."

This is what Kristen Stewart says about him: "We had a great time together. This is not a word I use a lot, but it describes him perfectly. He is a f–king lovely man. And he's astounding as an actor. He's the type of actor, and guy, you want to go on an adventure with."

His time in LA, struggling with Andrew Garfield, Tom Sturridge & Jamie Dornan: "You'd come over for a month. We used to go to the Standard Hotel in West Hollywood, and split a sandwich between us because that meant we could get cheaper parking. We'd swim and play table tennis for hours. We were staying on friend's agents' floors, and renting places together. I'd be driving the cheapest rental car. But then you'd get to turn up at the CAA party. All these huge limos would arrive. I'd be in this red blob."

E.L. James dissed him when he said he would be open to playing Christian Grey: "She took to her Twitter feed to go, 'Under no circumstances!' I was like, all right, all right! Am I that bad? I can put a whip in my hand. I can get all kinky, can't I? Apparently not."
He should take it as a badge of honor that E.L. James dissed him. That should get him MORE work. Anyway, most of the article is about the process Eddie went through to show Hawking's physical deterioration and it's pretty clear that Eddie put a ton of work and research into the role. Hawking even liked Eddie's performance so much, he agreed to lend his computerized voice to the film to make Eddie's performance more authentic. Eddie also says that Hawking totally flirted with Felicity Jones, the actress playing Hawking's first wife. Here's something else I didn't know: at one point, early in the process of casting this film, producers wanted Michael Fassbender. That would have been a fascinating casting choice, but I'm glad it went to Eddie.
So, if it does come down between Benedict's Alan Turing and Eddie's Stephen Hawking, who has the upper hand with the Academy? The Academy loves posh British actors, so that's kind of a wash. I feel like Benedict is more "familiar" to the average Oscar voter, but I think Eddie's physical transformation will be a huge factor. Sigh… I just hope they BOTH get nominated. Seriously.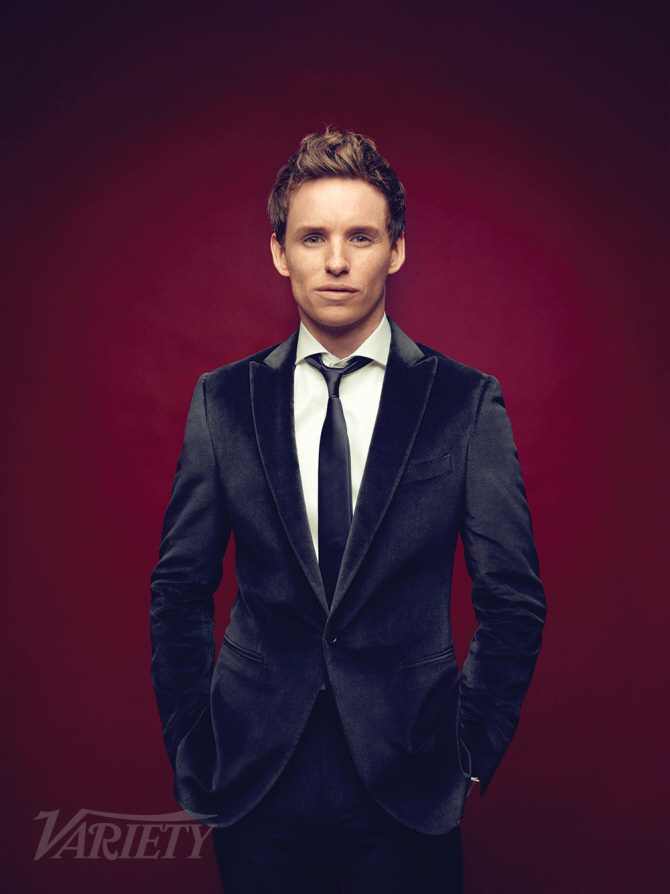 Photos courtesy of Robert Maxwell/Variety.