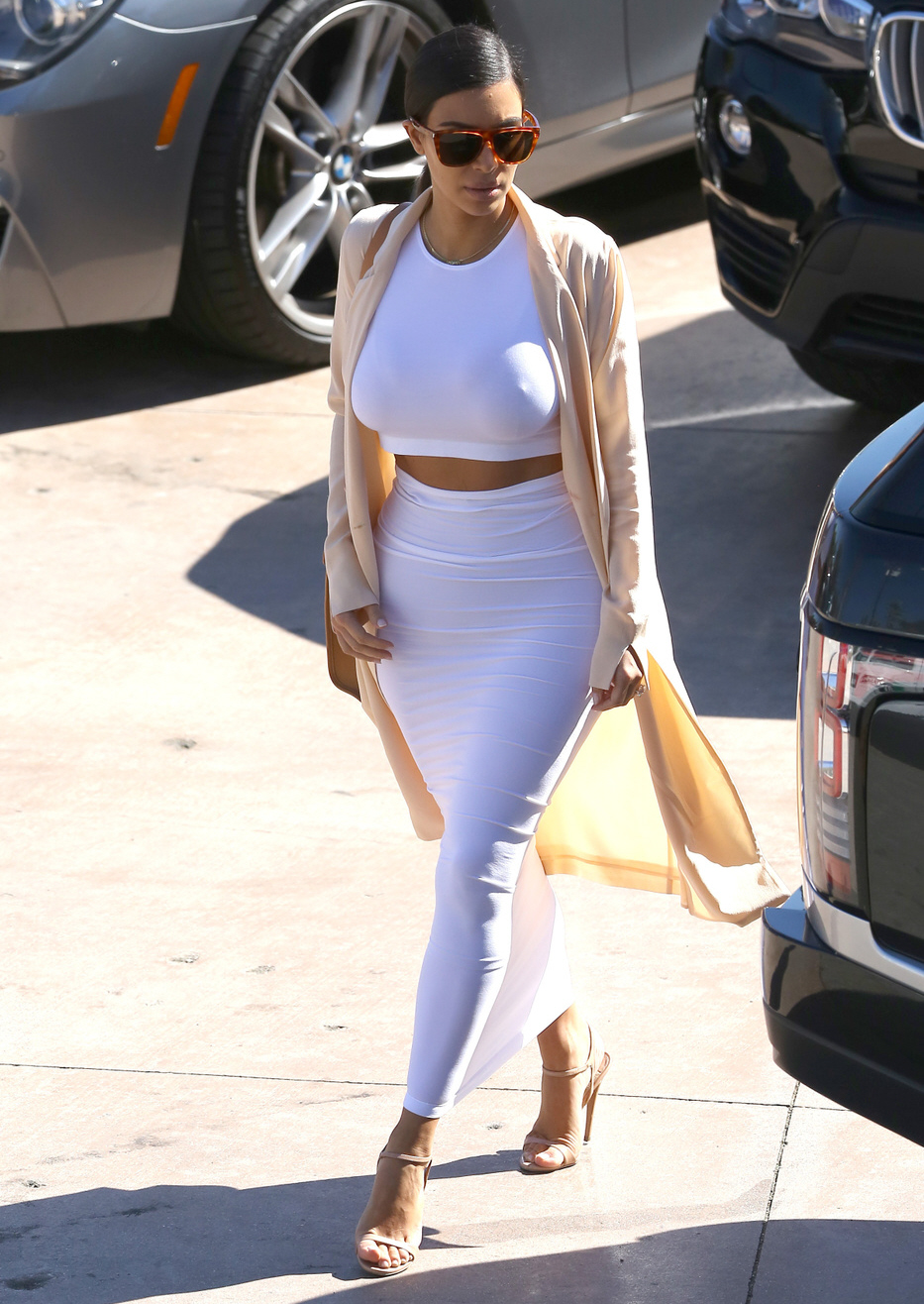 Here are some photos of Kim Kardashian and her sisters dropping off cards and gifts for Bruce Jenner's birthday earlier this week. I think these photos are from Wednesday. Kim's ensemble is an eyesore and of course it's much, much too tight. But it's not even the worst thing she's worn this month.
Given Kim's unfortunate habit of exposing her body in weird ways AND given Kim's recent obsession with "waist training," can we say for sure that she's not pregnant right now? Apparently we can't say that, because there's a rumor going around that Kim is knocked up again. The gist is that Kim did a video interview with Pixiwoo at some point in the last month and she was talking about maternity clothes. She said: "I wore my regular clothes and I would just buy a size up. I don't know if I would necessarily do that this time around…Pregnancy style is hard." Do you see what people are picking apart? "THIS time around." God, I really hope this is true. I want her to be pregnancy twinsies with Duchess Kate again. PLEASE LORD LET IT HAPPEN. It's probably not happening though – Kim's rep told Page Six definitively that Kim is "not pregnant." BOO!
Meanwhile, I'm sure this story is crap but it made me laugh so much. Probably because it sounds so possible and so Kanyeezington.
If you are Kanye and Kim, you expect much more than just success. You expect a worldwide takeover!

"What they're hoping for as parents is that [North] will find something that she loves doing every single day and, by default, make money from it. Whether it's being a writer, a composer, an artist, a teacher, an inventor of the next big idea, whatever — it will never be work for her because she's privileged enough to only do things that she loves and enjoys," a source close to Kimye explained to HollywoodLife.com EXCLUSIVELY.

"[Kanye] wants her to live the life and become one of the greats like him, or Emily Dickinson, or [Albert] Einstein, or Chopin, or Rembrandt. This is the life they want her to have and she will."

In an effort to get little North up to speed on the "legends," Kanye spends a lot of his quality time enlightening her tiny brain with masterpieces.

"[Kanye] reads poems to her and plays all types of music for her including scores from the most renowned composers," our source explained. "He loves it when she scribbles on the paper in her bedroom or when she speaks her own baby language. He lets her explore life to the fullest because he wants her mind to know no boundaries."
North West is the new Emily Dickinson! She is the second coming of Albert Einstein. Or Chopin, man. You do not understand the brilliance of North West. The whole world will revel in North West's genius!!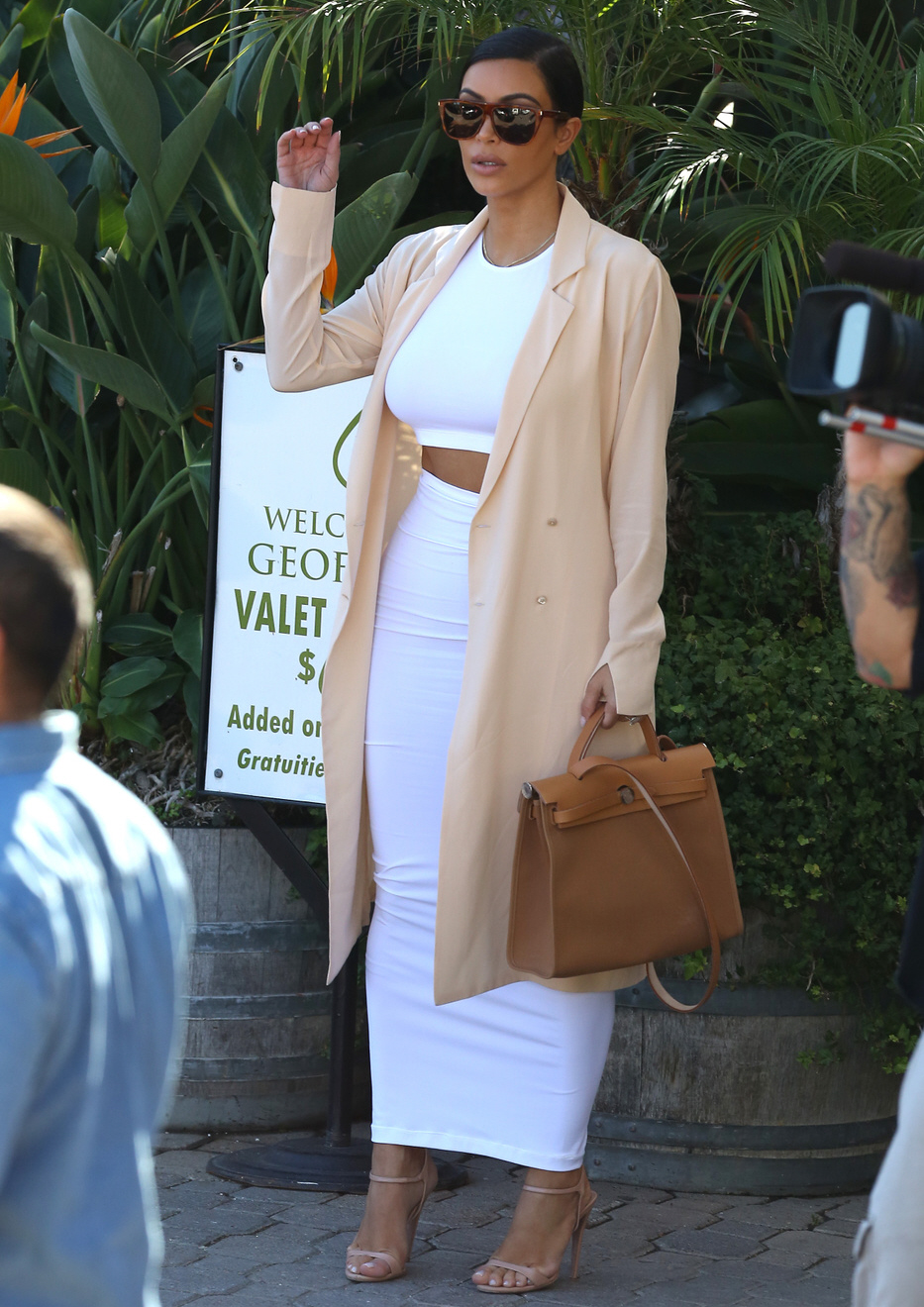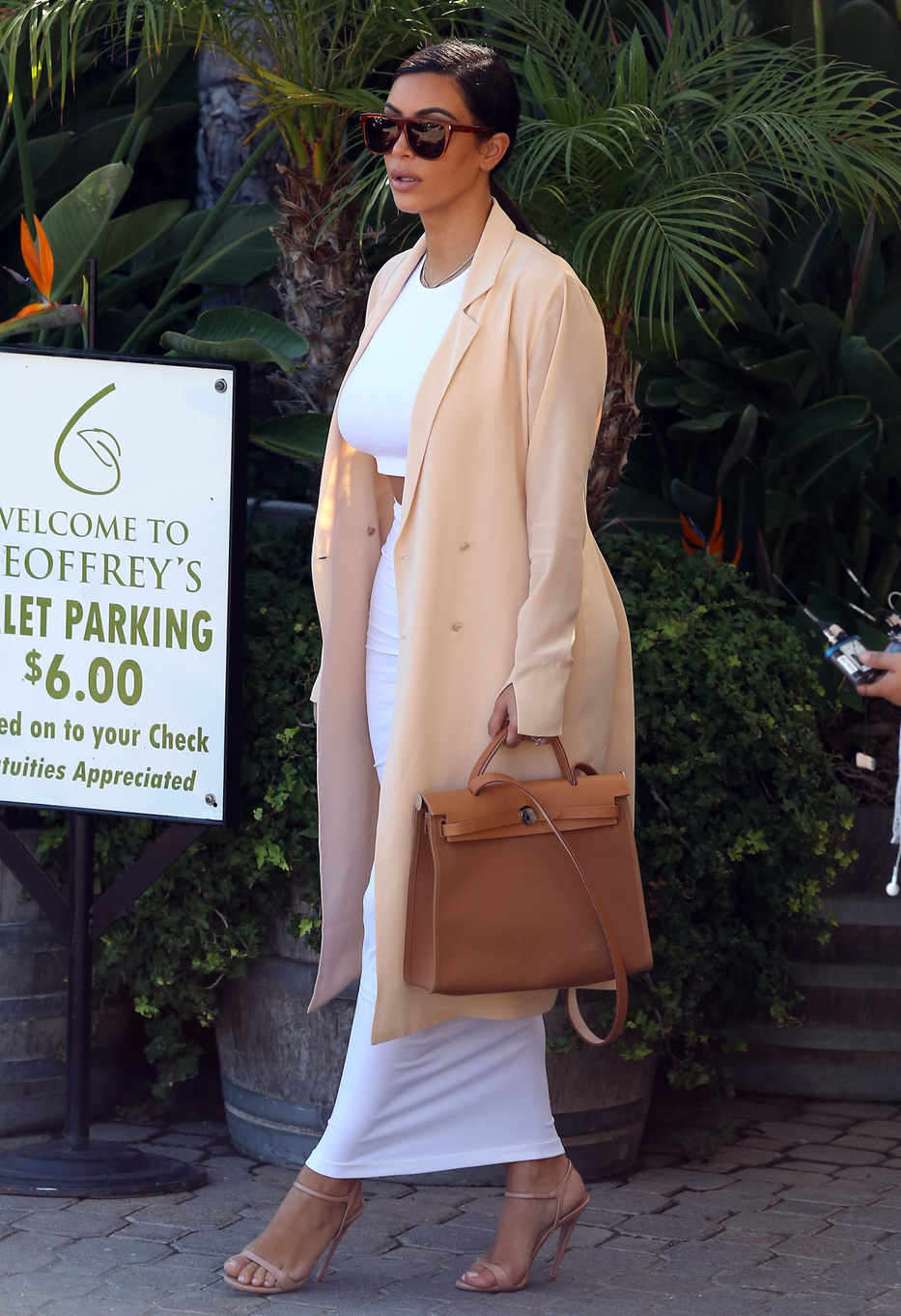 Photos courtesy of Pacific Coast News.