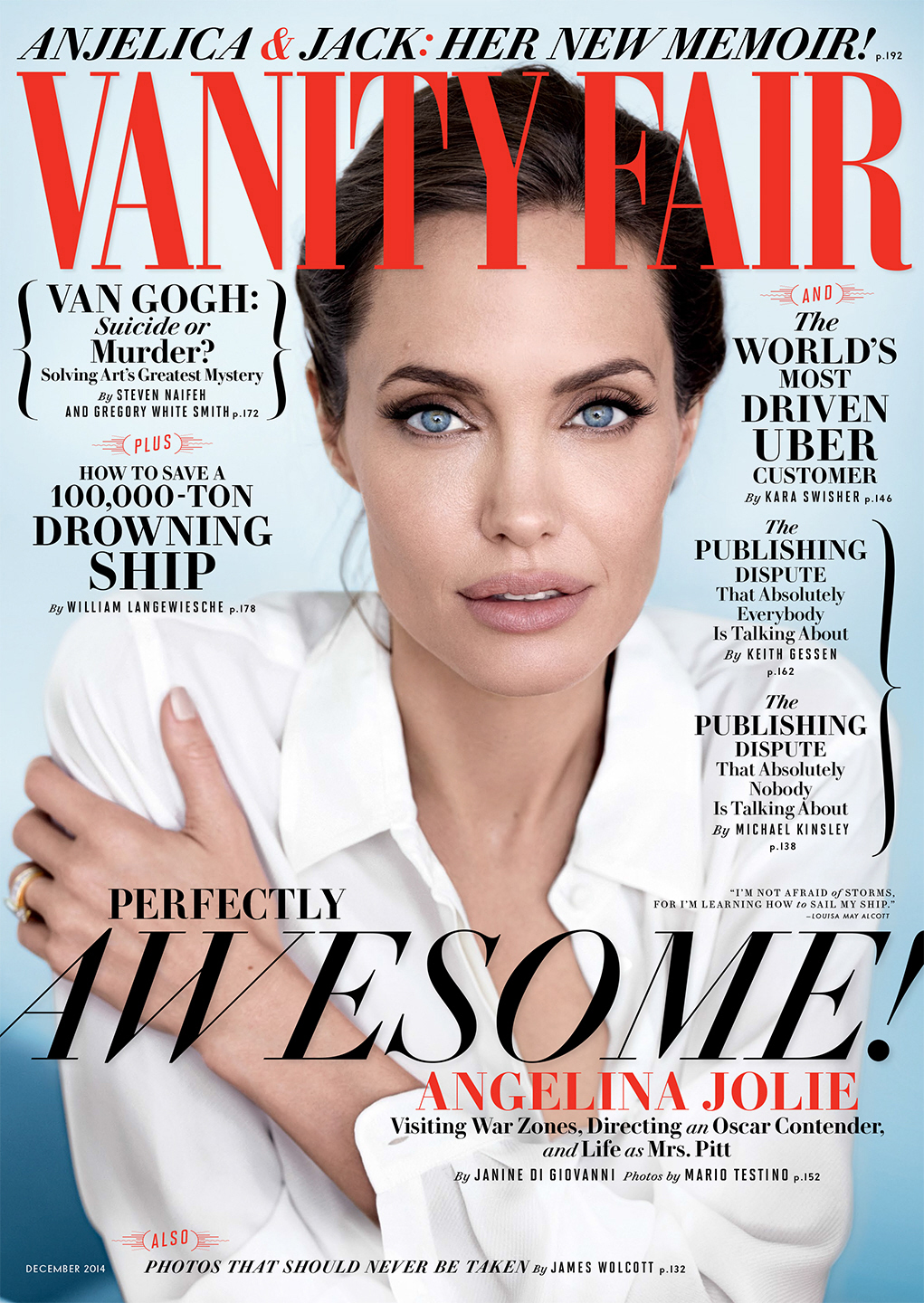 Some sites have gotten more advanced quotes from Angelina Jolie's Vanity Fair profile. The full cover article is online today (but you have to buy it). Since I'm cheap, I'm just going with the excerpts I can find for free. Like this absolutely adorable story, which is about Maddox Jolie-Pitt's girlfriend. Do you remember that? Angelina told Entertainment Tonight back in May that then-12-year-old Maddox had a little girlfriend in England. And during the course of the VF interview – which took place during the Summit To End Sexual Violence in Conflict over the summer – Zahara comes in to tattle-tale on her brother:
While speaking with the Unbroken star for Vanity Fair"s December issue, author Janine Di Giovanni was lucky enough to witness a sweet family moment, which occurred while Angie, along with her hubby and brood of six, were in London, where the humanitarian gave a moving speech at the Global Summit to End Sexual Violence in Conflict. After dining out for sushi with her family, the author writes how Jolie returned to hotel to kick back and "eat tortilla chips while watching the World Cup on the telly."

"Her daughter Zahara wanders in and leans over, 'What honey?' Jolie asks her," the mag details. "With their faces pressed close together, Zahara shares a secret, prompting a laugh. Later, Jolie says in a mock-staged whisper, 'She said Mad and his girlfriend are kissing.'"
What we now know: Maddox is a lady's man. Angelina and Brad let Maddox invite his girlfriend over and they leave Madd and Girlfriend unchaperoned, sort of. And we also know that Zahara is The All-Seeing Eye of the Jolie-Pitt family. Zahara knows EVERYTHING. And she likes to gossip. Perhaps Zahara = the gossiping gerbils of doom, all this time?
VF also included an interesting passage where they spoke to Japanese pop star Miyavi, who is like the Justin Bieber/Timberlake of Japan. Miyavi makes his film debut in Unbroken, playing the violent psychopath guard Matsuhiro Watanabe, also known as The Bird (that's what the POWs called him). Miyavi had to portray The Bird's torture and abuse of POWs and he says he found the whole thing devastating:
"It was awful torture for me to hate the other actors—I had to have hatred for them. When I had to beat them, I had to think about protecting my family. At the same time, I didn't want to be just a bad guy. I wanted to put humanity in this role. [Matsuhiro] was both crazy and sadistic, but also weak and traumatized. It's a story that is still painful for my country. But [Angelina] told me she wanted to make a bridge between all countries that had conflict. She was very persuasive." And after filming some of the more violent scenes, "I couldn't stop crying," he admitted.
I think this is going to be a tearjerker all around, although I only cried once while reading the book, and that was right after the plane went down (no spoilers!). As for Miyavi in particular – The Bird is a juicy role and Oscar loves a good villain. Some people think Miyavi might end up with a Best Supporting Actor Oscar nod. That would be interesting. If Domnhall Gleeson is really killing it as Phil, I kind of wonder if he wouldn't be more worthy of the Oscar nom though. VF also has Angelina talking about getting to know Louis Zamperini in his last years, and the last time they saw each other before his passing: "I was more emotional than he was. I went in to take care of him—and he was taking care of me." Aw.
Here's a portrait of the Unbroken cast, done by VF a little while back. Hedlund's got some thunder, right?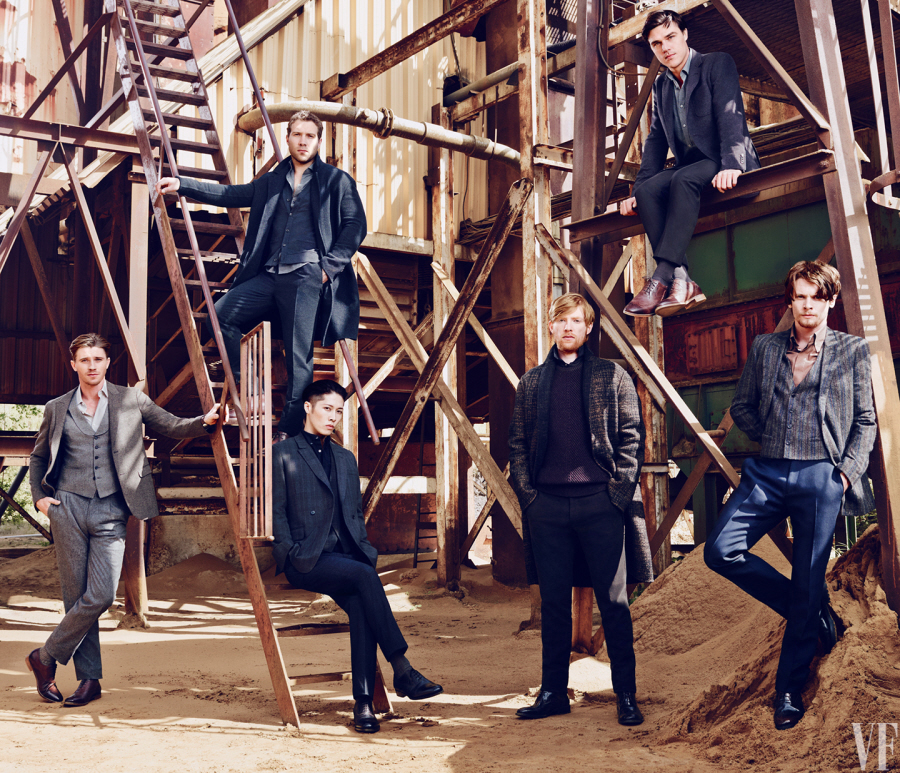 Photos courtesy Vanity Fair.