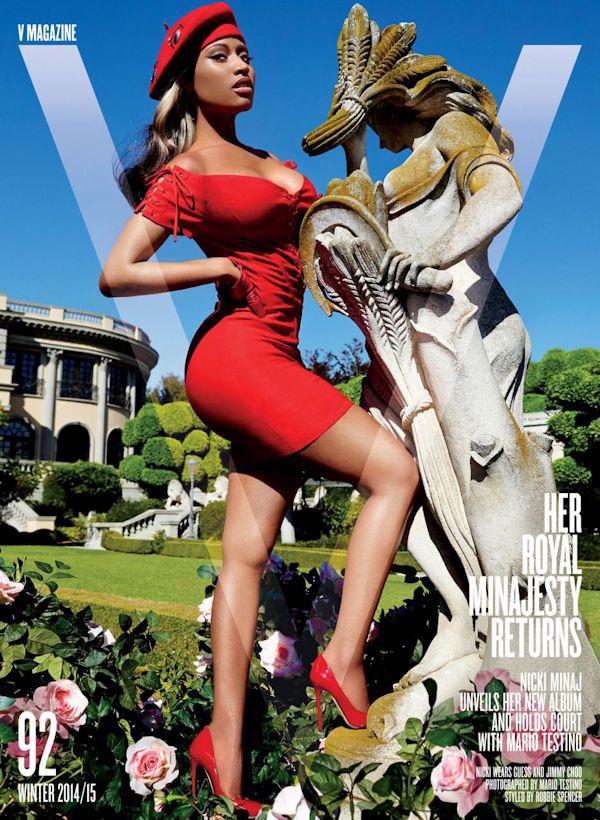 Nicki Minaj covers the December issue V magazine. She was photographed by Mario Testino, and the shoot isn't as risque as you'd expect. I mean, she sticks her butt towards the camera, but that's typical Nicki. You can see all of the pictures here. Nicki looks fierce, but I'm still adjusting to the "serious" persona of her Pink Print era.
Something is definitely up with Nicki lately. Everyone knows her NSFW "Anaconda" video is completely focused on booties. Nicki tried to tell GQ that if the video made people think about butts, then that's their issue, not hers. She's playing a different game with V mag. Nicki says "shame on" the media for focusing on the single cover where her tush is completely out. Nicki thinks she's being singled out for risque imagery, which makes me wonder if she's paid any attention to the past few years of Miley Cyrus or Rihanna antics:
On criticism for the "Anaconda" cover: "You're talking about newspeople who don't even know anything about hip-hop culture. It's so disrespectful for them to even comment on something they have no idea about. They don't say anything when they're watching the Victoria's Secret show and seeing boobs and thongs all day. Why? Shame on them. Shame on them for commenting on "Anaconda" and not commenting on the rest of the oversexualized business we're a part of."

On empowering women: "I always feel it's important for me to show females that they can be in charge of their own situation. I came into the game creating my own brand. I was doing things very early on that set me apart from people who just took orders and allowed their brand to be created for them. I love women who take control, who set standards, and who believe in themselves enough to lead the way in terms of their career. I've done that. When I win and when I lose."

On her risque lyrics: "I always push the envelope, because I'm Nicki Minaj. I have to. No matter who I'm on a song with, I feel like I have to say at least one thing no one else is willing to say. Whether it's Madonna, Britney, or Beyonce, they always tell me, 'Yes. Be Yourself. Talk your sh-t.'"
[From V magazine]
Yes, Nicki's risque lyrics are in full force. I'm surprised she doesn't deny they exist since she's so full of it lately. Not that she can hide the "t*ssed my salad like his name was Romaine" talk in the "Anaconda" song. Or any of her other lyrics that I can't repeat here. I also find it hilarious that Nicki keeps throwing tushy tantrums over models' rear ends. She still doesn't understand that lingerie catalogs are selling the stuff that the models are wearing. So if you want to sell thongs, the models must wear thongs. Oh well.
At least she didn't doze off 4 times during this interview. Or maybe she did, and V will tell us all about in the full interview.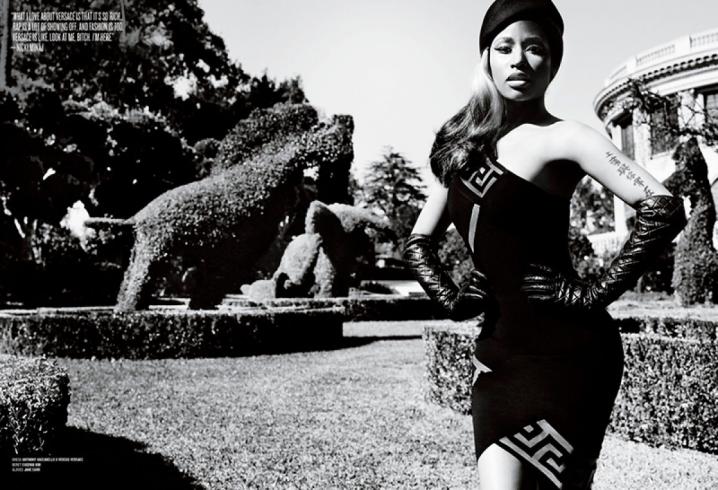 Photos courtesy of Fame/Flynet & V Magazine