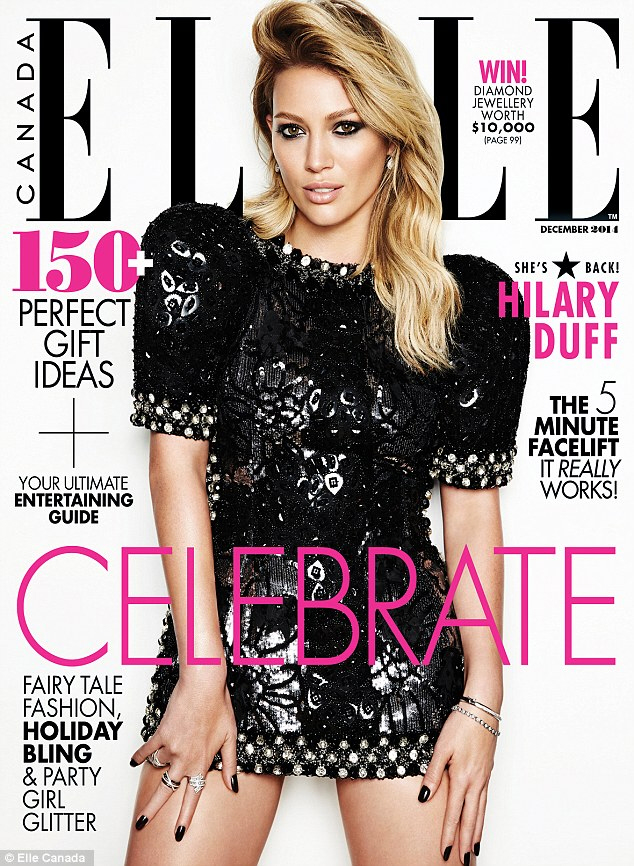 I don't really care about Hilary Duff one way or the other. I wish her no harm, but I'm not really interested in her life. As such, I think I have gossip tunnel-vision about Duff (and some other celebrities). Like, I don't "get" why Hilary Duff is important or notable enough to get this cover of Elle Canada. I realize she was once an actress and singer and I applaud her for not being a mess like Lindsay Lohan, but beyond that, why are we still talking about Hilary Duff? So you can imagine my reaction when I read some of the quotes about how hard it is for Hilary to deal with her fame. I mean…???? Does she get pap'd a lot? Yep. And she's one of those too – she calls the paparazzi and goes to pap-friendly places, then complains about the attention (she also posts a lot of personal stuff on social media too, just FYI). Anyway… here are some highlights from the Elle Canada piece:
Going through difficult times in the public eye: "I have a good therapist! I've dealt with [media attention] for such a long time. But some of the bigger struggles that came my way in the past two years — like my separation or when my parents separated — were the first times I had to deal with people knowing about something personal happening to my family. It just felt so invasive and insensitive. It got really gross, and I think part of you gets a bit desensitized. The best way to handle it is by just owning your s–t. I'm human and this is what happened. None of us is perfect."

Her son Luca is starting to understand her fame: "I don't tell him anything about my job, but he knows Mommy's a singer and an actress. We have this book called Goodnight Los Angeles. It's like, 'Goodnight, movie stars and entertainers of Los Angeles!' and it shows people working on a set and having their names in lights. Mike's always telling Luca 'This is where Mommy is!' when I'm at work."

Aaron Carter's creepy obsession with her: "Oh, God, I feel so uncomfortable right now. I don't know what to say. The more I talk about it, the more I think he's going to talk about it. We were like 13 and 14… I don't want him to be hurt — I don't want to make anyone feel like that — but it's time to move on. I have. What's funny, though, is that those feelings — I'm not talking about him but young love in general — feel so real. You always kind of think about it. When you're dating, you can never quite get that excitement again, because you're never that age again."

How she managed to not go crazy: "I think I'm more content now — especially since I took time out of being on tour and in movies. It was hard because [when I was 16] everything I did was watched. I had this idea of who I was, but the whole world thought I was so much bigger. It was a very confusing time. It was a lot of pressure, and I became more content with myself when all the competition was gone and I could make choices for myself. I f–ked up along the way too, but I got to do it quietly, which was awesome. Now, turning 27 feels weird. I still kind of feel like a kid. I'm a kid with a kid."

Her new music: "I don't need to work; I want to work. But I like to be successful, and it can't be done half-assed in this industry. I feel guilty a little bit, but I know that I'm going to be the best mom when I'm a happy person, and this makes me really happy."
I think she's dealing with that creepy Aaron Carter situation the best she can. That man is weirdly obsessed with her and she's trying not to engage that much, while still cutting him a break. As for all of the stuff about her fame…????? I guess it's my gossip tunnel-vision. Plus, I'm old. I was too old to ever have any interest in Hilary Duff when she was actually a big star. From what I can see, she's still riding on that old fame and goodwill. Eh. She doesn't seem like a bad person (at all), but she seems like she has a bit of an overinflated sense of her place in the gossip food chain.
By the way, the last time I checked, I think Hilary and Mike Comrie are pretty much back together. I kind of think their separation was mostly to get attention, because they are RARELY apart. I guess the couple that spends half of their marriage in counseling needs something to show for it.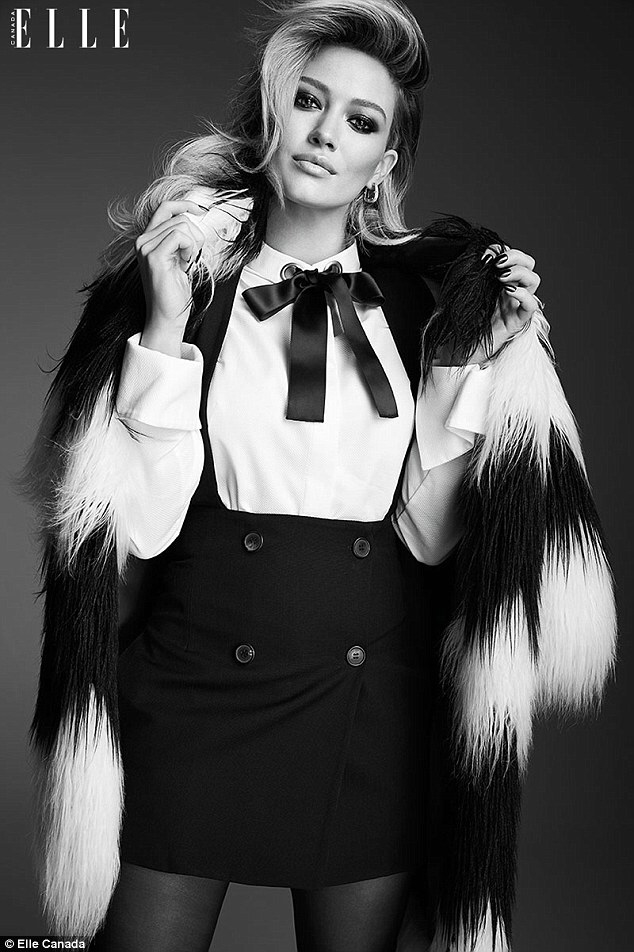 Photos courtesy of Elle Canada.