Is it possible to feel sorry for Dean McDermott? I'm warming to the idea even though the dude is a documented cheater. He cheated on ex-wife Mary Jo Eustace by sleeping with Tori Spelling on the first day they met. It's still up for debate whether Dean really cheated on Tori or if they made the whole affair up for the True Tori show.
Dean's looking like a real sad sack lately. He says he's tired of being treated like a monster by the public. He lost it on Twitter last week. And Dean was filmed in a vasectomy office even though (or perhaps because) Tori knew it humiliated him. Dean's had enough of this reality show bidness. He paid a visit to Access Hollywood to say he's done with this show:
Dean & True Tori are ovah: "I'm not going to continue with the show. We have five more shows left … I can't do this anymore. I can't keep opening a vein, opening my soul and sharing my feelings and thoughts and demons with the world."

He can't even watch the show: "I don't watch it, I can't. It's really difficult … I can't do it any more, for my soul. The show has been great. I've learned a lot of things about myself, my relationship. It's not all doom and gloom. There's a lot of good in the show."

Tori's hospitalization: "She works so hard … and it just caught up with her. She doesn't take the best care of herself. She always puts others before herself. [It was] pneumonia, bronchitis and sinusitis and that triggered migrainosus."

On "Emily Goodhand": "The fact that I cheated on my wife, I wish never happened. I wish my alcohol and drug use hadn't gotten out of control. I still love her to death and that's why we're still together."

He was suicidal after the affair: "I've learned a lot from this whole process. From the affair, from doing the show … I almost lost everything, everything that means anything to me. I don't want to ever do that again. I don't ever want to be in that dark place again where I wanted to take my life … I was driving around in my truck with a loaded 9 mm. I was put on a 5150 at the UCLA psych ward. [My son] Liam had a performance and I didn't want to miss that performance … I had plans that night to do it."

Will the marriage survive? "I believe so … I hold out a lot of hope. If you don't have hope what do you have? I love this woman, regardless of what I've done. I love her and want to be with her. I want to grow old with her … at this moment she feels the exact same way."

On whether they've received money from Candy Spelling: "All I can be is honest and no. No. There's no financial help."

His future: "I see myself on a scripted show. I'm getting back to my roots, I'm getting back to acting … I went out an auditioned for a [part] on a CSI and got it … [it's airing] December 14."
[From Access Hollywood]
I guess we'll be seeing Dean on a CSI episode, which is good, right? Because Tori still feels entitled to a posh lifestyle, so someone needs to make money in this marriage. Oh, and Team Candy has already responded to Dean's statements: "Candy has provided financial help in the past and has offered repeatedly to pay for the children's private schooling and Tori has never told her where to send the money."
Yeah, I feel bad for Dean. Maybe he cheated on Tori, or maybe this is all for the cameras. It's obvious that Tori has enjoyed humiliating him at every opportunity. And she's gotta be the one who leaked all the scandalous (true or not) to the tabloids. Let's wrap this up with a few details:
* Tori has finally left the hospital (after a quarantine visit) and was spotted walking around LA on Monday. Us Weekly has those pics.
* The latest episode of True Tori featured Tori reuniting with ex-husband Charlie Shanian for a chat. Who knows why Charlie agreed to appear on the show, but the answer is probably "money" (just like it was for Mary Jo). After the two-hour visit, Dean listened to Tori talk about what a "good man" Charlie is. Tori sobbed, "It felt like family, safe, nurtured by and then it felt like a loss. I remember how safe I felt with him. When I left I just suddenly felt really alone and I don't know why." Oh. Come. On.
Nothing is off-limits for Tori.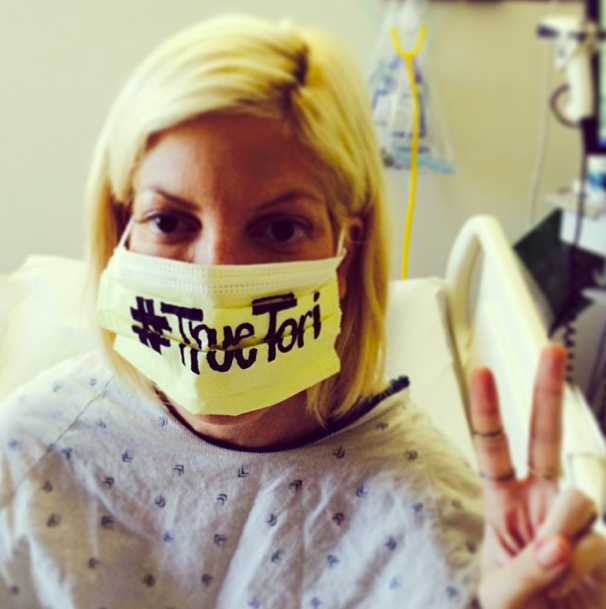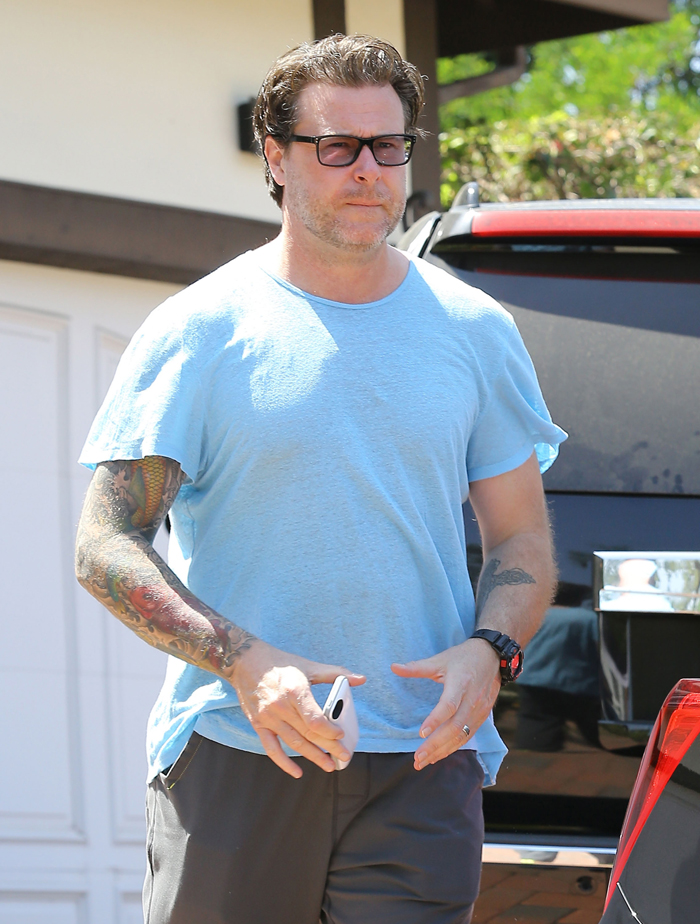 Photos courtesy of Tori Spelling on Instagram, Fame/Flynet & WENN