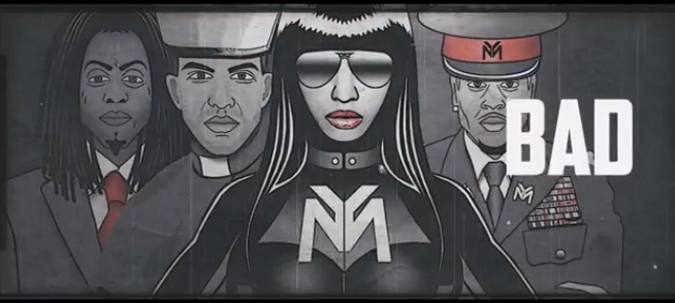 Nicki Minaj's new lyric video for Only takes her stunt-queening to ridiculous, exhausting heights. I don't even know where to begin. We can't embed the video because of its NSFW lyrical stylings, but you can watch it here.
When I first heard the outrage and criticism over this video, I thought for sure people were exaggerating. Nicki wouldn't be dumb enough to straight-up include Nazi imagery in her video, right? Wrong. She is totally awful enough to do it. Less than one minute into the song, Nicki's likeness sits atop a throne in manner of Hitler. She's flanked by war tanks and soldiers wearing red armbands that bear the Young Money logo, which looks a lot like the Nazi swastika. Then Chris Brown shows up as a dictator, and Drake (who is half Jewish) appears as a Pope. Yes, Breezy and Drake appear in a song together, and that's the least WTF thing here.
I often find myself in the position of wondering whether artists' actions are truly offensive or if I'm oversensitive to the possibility of offensiveness. In this case, there is no doubt. Nicki's lyric video is absolutely offensive. Even worse, this wasn't an accident at all. Nobody would create this video unless they intended to offend. Like I said, Nicki is a total stunt queen. She'll say she only wanted to portray herself as a powerful leader, but she could have achieved that without invoking the symbols of Nazism. Nicki's ignoring the controversy on Twitter, opting instead to endlessly retweet praise of her uneventful EMAs hosting gig.
If you were wondering whether Nicki has complete creative control over her career, look no further than her latest cover feature with Billboard to promote The Pinkprint. Nicki says, "I'm on 15 to 25 conference calls every few days strategizing with my team. I think a lot of artists sit back and have it done for them." Oh, and the Nicki-Iggy feud is still alive and well. The journo asked "an innocent question" about Iggy and was met with a "withering, wordless stare." Then an Iggy song started playing on the radio, and a Nicki staffer raced to change the channel. Ha.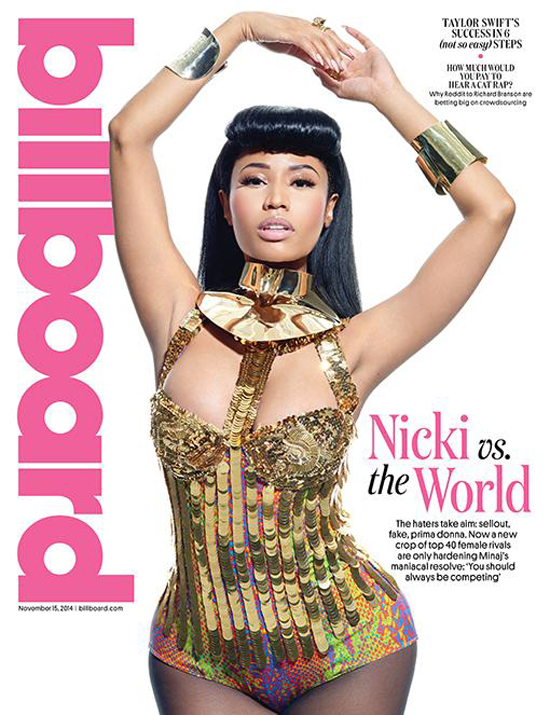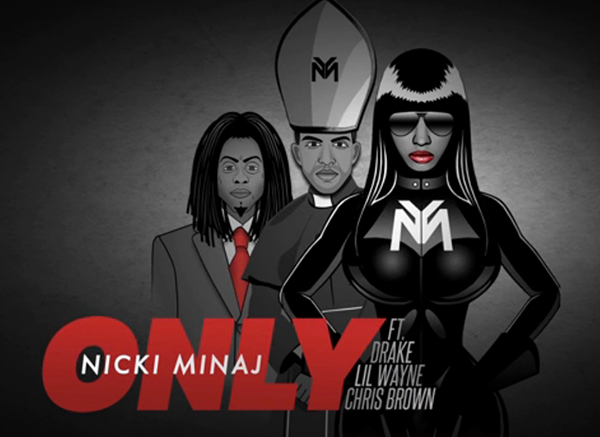 Photos courtesy of Fame/Flynet & Billboard; screencaps courtesy of YouTube