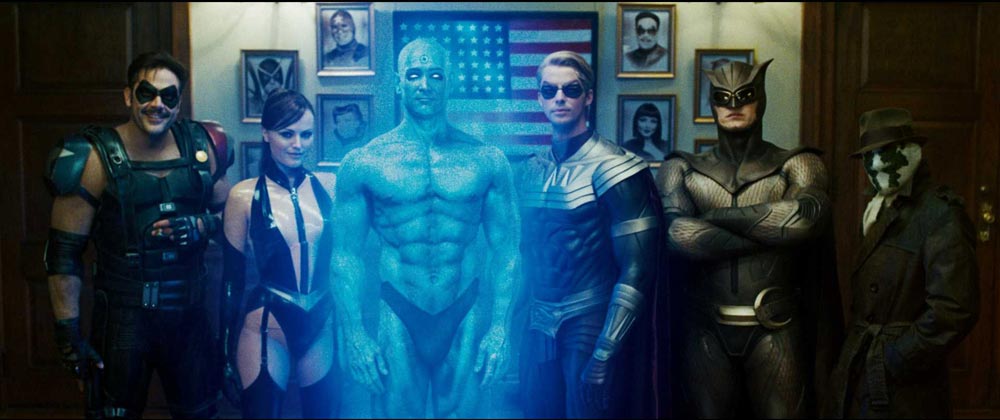 Even though I've never really cared about the comic book movies, I kind of want to see Watchmen. It looks dark and interesting, though it's getting terrible reviews, and the fanboys are revolting. Earlier this week, other sites were reporting on a recent Sun interview given by British actor Matthew Goode, who plays Andrew Veidt/Ozymandias in Watchmen. Goode was asked about the fanboy revolt, and he told them that "if fanboys still hate the film after going and seeing it, they can all line up and suck my d–k. I don't give a f–k. I'm having a child and that's more important to me – so I don't give a f–k. Grow a d–k." Incredible.
Billy Crudup, who plays Dr. Manhattan, is taking a decidedly more proactive approach to his Watchmen promotional duties. The character of Dr. Manhattan is very large and very blue, and this was achieved by some big-time CGI. Billy Crudup is now talking about how happy he is with his CGI package. OK! Magazine has more:
In Watchmen, Billy Crudup's character, Dr. Manhattan, basically bares it all, as a glowing, blue, totally naked superhero. So the question just has to be asked: Was the star actually walking around set in the buff to get into his part?

"I am naked often, but was not naked that I recall during filming," he reveals in a new interview with Parade. "I wore a pair of what were pretty elaborate pajamas and they were studded with about 1,200 blue LED's so that Dr. Manhattan would glow blue. There were also motion capture electrodes on my body and I had over a hundred on my face. They all sent data into a computer that really created the Dr. Manhattan you see on the screen. My performance was basically just laying the groundwork for the CGI."

As for that in your face nakedness, Billy says he got teased a little bit about the endowment Dr. Manhattan sports during the flick.

"I'm not saying how much the computer helped. Actually, I didn't fully expect the interest that Dr. Manhattan's genitalia has received. But I understood his motivation for baring it all," he says. "Why would the guy with all this power really care about a uniform? He doesn't need to obey society's constraints because, if he wanted to, he could destroy society. So I think he kind of feels like, 'You know what? I enjoy a good breeze on my private parts.' "
From OK! Magazine
I'm always surprised at the work Billy Crudup gets offered and accepts. By all calculations, his career should have been destroyed after leaving his long-term girlfriend Mary-Louise Parker when she was seven months pregnant. But instead Billy turned to stage work and small, significant film roles. It's surprising to see him in a big effects-laden comic-book film. I've seen the Dr. Manhattan in the Watchmen trailer, and I have to say, those CGI people gave Billy an extremely well-built body. Yep, I'm attracted to a big, blue CGI creation. So sad for me.
Thanks to Allmoviephoto for these stills from Watchmen.