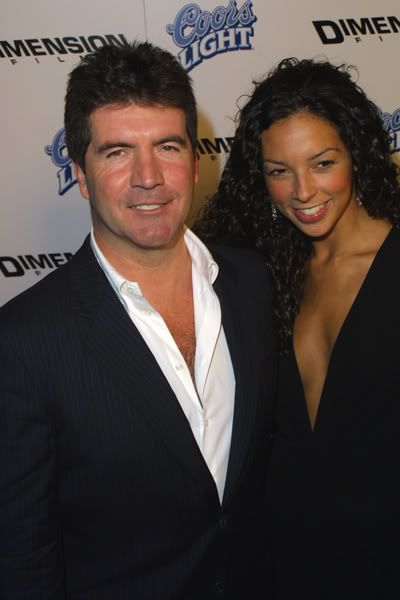 Simon Cowell, 47, has reportedly asked his girlfriend of four and a half years, Terri Seymour, 33, if she would do him the honor of being his wife. They've tried to keep the news under wraps, but on the April 9th Idol results show Ryan Seacrest made a reference to it that almost blew their secret:
Cowell, 47, and Terri Seymour – his live-in girlfriend for the past 4 1/2 years – have remained mum on their recent engagement, but "American Idol" host Ryan Seacrest almost blurted out the tightly held secret.

On the April 9 results show – after LaKisha was voted off – the singer said she would like to kiss Simon again. Ryan joked she'd better be careful because Simon's girlfriend was in the audience.

Then as the camera focused on Seymour, 33, Ryan gave her a shout out.

"Hey, Terri, congratulations on everything," Seacrest said cryptically, without further explanation.

"At that point, Simon and Terri thought their engagement surprise had been spoiled by Ryan," revealed an "Idol" insider.

"Only a handful of people at 'Idol' knew about the engagement, and Simon swore everyone to secrecy until he'd had a chance to break the big news first."
[From The National Enquirer print edition, May 28, 2007]
Simon has repeatedly said that he's not going to get married, and the Enquirer article quotes an appearance on Jay Leno when he said "When I respect somebody, I say I'm not going to marry you, out of respect." He is also quoted as saying that "a lot of showbiz marriages don't work out."
The Daily Mail has a revealing interview with Cowell last December, in which he says he doesn't believe in Valentine's day, isn't romantic, and doesn't like cuddling:
I asked him recently if he thought he was good at relationships, and he replied: "Well, in terms of a standard wife-and-kids relationship, probably not. But I never make false promises.

"And in terms of being fun to be around, I think I am probably quite good. I am not conventional.

"I don't do holding hands and cuddling up in front of the TV. I am quite cold like that.

"I find things like Valentine's Day ridiculous, being forced to be romantic on a certain day.

"I despise the whole commerciality of it. If Terri needs a car, I buy her a car.

"I don't wait for birthdays or Christmas or anything like that. I don't see the point."
Maybe Terri put her foot down and he caved. We'll have to wait and see if this news is true. At 47, he's surely set in his ways, but at least he's lived with her for a while.
Thanks to Photorazzi for these pictures.