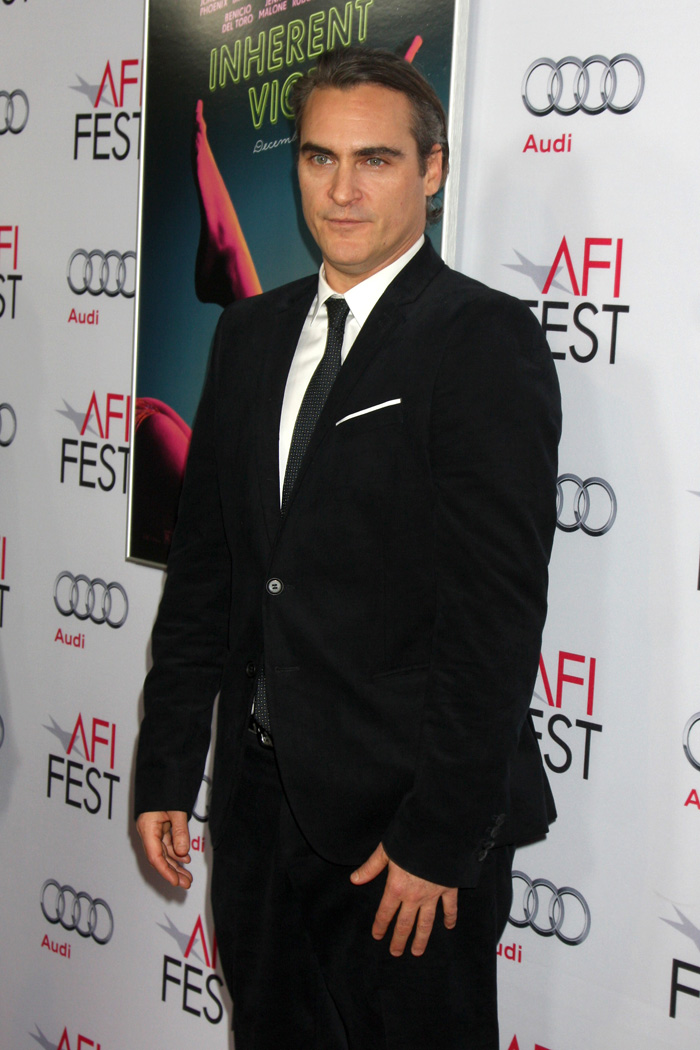 Joaquin Phoenix has a new interview with Playboy to promote Paul Thomas Anderson's Inherent Vice. It's been awhile since I've read a Playboy interview that wasn't a breezy, 20-questions column, and this sucker is long and detailed. You can read the whole thing here. These excerpts are the more interesting ones. At one point, Joaquin seems defensive (when talking about his philosophy on death), but it was right after the journo pressed him for information on Philip Seymour Hoffman. Joaquin declined to answer the question, and then the journo brought up how Joaquin witnessed his brother's untimely death. Rude.
Joaquin covers a lot of ground here, including a few words on the his Doctor Strange casting that fell apart. That's for the best. Joaquin doesn't do well for extended publicity runs. Can you imagine him dealing with a Comic-Con atmosphere? He'd be a wreck. Joaquin also confirms that David Letterman definitely wasn't in on the joke during that Andy Kaufman-life appearance. Yeah, Dave was irritated to not be invited to the party. Let's do this:
On that awkward Letterman appearance: "David Letterman was not in on the joke. My agents, my publicist Sue Patricola–she's really good in the movie because she seems so concerned, right?–they were all in on it, of course. But look, David Letterman is one of the smartest guys on television. There's no way that guy doesn't know what's going on in some way. That's what I'll say about it."

On being recognized in public: "It's like when you notice somebody walk past you, then stop and turn around. I started to realize it's the same thing that sometimes happens to attractive women. When someone is shuffling back and forth, it makes me uneasy. I'm definitely not interested. But if somebody comes up and goes, 'Hey, how are you? My name is so-and-so'–great. I'll rap with you. If you're genuine in your curiosity about something, that's great. But that sycophantic energy is uncomfortable to be around. Nobody wants to experience that. A woman came up the other day in a store and said, 'I'm really sorry, but can we take a picture?' I said, 'You know what? I don't do that, but thanks so much for coming up. I mean, I'm here with two of my friends and you're alone and came up and said hi. That was really brave of you.' Whatever energy she had was gone instantly. We chatted a bit. It was fun. Then she went and bought her f—ing tube socks and I bought my stupid little sweatpants, and that was it."

His experience with the Children of God cult: "As I understand it, you're on the outside of that group until you're accepted. I don't think we ever got to that point, because frankly, as it got closer, I think my parents went, 'Wait a minute. This is more than a religious community. There's something else going on here, and this doesn't seem right.' And so they left very early on. I think it was really innocent on my parents' part. They really believed, but I don't think most people see it that way. I've always thought that was strange and unfair."

His rumored refusal to wear leather on set: "I don't know where that came from, because in Walk the Line there were definitely some vintage boots, and I'm sure there was leather in Gladiator too. I don't wear leather in my life, but with movies, there are some things I struggle with, like if there are budget constraints or a particular vintage thing they need. For food on set, vegan is pretty common now. There are veggie burgers at f—ing fast-food restaurants and sh-t. So I think people are pretty good with that."

His theories on the afterlife: "I don't have a f—ing clue, man. I mean, Jesus f—. If you told me I'm a f—ing video game that some aliens are playing somewhere, well, that seems totally plausible to me. Hey, you and I might be some kind of simulation from someone 200 years in the future. I don't f—ing know. I mean, anybody's theory seems plausible. So I say, let go, man. Just let go."

He still freaks out on set: "No, I still find it terrifying, and that's crazy, isn't it? In some ways, it's f—ing ridiculous that I've literally been doing it for 30 years and still feel like it's the f—ing first time I'm making a movie every time I go in. It's probably good, though, just because it means I still care and it matters so much to me. But I think it's a motivating anxiety and fear, as opposed to a debilitating one. Maybe sometimes it's debilitating, and it can get in the way. Hopefully I've gotten better at not fighting it, knowing it's there and just allowing myself to walk with my fear."

On "turning down" Doctor Strange: "I can't talk about it. I've met on all sorts of movies throughout the years. What seems appealing about some of them is the idea of pushing myself in a way that's out of my comfort zone. But really, it's what I'm always looking for–good characters, big ideas and a passionate filmmaker. If those things line up with any kind of movie, I have interest in it. I thought Iron Man was fantastic."
[From Playboy]
The journo also asked about Joaquin's 20-year-old DJ girlfriend, and he deflects by saying, "Relationships are difficult, so adding public awareness is probably not a good thing." I still feel pretty uncomfortable seeing them in public together. But I love that Joaquin isn't full of himself and still questions his abilities as an actor. He's not sitting there with "steepled hands" mulling over his "craft." Dude just shows up and does his job. Maybe he spends a few moments curled up in fetal position before the cameras roll, but he works it out.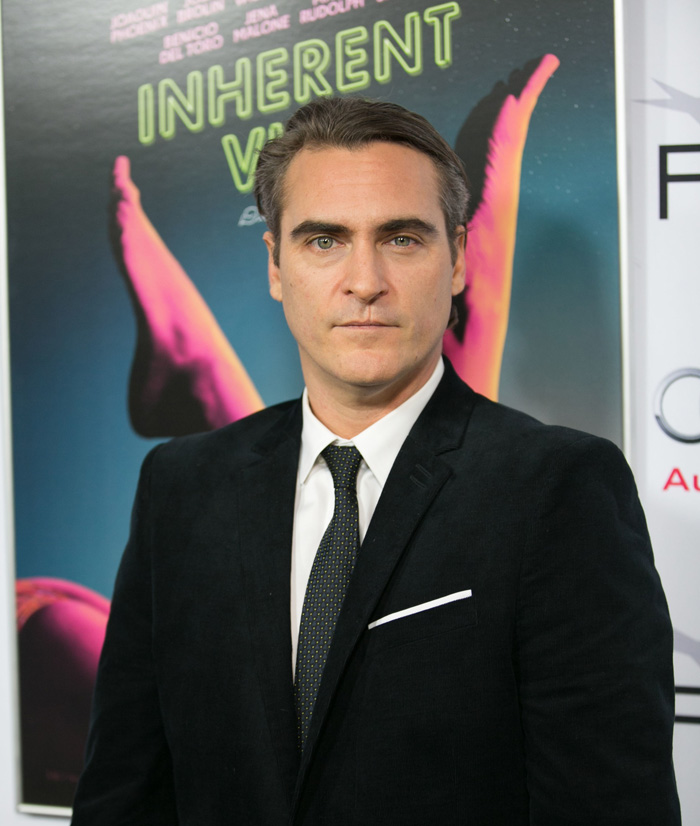 Photos courtesy of WENN