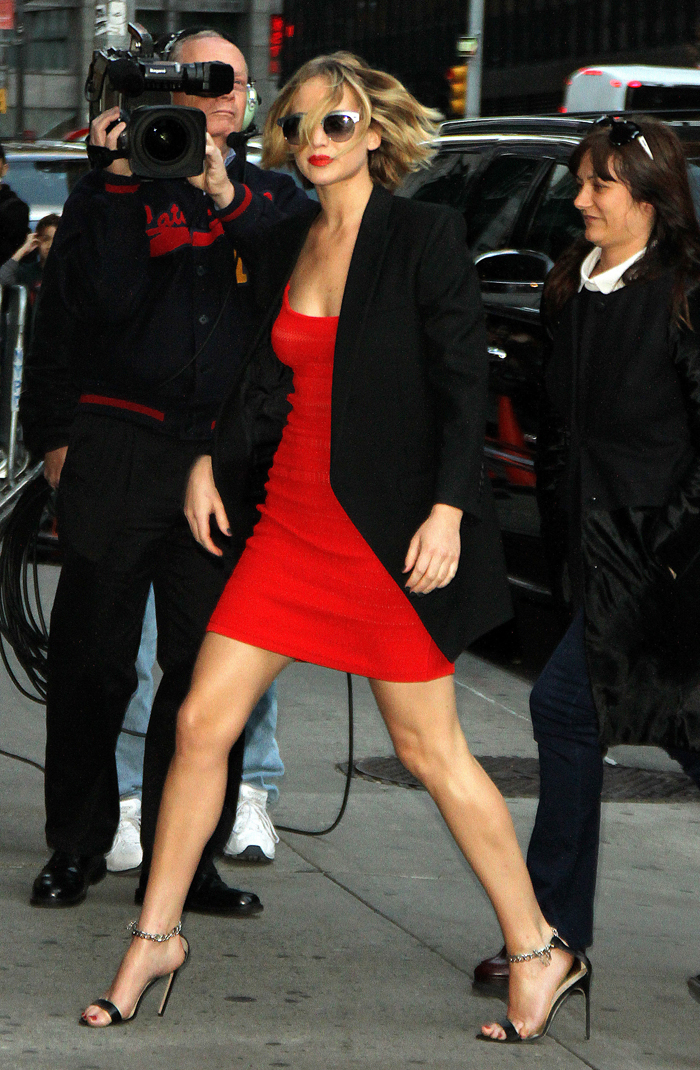 Here's a photo of Jennifer Lawrence rushing into the Ed Sullivan theater before her David Letterman appearance. He loves having her as a guest. They always go off the rails together in spectacular fashion. It's a very different experience than when Katie Holmes stopped by a few nights ago. As always, Dave and Jennifer entertained their audience. There was some ugliness after the show, which I'll get to later.
I've been searching for a full clip of JLaw's appearance, but there are only bits and pieces so far. All serious topics were off the table except for the ongoing strep throat madness. Jennifer and Dave limited their discussion to stuff like colonics. For real. JLaw wants to get one done with Josh Hutcherson, and it would be a "platonic colonic." From what Jennifer has said before, she needs no help in that department. Jennifer also revealed that she once visited Nick Hoult in Namibia and thought his house was haunted. Dave asked if she really believed in ghosts, and JLaw responded, "Of course I do, I believe in anything unrealistic." Here's the clip where JLaw and Dave commiserated over their mutual stomach issues:
In this clip, Jennifer talked about her very good friend, Justine, and their first meeting. Justine lacks just as much of a filter as JLaw, who repeated her friend's first sentences to her in Letterman's ear. I think Letterman blushed in response.
There's more. Jennifer said the The Late Show would be really boring after Letterman retired. She talked him into walking offstage with her. Then JLaw returned to take over Dave's desk for a minute. Oh, and Dave and Jennifer sang together. It was so bad it was good.
Something awful happened after the show. When Jennifer left, she was greeted by a huge crowd of autograph seekers. Someone did or said something to make JLaw flee from the crowd. It's an absolutely frightening moment, and it happens around the 0:50 mark in this clip. Her security saw something and tried to block her view at the last moment, but she saw it anyway. Then she ran like crazy. My guess is that someone printed off one of the stolen photos. Whatever happened, it really upset Jennifer. (Update: The barricade started to fall.)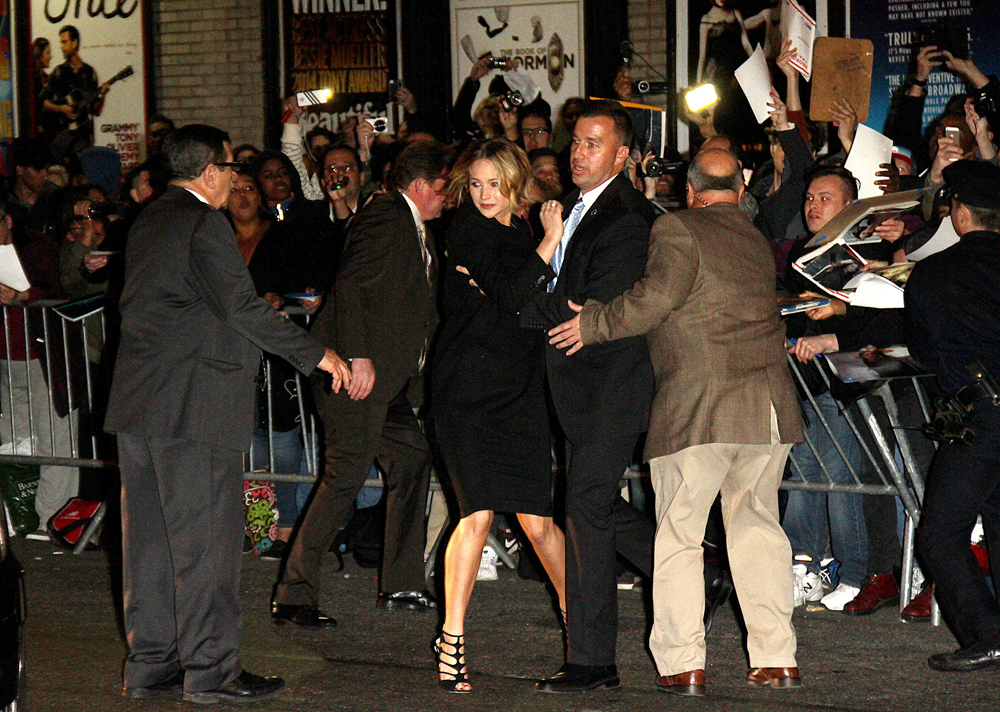 Photos courtesy of WENN