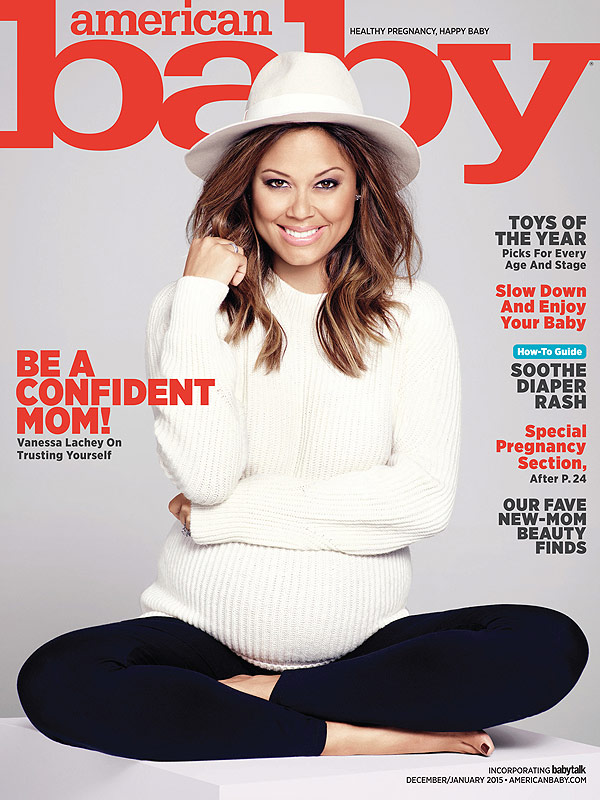 Vanessa Lachey (nee Minnillo) covers American Baby. She's currently expecting her second child, a daughter, with her husband of three years, Nick Lachey. Nick and Vanessa also have a two year-old son, Camden. I believe Vanessa is about seven months along, going by the fact that she announced in July.
The last we heard from Nick and Vanessa, Nick was blabbing about pregnancy sex. (He was doing an interview with Jenny McCarthy, so it figures.) Vanessa kept it more wholesome in American Baby, where she discussed trying to be patient with her baby and not feeling mom guilt over not doing enough. I really like what she said about how it's hard to be a mom and how moms deserve credit just for "just for raising a little human being."
Vanessa — who has been opened about her battle with the baby blues — admits she was forced to take things slow as she settled into motherhood. [with Camden, who was born in September, 2012]

"Remember to be patient. It's hard! As a baby, Camden would take about an hour to breastfeed. By the time he finished, it was almost time to feed again," she recalls.

Instead of becoming frustrated, Vanessa used those quiet moments to soak up time with her newborn.

"A friend reminded me that infants are learning everything for the first time," she explains. "So who am I to say, 'Hurry up and eat. We have to go?' I tried to look at that time as an opportunity to love on him."

Now that she's set to welcome her second child just after the holidays, Vanessa is more confident in her parenting role and wants other mamas to embrace the exciting moment in their lives.

"Worrying is a waste of time. Once Camden was born, certain fears calmed down," she says. "I no longer thought, 'Will I be able to do this?' My instincts really did kick in."

She adds, "We stumble and make mistakes, too, but that's what learning is. That's the beauty of it. Every mother out there knows what she's doing, whether she believes it yet or not."

Oh, and one more thing, she adds: Don't let fellow mothers and their "best moments" on social media put a damper on your day.

"Don't feel like you're not doing enough when you see a mom posting about making applesauce after you bought it," she says with a laugh. "It's fine! Just for raising a little human being you should be commended."
It's true that the bragging on Facebook can get out of hand. I don't keep up with Facebook now, but back when I would add acquaintances (I stopped doing that, I don't even add RL friends now), I would occasionally get annoyed with all the "look what I just made," "check out my bikini pics" posts. (Not from my close friends or our loyal readers, you're all awesome.) There was a definite element of competition to those type of posts and I don't play that game. So I can imagine how much pressure moms must feel. We're not all crafty DIY moms, it's important to just be there for your baby/child. I like that message.
Vanessa also talked about how she didn't feel bonded to her baby during her first pregnancy until she found out she was having a boy. She said "I felt guilty because everyone told me about this love I'd feel, and I wasn't there yet." Then, after she learned the sex of the baby, "the love really flowed… I could finally bond." I'll be honest, I didn't feel bonded to my baby even after he was born. It took me a few days because I was exhausted, I think. It would never occur to me to feel guilty about not bonding with the baby when I was pregnant.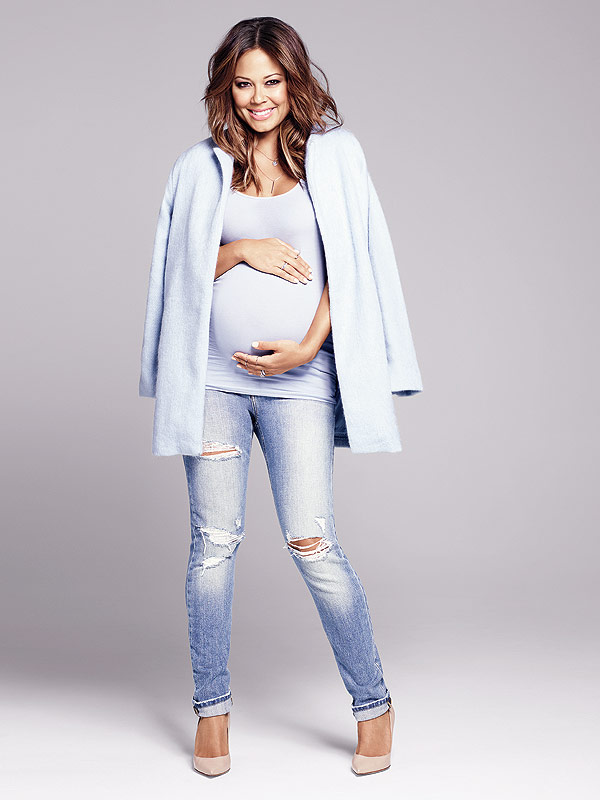 photo credit: Justin Coit for American Baby