I haven't written about Amanda Bynes in more than a week, mostly because I was waiting for Amanda to bottom out and get forcibly put into another psychiatric facility after her parents had enough and handed over her treatment to professionals. There was some confusion on the last post as to my headline about Amanda's parents "giving up" on her. Let me be clear: I have no doubt that Amanda's parents are at their wit's end dealing with her. They are exhausted, mentally, emotionally and physically. I don't judge them for handing off Amanda's care to the state of California, especially considering Amanda spends a lot of time lashing out at her parents. Specifically, her father. She's repeatedly accused her dad of abusing her and in an audio clip that TMZ got their hands on, Amanda threatens to kill her father. Go here to listen to the audio.
Amanda Bynes's troubling, erratic behavior continues. On Friday night, TMZ posted what it claims is an audio recording of the former child star in which she threatened to kill her parents.

"If your father was my father … then you would understand why you'd want to slit his wrists … I haven't decided how I want to murder him … I don't believe in murder … He literally like is the worst person … Nothing would give me greater pleasure than like slitting his throat. That is what I would love to do," Bynes, 28, reportedly said in the audio file, which TMZ says was taped last week by a roommate.

"So like I'm not gonna like ever do such a thing, but like I call my mom and like I threaten to kill her, and I threaten to slit her wrist, and I threaten to like burn down her house and like I said a bunch of s— like that," the voice continued.

And the audio file matched much of Bynes's recent Tweets complaining that her parents have cut her off financially – allegations a source close to the situation says are false.

"I'm gonna continue telling you guys I'm gonna murder my family like 'cause that's the thing that like, they're in control of my money, and that's why I don't have much money right now," Bynes says on the recording.

On Saturday evening, Bynes took to Twitter claiming her comments were made "in jest."

"I was obviously joking about hurting my family – I straight up don't believe in harming a soul," she wrote. "I said what I said in jest and if you don't understand that then know I'm in therapy to talk about my dad issues and that will solve my concerns with [people] invading my private life … take what I say lightly because I am the nicest girl."

The alleged tape of Bynes is just the latest in a string of reports of worrisome behavior.

Despite the actress's recent antics, West Hollywood nightclub 1OAK let her and a friend in Thursday night.

"She arrived around midnight with her friend, artist JJ Brine, who had purple hair and was wearing a flower crown. She had blue hair and was wearing a T-shirt, bandage dress and platforms," a source tells PEOPLE. "She wore sunglasses in the club and had a Band-Aid on her face. They stayed for about two hours, then left in an Uber X."

And Tuesday night, TMZ reported that Bynes hit up West Hollywood tattoo parlor The Honorable Society, trying to get a tattoo of her apparent boyfriend Caleb but was turned away for having no identification. While the shop wouldn't confirm Bynes's visit, an employee tells PEOPLE, "We need a copy of every person's ID who gets tattooed here, so if they don't have an ID or a passport or some kind of official government-issued identification, you know we can't legally tattoo them."
You can see more of Amanda's tweets here. Considering she once almost lit her dog on fire, I tend to think we should take her threats of violence for real. And I think her parents should take this as just another reason why it was a good idea to hand off her care to other people. Oh, and as for her trip to 1Oak, Page Six says that she actually got into it with Paris Hilton & Brandon Davis.
Also: don't believe Amanda when she tells TMZ that she's broke and living on gift certificates or whatever. Her parents got her an apartment in Glendale but she doesn't stay there because she would rather be in West Hollywood. So she stays with "friends" – like her hair stylist who is now asking Amanda's parents to pay for damages caused by Amanda.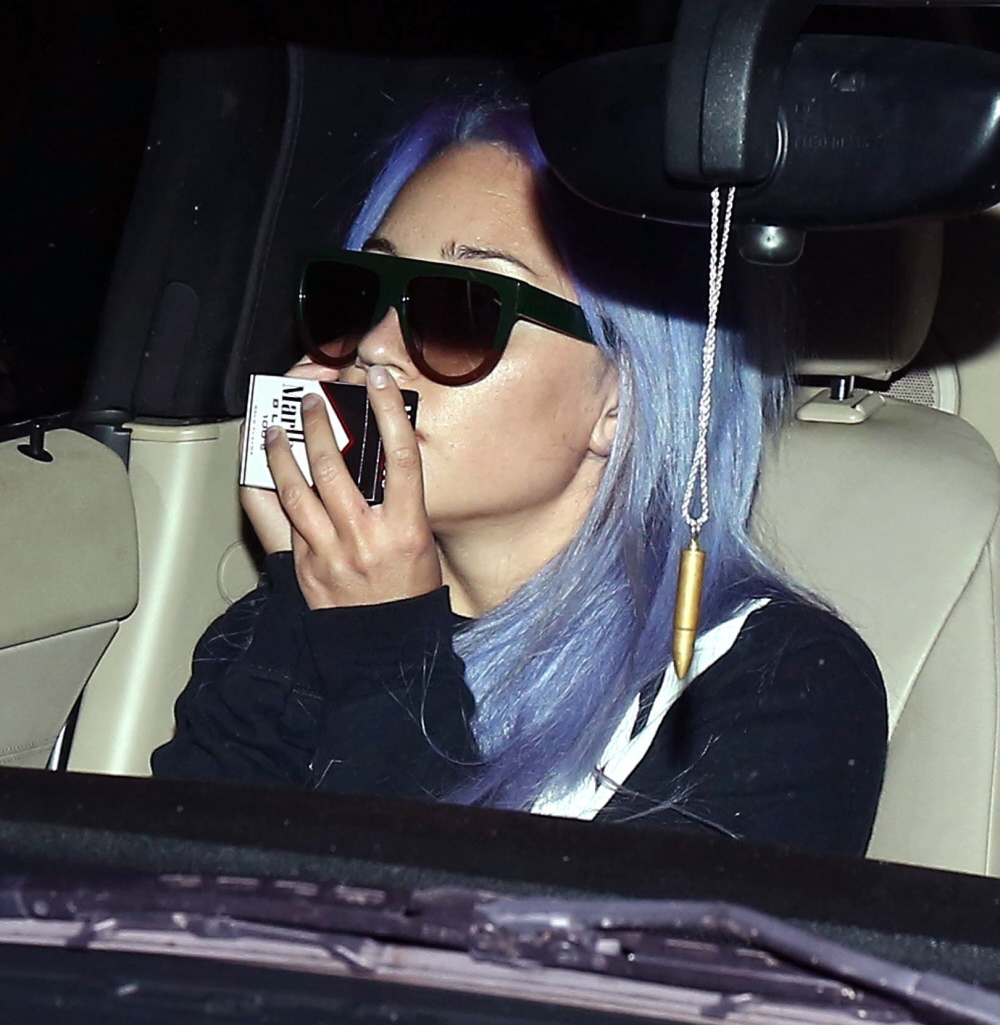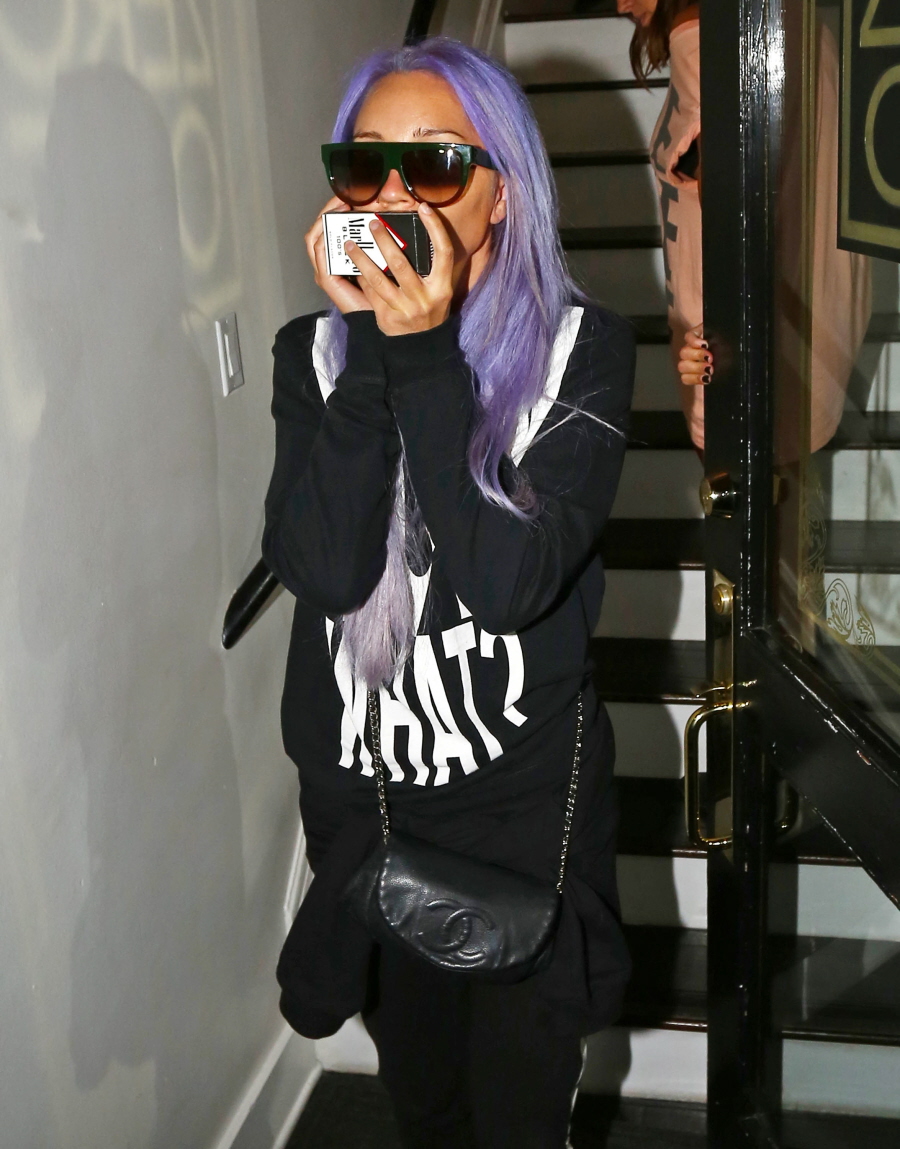 Photos courtesy of Fame/Flynet and Pacific Coast News.