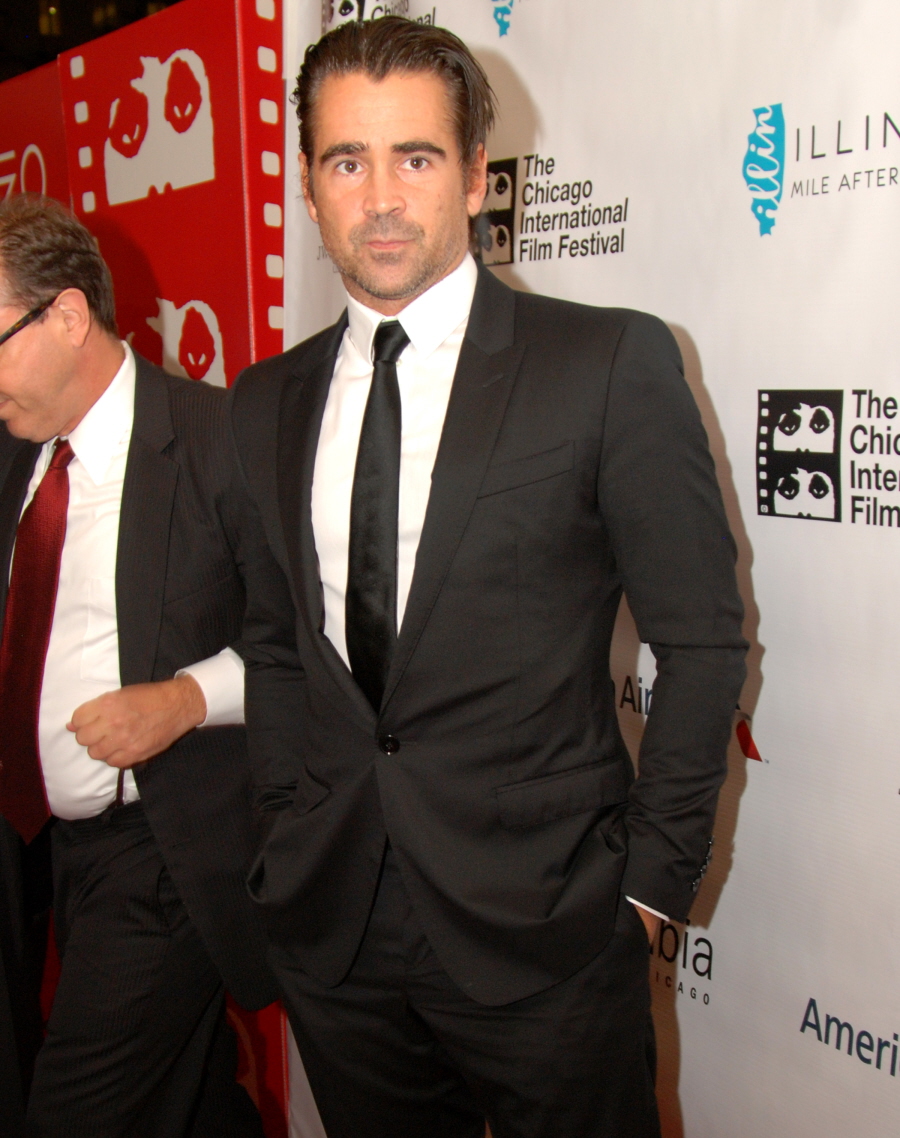 Colin Farrell has always been very close to his family. His sister has worked as his personal assistant before (I'm not sure if she still does), and Colin has always been very tight with his brother Eamon. Eamon is gay, and he married his partner in Canada a few years back. But their marriage is not recognized or legal in Ireland, which is where Eamon and his husband live now. Colin wants to see that rectified. Colin wrote an open letter in Ireland's Sunday World, arguing for the legalization of gay marriage in Ireland ahead of a referendum vote. You can read the full letter here. Here's an edited version:
I've been fortunate enough to never have any issue with the idea of gay union. I think I found out my brother wasn't grovelling in heterosexual mud like most boys our age when I was around 12. I remember feeling surprised. Intrigued. Curious. Not bi curious before you start getting ideas. I was curious because it was different from anything I'd known or heard of and yet it didn't seem unnatural to me. I had no reference for the existence of homosexuality. I had seen, by that age, no gay couples together. I just knew my brother liked men and, I repeat, it didn't seem unnatural to me.

My brother Eamon didn't choose to be gay. Yes, he chose to wear eyeliner to school and that probably wasn't the most pragmatic response to the daily torture he experienced at the hands of school bullies. But he was always proud of who he was. Proud and defiant and, of course, provocative. Even when others were casting him out with fists and ridicule and the laughter of pure loathsome derision, he maintained an integrity and dignity that flew in the face of the cruelty that befell him.

And this is why the forthcoming referendum is so personal to me. It's about inclusion. It's about fairness. It's about giving our lesbian and gay sisters and brothers back a right that should never have been stolen from them in the first place. Speaking out in support of equality in all its forms is a moral necessity if we're to have a society where peace, compassion and kindness become the ruling classes. Only love in action can stamp out the wilting toxicity of the intolerant among us. Only ink on paper can truly prove that the Irish people are who we've held ourselves proudly to be – a people who, in the majority, are deeply feeling and have a natural and abiding lean towards inclusion and fairness, heart and hospitality.

This referendum is a chance for us to arise. To wake up to the conviction that true love from the heart of one being to another cares not for the colour, nor the creed, nor the gender of who it chooses to share that path with. We have a chance to effect a change that's about recognising no one love is greater than another by virtue of tradition. We have a chance to simply tip our hats to love in all its kaleidoscopic and majestic forms.

Eamon did not choose to be gay, no more than I chose to be straight. It's all a trick, a sleight of nature. I don't know where those bullies are now, the ones who beat him regularly. Maybe some of them have found peace and would rather forget their own part of a painful past. Maybe they're sitting on bar stools and talking about "birds and f-ggots" and why one's the cure and the other the disease. But I do know where my brother is. He's at home in Dublin living in peace and love with his husband of some years, Steven. They are about the healthiest and happiest couple I know. They had to travel a little farther than down the aisle to make their vows, though, to Canada, where their marriage was celebrated. That's why this is personal to me. The fact that my brother had to leave Ireland to have his dream of being married become real is insane. INSANE.

This for me is all about the heart, not the gender. If it's about the idea of love between consenting adults, then this referendum is as much a heterosexual issue as it is a gay issue. It is for all of us that civil marriage equality must be realised. There are too many things that divide us as a people, let not this be another one. Let this be about not only the matrimonial unity of a man and a man or a woman and a woman, but let it be also about the unity of a community, the unity of an island which has at its heart a gold that this vote speaks to. How often do we get to make history in our lives? Not just personal history. Familial. Social. Communal. Global. The world will be watching. We will lead by example. Let's lead toward light.
Colin also pointed out that as a heterosexual, he could jump into a car and drive to Las Vegas and get married by Elvis in a drive-through. Which is true. But the state of Nevada is one of the states going through legal proceedings to see if gay marriage will be legalized. There are now 33 states in America where gay couples can marry, which is amazing considering how quickly we've gotten here. As for Ireland's referendum vote… I hope they pass it. For all of the reasons Colin described, plus one more: gay marriage is good for business. No one ever talks about that, but it's true. It's good for business plus it's about family values and equality.
Here's Colin's brother Eamon and his husband: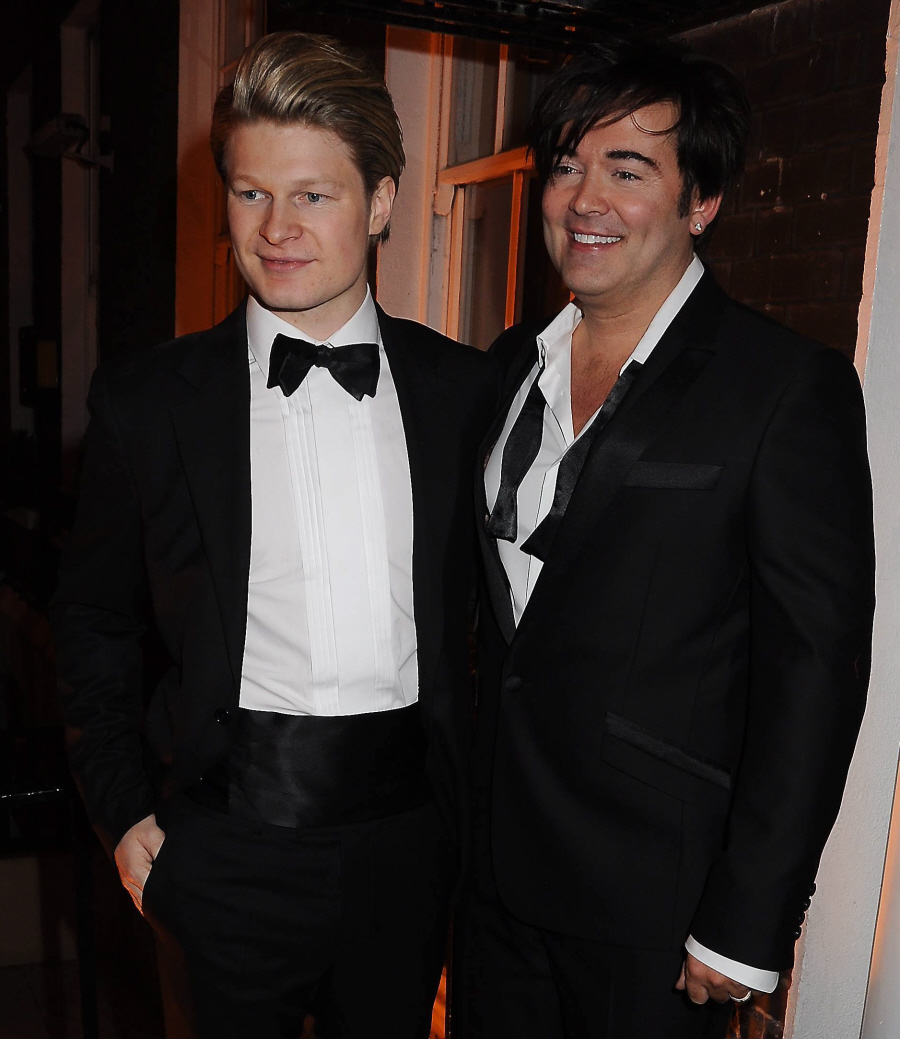 Photos courtesy of WENN.