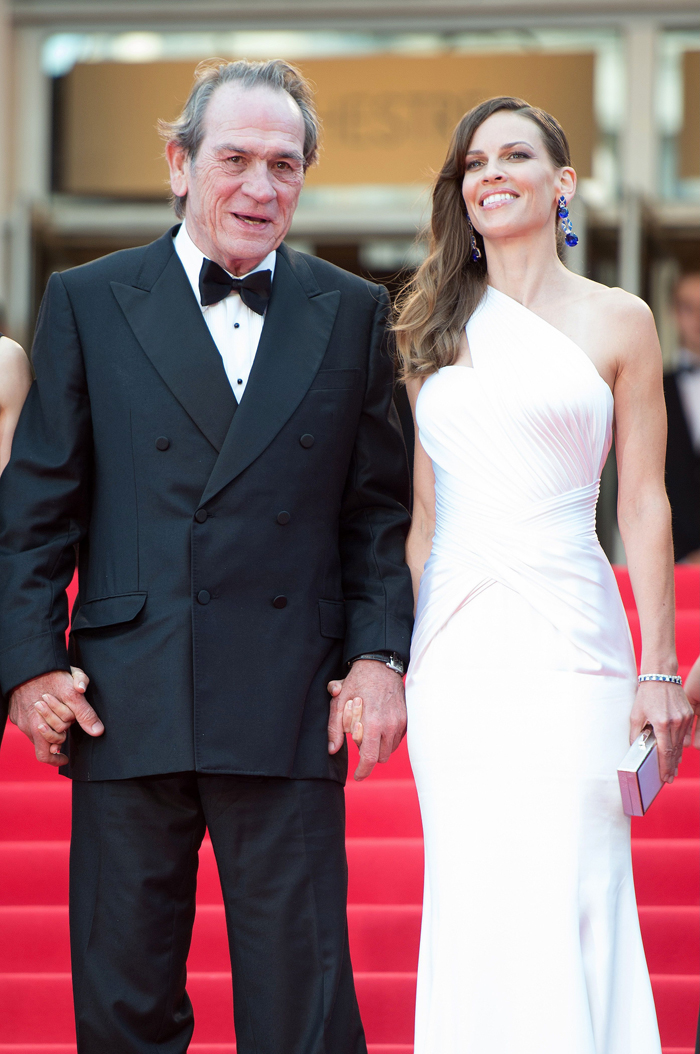 Tommy Lee Jones has a new interview with The Guardian to promote his new film, a female-centered Western called The Homesman. This is his fourth directorial project, and it features an Oscar baity cast that includes Hilary Swank, Meryl Streep, and Hailee Steinfeld. The movie has been described as "a subversive Western" and (in People) a "frontier drama." Swank plays a single, independent woman who lives alone in 1850s Great Plains Nebraska. She enlists Jones' character to help her care for three mentally ill women. The film captured solid reviews from its Cannes premiere. But yeah, it looks really Oscar baity.
The Guardian journo describes Jones as oddly "cheerful" during the interview, which is a stretch for the "great grouch." Jones talks about how he wanted to make a movie that stood out in a "quintessentially masculine genre." Here are some excerpts:
He loves London: "I'm very comfortable in London I lived for about five weeks in a house in Chapel Street in Belgravia." He pronounces it Belgraahvia, suggesting cocktail evenings with posh folk in the embassy district. "I enjoy the island. I have long, enduring relationships with people there. Actually, by now I've got a tailor on Savile Row. This one was not made there but all my suits in the future will be made on that street. It feels kind of nice I'm kind of pleased with myself that I've got a tailor on Savile Row. I'm 68 years old. I deserve it."

Is this a feminist movie? A pause. He chooses his words carefully. "It would not be unfair to call it that but I'm not looking for labels." It seems he will elaborate but doesn't. A prolonged silence ensues.

On sexist injustice: "I don't think there's a woman in the readership of the Guardian, not one, who hasn't been objectified or trivialised because of her gender at one time or another. And that's really what our movie is about. Our film is the inverse of the conventional western. It's about women, not men; it's about lunatics, not heroes; they're travelling east, not west; and we have a different perspective on what has come to be called manifest destiny."

On promoting his projects: "There are certain contractual obligations and one does the best that one can do," he says stiffly when I ask about press interviews. It is a cue for him to drain his sake and take a refill.

The Homesman's bleak view of US expansionism: "It's about people living on the cutting edge of what is sometimes called manifest destiny. What is the price we pay for believing that God meant for us to own everything between Massachusetts and California? People still believe it, and schoolchildren are still taught that there is almost a divine right for the United States to hold the land that it does today."

On Cormac McCarthy: "I don't think he's been served very well by the movies so far."

Will he ever retire? "I don't want to end my career."

He doesn't like tv: "I probably watch less than one hour of television a week. And when I do watch television it's usually a football game. Sometimes I'll watch a news broadcast for a few minutes. Otherwise I don't have time. Most of those things are so poorly lit. And they are limited a lot by their tight schedules. They have to shoot so much material and they have to shoot it so fast. The lighting is often rather … Gross."
[From The Guardian]
Off-limits topics for this interview included Jones' three marriages (understandable) and polo (hilarious). Why wouldn't he want to talk about polo? Maybe he thinks it makes him sound too posh. After all, this is a dude who has his own 3,000-acre ranch outside of San Antonio. Tommy Lee is such a grump, but he makes good work. He's correct: Women are objectified all the time, and we're told to treat it as a compliment.
Here's the trailer for The Homesman.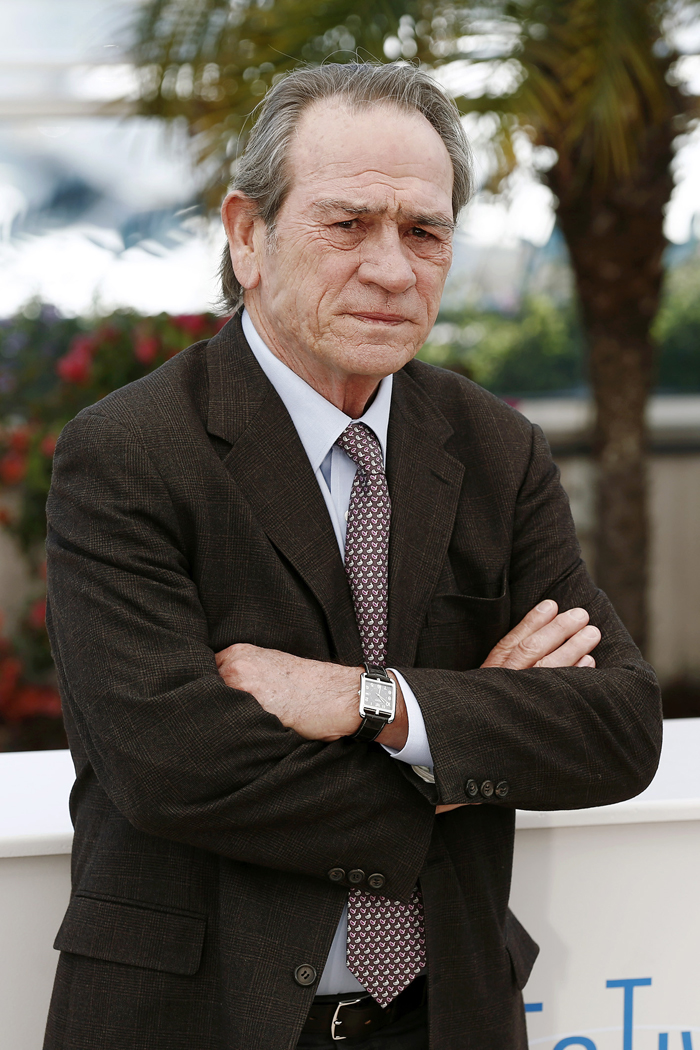 Photos courtesy of WENN