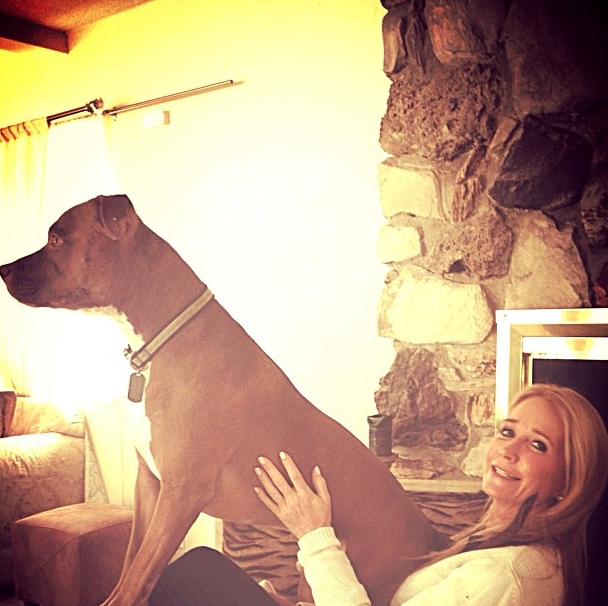 This story has been out for a short while, so please bear with me if you've heard about it. There are some new-ish developments for Kim Richards, the former child star and Real Housewives of Beverly Hills cast member who allegedly got sober a couple of years ago after her third stint in rehab. Kim has a pitt bull, Kingsley, who has attacked humans in at least five separate incidents. (Only three incidents are detailed here, but reports claim there are five.)
In Kingsley's latest attack, he injured Kim's niece so badly that she needed two surgeries on her hand. Kim has half-blamed her niece, Kyle Richards' daughter Alexia, for the attack, saying that "I already told [my nieces] my room was off limits." Kim also downplayed the extent of Alexia's injuries, stating that the first hospital visit was merely to clean the puncture wound on Alexia's finger.
Back in March, the dog viciously bit one of Kim's overnight guests, an 80 year-old friend named Kay Rozario. Rozario told Radar online that the attack was unprovoked, that Kim didn't even tell her she had a dog, and that Kingsley "ripped my hand open down to the tendon.." Disturbingly, Rozario claims that Kim begged her not to report the attack, and quotes Kim as saying "Please don't say anything. I might lose my show." TMZ details yet another attack by Kingsley over the summer, but states that animal control cannot get involved until a family member or victim contacts them. As of yet, none of the dog's victims has called animal control.
After a lot of public and family pressure, Kim is finally doing something about the dog. She's sent Kingsley to live with a trainer.
"He's in a good place," Richards told TMZ on Saturday. "He's safe and with a trainer."

But the decision to send her dog away didn't come easy, despite a total of five reported incidents where Kingsley attacked humans.

"At this point I am looking into options to what the next step is for Kingsley," Richards, 50, said in a statement received by the New York Post after Kim's sister, Kyle (who also appears on the show), confirmed that her daughter had been bitten.

"Regarding Alexia: She was attacked by a dog and has to have surgery. As always, she is trying to make the best out of a bad situation. Thank you for your thoughts & well wishes," Richards posted on Facebook Nov. 4.

Despite the animal's aggressive behavior, it doesn't appear that the mom of four – who got the dog to be her companion once her children moved out of the house – has any plans to put him down.

"As many of you can relate, he is my best friend," says Richards. "This is a very difficult decision and time for all of us, but the safety of my family always comes first."
I disagree that Kim considers the safety of her family first. If this was the case, she would have sent Kingsley away the first time he bit anyone, not just after the first time he bit a family member. If this was the case she would crate the dog whenever she has guests, or at the least put him on a leash. She has continually coddled and protected that dog without standing up to him, which is how he ended up this way in the first place. I'm not saying it's all Kim's fault, I understand that some dogs have that kind of temperament, but she should have addressed it immediately instead of letting it get to this point. I have watched a few episodes of Dog Whisperer (which doesn't make me an expert, and I understand that Cesar Millan's methods are controversial) and if you watch the video below, you can see how Kim doesn't lead that dog or take control of the situation. I get why she doesn't want to put him down, she loves that dog and he's protecting her, but Kingsley is her responsibility and he's gravely injuring people.
Here's the video from RHOBH in which a trainer visits Kim's dog. Kim claims the dog has destroyed thousands of dollars of shoes and personal items, but he's likely attacked people by that pointand she's not admitting it. Kingsley tries to attack the trainer, who challenges him, leading Kingsley to back down. It's unclear if this is the same trainer who is housing Kingsley now.

Kim's Instagram is FULL of photos of Kingsley on her bed, sitting on top of her, getting into her purse, and laying on the furniture. In one video, Kingsley refuses to let her make the bed. She needs to show that dog who is boss.