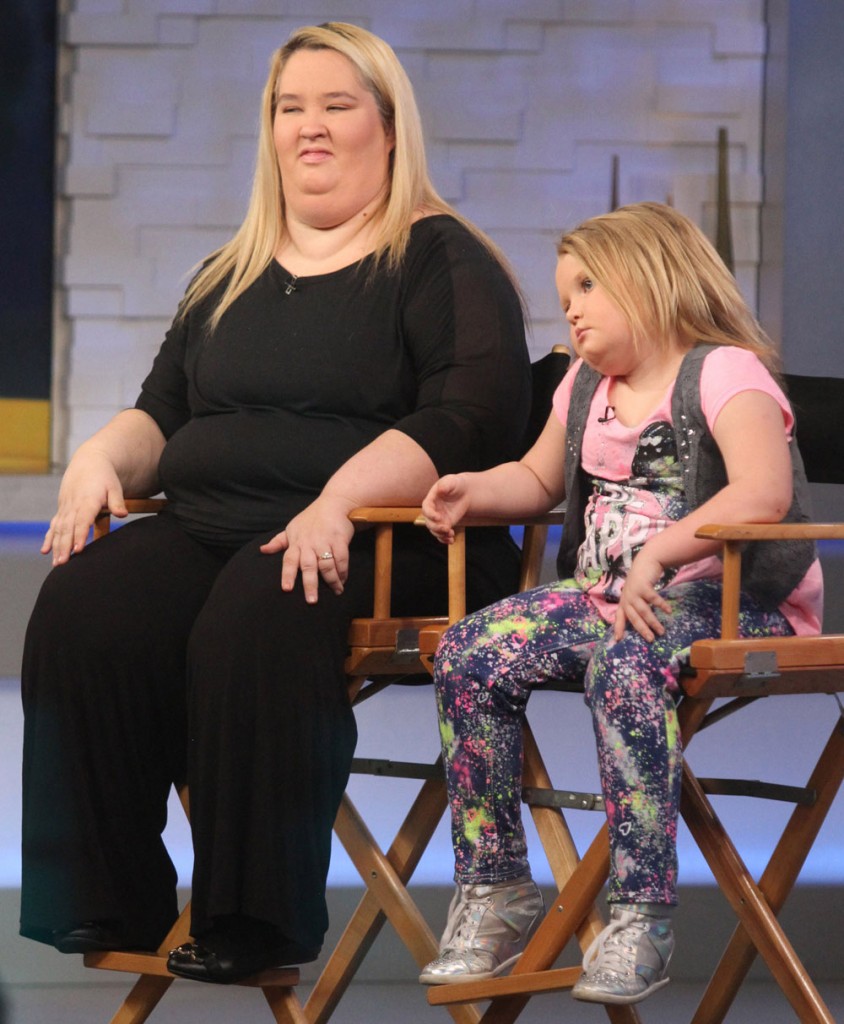 June Shannon's brother-in-law, Sugar Bear's brother Lee Thompson/Uncle Poodle, appeared on Dr. Phil yesterday. I know we've been doing recaps of June and Sugar Bear's interviews but I didn't watch that episode because I needed a break from this story. Radar Online has the details of Lee's interview, which we previewed yesterday. Lee alleges that June is lying about her relationship with convicted sex offender Mark McDaniel. Lee claims that he went on vacation this September with June and McDaniel. According to Lee, June and McDaniel had sex in a hotel room and bragged about it later when nine year-old Alana/Honey Boo Boo was around to hear about it.
So June is a lying liar and a horrible person, which we've known for some time. We've also heard that she's been under investigation by CPS for letting a child molester around her kids – again. While it sounded like the case went nowhere and like June was never under threat of losing her kids, that might not be the situation. Radar Online claims that CPS was considering removing Junes' three minor children from her care, until Alana/Honey Boo Boo's dad, Sugar Bear, moved into the home again. Apparently it was stipulated that another adult be present to supervise them.
In the days after "Mama June" Shannon's relationship with a convicted pedophile was revealed, Georgia CPS officials were quick to investigate whether Shannon's daughter, Alana "Honey Boo Boo" Thompson was at risk. She remained in the home, but RadarOnline.com can reveal that it was only under the condition that her father, Mike "Sugar Bear" Thompson, would live with his ex, , after child protective services told the parents social workers wanted another adult in the house in light of allegations surfaced that the mother of four had become romantically involved with convicted pedophile, Mark McDaniel.

Sources close to the situation told Radar, "Social workers weren't comfortable with only one adult supervising the three minor children, Honey Boo Boo, Lauryn "Pumpkin" Shannon, 14, and Jessica "Chubbs," 17. Alana has missed having her daddy in the house, and it was suggested by the department that he move back into the house, while the investigation was still ongoing. Sugar Bear agreed to do it, but wasn't happy about it."

Now, the source said, "Sugar Bear and Mama June can't even be in the same room together at the small house. He doesn't believe her constant denials in the media that she only saw Mark McDaniel twice. He is only staying in the house so the girls don't get taken away from June. Sugar Bear is being used as a pawn, and he knows it. It's a sad situation."
Radar has more about how "credible sources that have contact with and know the family" have been in contact with Georgia CPS. One of those credible sources is probably June's mother, who rescued Anna from the abuse and contacted authorities 12 years ago. June's mother told Entertainment Tonight last week that she contacted CPS about this case and told them how concerned she was.
I'm glad that Sugar Bear is back in the home, but seeing how cowed he looked around June I wonder if he has the nerve to stand up to her at all. She's taken the kids to see McDaniel several times, I wouldn't put it past her to keep doing it. If Sugar Bear is at home and she's sneaking off to see McDaniel with the kids he might not know about it. The kids are better off with June's mom or another relative. She's too much of a narcissist and a sociopath to care for them.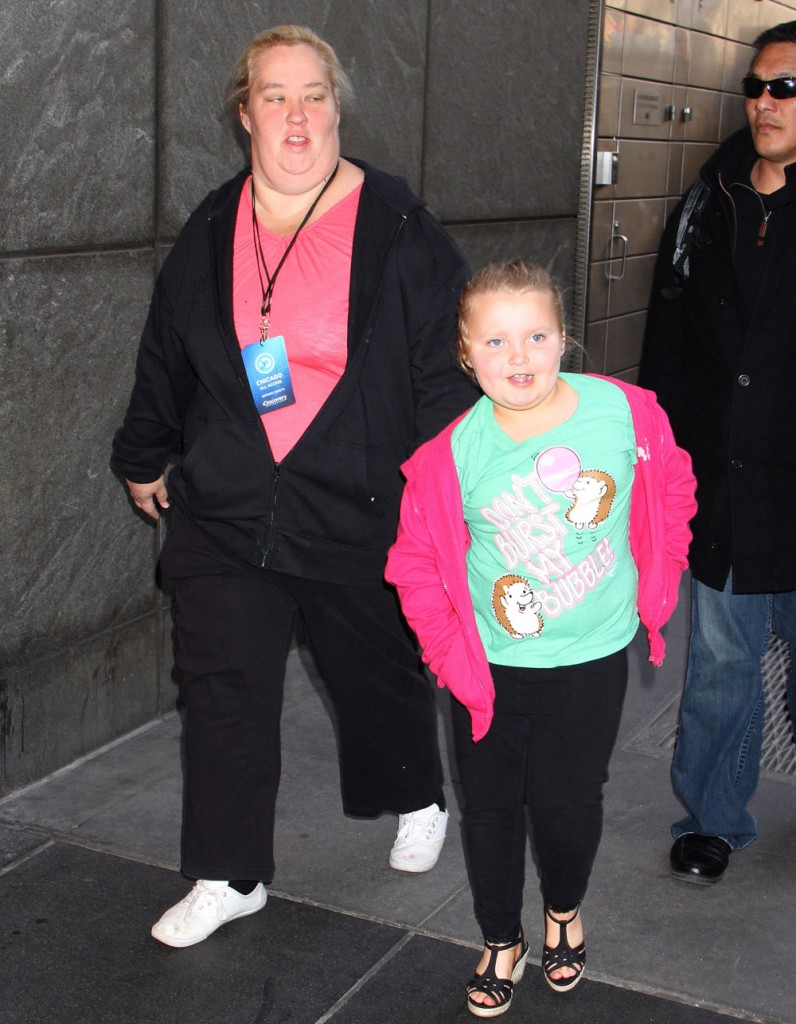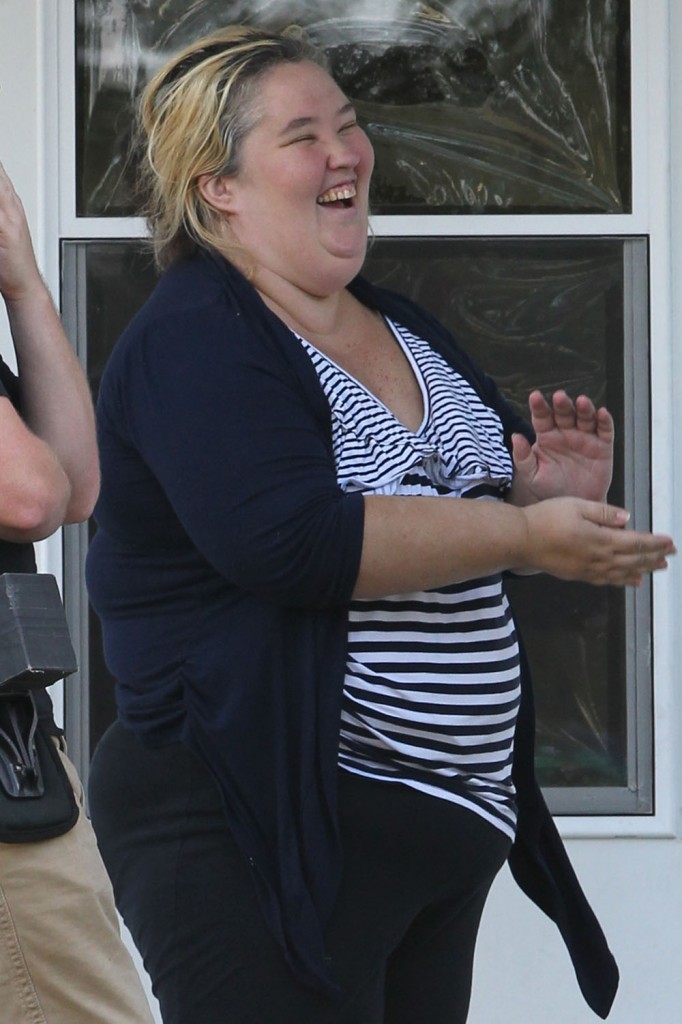 photo credit: Pacific Coast News and FameFlynet