Courtney Love was said to be outraged at the ad for Dr. Martens shoes that features her late husband, rocker Kurt Cobain, floating on a cloud in a robe and wearing the new line of AirWair shoes. It seems to be legal to use dead famous people in ads in the UK without paying licensing fees, and this was obviously what pissed off Courtney, not that fact that Kurt appeared in the ad. She's been selling off the Nirvana catalog, auctioning her husband's old clothes, and doesn't seem to care as long as she profits. When she's not getting a cut, that's when she gets offended:
"Courtney had no idea this was taking place and would never have approved such a use," her rep tells PEOPLE. "She thinks it's outrageous that a company is allowed to commercially gain from such a despicable use of her husband's picture."
[From People.com]
How is it despicable to show her husband as an angel on a cloud? This woman posed with a dying lookalike of Kurt in an image by famed photographer Dave LaChapelle that mimics Mary holding Jesus. That's more despicable if you ask me. The photo came out late last September, so it's not like she could forget about it.
Dr. Martens has apologized for the ads featuring dead rock stars, which only ran in the UK, and has fired the ad agency that created them, Saatchi & Saatchi. The CEO of Dr. Martens, David Suddens, said that he had no idea about the ads and that he considers them offensive and has pulled them.
I don't think they're offensive at all. Dead celebrities have even been featured in real television ads, including Audrey Hepburn for Gap, and Fred Astaire dancing with a Dirt Devil vacuum cleaner. There's even Humphrey Bogart furniture. If dead rock stars can't advertise boots, then all commercials featuring dead celebrities are offensive. Courtney better reconsider her position if she wants to be able to afford more plastic surgery in her old age.
Here are the ads, thanks to Drunken Stepfather. (site NSFW)
Joe Strummer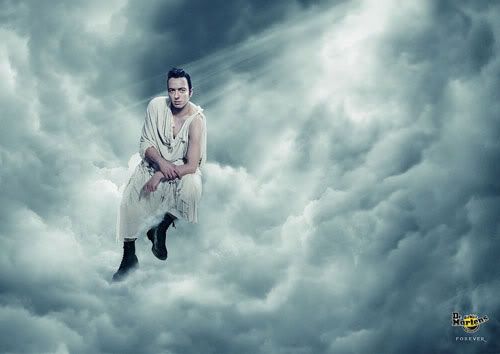 Courtney's Photo with dying Kurt lookalike