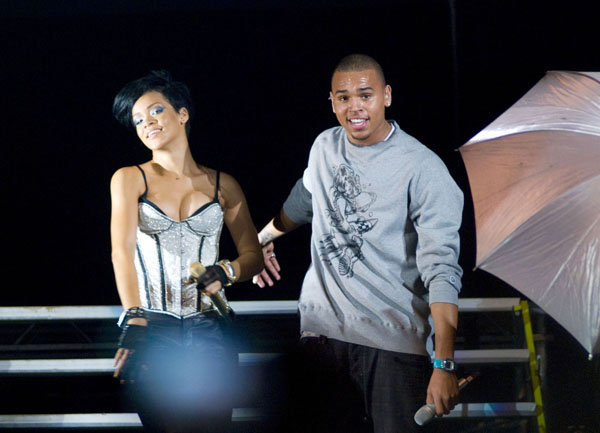 RadarOnline has supposed details of the police report on Chris Brown's attack on Rihanna. Unfortunately it sounds like all the stories we've been reading about the horrific abuse she suffered were true. Brown lost his temper, and he didn't just hit Rihanna, he smashed her face against the window, punched her, bit her ear, and told her he was going to kill her:
*Rihanna read a three-page text message on Brown's phone from a woman.

*An argument followed. Brown allegedly tried to force Rihanna out of the car.

*Brown then allegedly shoved Rihanna's head against the passenger window. Brown punched her, then continued punching Rihanna while driving.

*Blood splattered all over Rihanna's clothing and in the interior of the car. Her mouth was filled with blood. Brown allegedly told Rihanna, "I'm going to beat the **** out of you when we get home. You wait and see."

*Rihanna called her assistant and left a message saying, "I am on my way home. Make sure the cops are there when I get there." Brown allegedly then replied, "You just did the stupidest thing ever. I'm going to kill you."

*The report also says Brown punched Rihanna, bit her on her ear, her fingers and put her in a headlock.
[From Radaronline]
As MSat reported earlier today, Rihanna is also said to have told police that she was beaten in the past and that it increasingly became worse. It is unknown whether she will cooperate with the prosecution in the case against Brown, particularly since they are back together. Star Magazine is running a cover story that Rihanna and Chris got married in Miami, but let's hope that's just the same false crap they always spin and that there's no truth to that story.
Chris Brown is due to be arraigned today, and it is thought that he will show up at the courthouse sometime in the afternoon. TMZ has a live camera feed from the LA couunty courthouse and the media are there waiting to see when Chris will show up. It looks like the DA has enough evidence to charge him with felony domestic battery.
In related news there's a new Rihanna Cover Girl Ad out that seems very poorly timed.
Rihanna and Chris Brown are shown performing together on 12/16/08. Credit: WENN