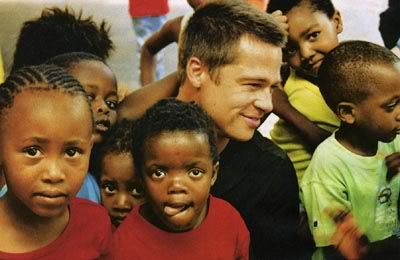 Brad Pitt narrates a new PBS documentary, Rx for Child Survival – A Global Health Challenge, about people saving lives through healthcare initiatives.
In an interview published in TV Guide, Pitt emphasizes the program's intention – that we can all help out in small but measurable ways:
So what can people do?
It's more than just witnessing it and saying it's a terrible situation. This should be our focus: the solution. This is where Bono has been very successful. Bono is a wonderfully dedicated beast unto himself. I find him very inspiring. But the
Web site related to the documentary
provides links [to] ways for people to get involved.
Did you learn anything from Rx for Survival? I did. I learned about how simple some of the solutions can be, like adding vitamin A to a child's diet prevents river blindness. As the documentary shows, vitamin A costs 2 cents for a dose. A bed net [to prevent malaria] is a third the price of a CD. These things aren't out of reach.
Are you planning any more humanitarian trips right now? What's next? No. My plan right now is to have a child.
Brad helps bring us from the fantasy world of Paris' lazy eye to the reality of children needing basic medical care and supplies.
We don't think it was just Bono who inspired his charity work, though.
The Rx for Change Website offers ways to help out:
Thanks to Just Jared for these scans.
Pictures [via]