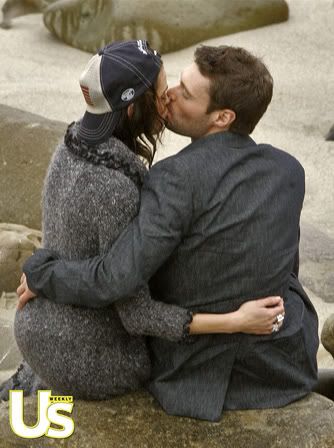 In a move we never saw coming, Teri Hatcher has said that she's not with Ryan Seacrest. I made up the part about her admitting that it was a publicity stunt. Hatcher was at the Comedy for a Cure benefit for Tuberous Sclerosis on April 2nd and found a business card for a singles dating service in one of the purses she donated for auction. She joked about its meaning, saying it signifies that she's still single:
Everyone clearly knows about my pathetic, single, dating life right?!"
In response to recent photos that were captured of Hatcher and the American Idol host kissing and reportedly dating, she said, "Well, I guess what's caught on film is caught on film and it would be hard for me to stand here and say that it wasn't me. I'm not a liar and I wouldn't do that, but I could say that I could still use the business card!" When asked if she was attached to Seacrest, she added, "I'm not."
She skirted the question by saying "she's not a liar" and wouldn't "say that it wasn't me" but still maintained that she's single. That's a strange way to deny that you're with someone. If it didn't work out between the two of them, wouldn't she say "We were looking for different things?" In fact, she could have used that excuse anyway!
Seacrest was seen on Saturday taking in a basketball game with Hatcher's costar, Eva Longoria. The two cheered on Longoria's boyfriend, at the Spurs game in San Antonio, TX.