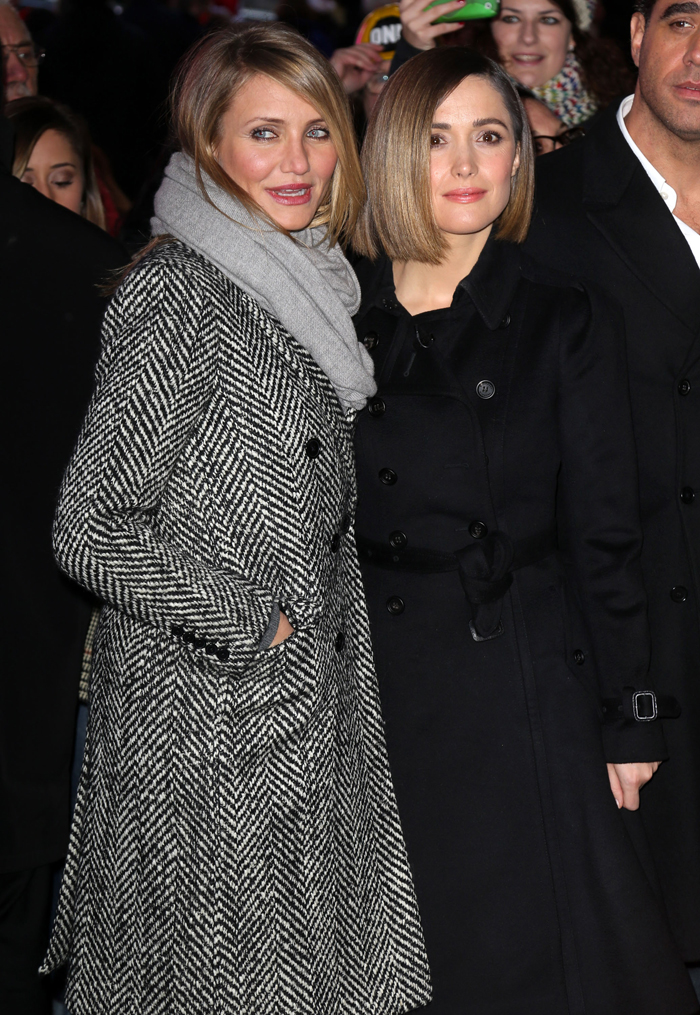 These are photos of Cameron Diaz promoting Annie alongside Rose Byrne. Cameron's been promoting this movie steadily but not with as much gusto as her romcoms receive. The studio probably assumes the movie has a built-in audience and doesn't require heavy promotion. I'd love to see Jamie Foxx out there and shaking his thang, but we can't always get what we want.
A few days ago, I talked about the kinder, gentler Cameron who looks back on her romantic past without fondness. Cam realizes she found a good dude in Benji Madden. They seem like an unlikely couple, but it's working so far. This week's issue of Star warns of trouble in rocker-boy paradise for Cam and Benji. The main issue? Cameron is "OCD" and wishes "filthy" Benji would stop treating her home like a laundry hamper. Really?
There's trouble in paradise for Cameron Diaz and Benji Madden! The pair had their first big blowout since the rocker moved into her spotless LA mansion last summer, close friends told The National Enquirer.

"Cameron's going nuts over Ben's filthy habits, and he's starting to feel like he's moved back in with his mom!" a pal tattled.

"The problem is they're both at a point where their habits are hard to change," the pal said. Cameron is a "germaphobe" who's been losing it over Benj's poor hygiene, sources said.

"She washes her hands incessantly and even opens doors with her elbows to avoid getting germs on her hands," said an insider.

Tensions reached "def-con" levels recently when Benji, 35, stormed out over Cameron's control-freak ways.

"Cameron lost it after he left a pile of dirty laundry in the bathroom," said the insider. "Benji told her he'd 'had it,' and he feels like a naughty teenager living at home!"

The blowout made Cameron rethink her OCD habits, said the insider, adding, "She realizes she went too far over something minor. They kissed and made up less than an hour after he walked out.

"She said she'll chill more, and he agreed to tidy up after himself."
[From Enquirer, print edition, December 12, 2014]
I never pegged Cameron for a germaphobe or someone with OCD. Speaking as a person who is both, I know the Enquirer isn't describing OCD correctly. But we can't expect a tabloid to care about the clinical definition of a mental disorder. Maybe Cam is a germaphobe. Her case can't be too severe, or she'd wouldn't even be able to open doors with her elbows. Because … germy elbows.
Anyway. I doubt this story is true. It feels like the Enquirer got bored and made up a story based upon Benji's grungy fashion sense. Cameron and Benji are fine. We'll know when they aren't because Cameron will start lecturing everyone during interviews again.
Photos courtesy of Fame/Flynet