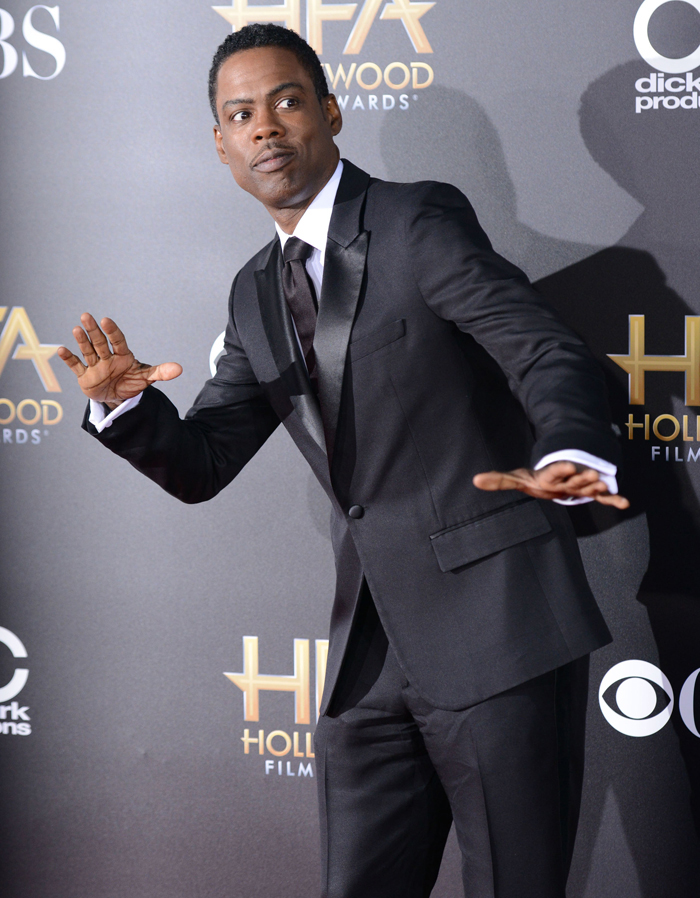 Chris Rock keeps his streak running to promote Top Five. I hope you're not tired of Rock because he's perfectly executed this tour. The film comes out Friday, and I hope there are more Rock thoughts this week. It's a genuine pleasure to discuss him. I read this Grantland piece and headed to the gym. Then I thought about it — along with Rock's essay and spot-on interviews from last week — between sets. It should bother me how a dude who makes raunchy sex jokes interrupted my gym blank slate, but I'm not mad.
Here's the thing: I often read features & think celebs are playing well for PR, or maybe they went off script. Neither has happened here. I won't call Rock's interviews "art" because Franco & Gaga have made a mockery of the word. Rock didn't sit in a leather chair and talk with steepled fingers, mulling over how to best discuss his "craft." But you can tell he's thought things over. He's a master of observation. Just like he honed his routines in dive clubs, Rock anticipated these questions and knows how to respond "off the cuff." It works. There isn't a whiff of pretention OR a sense that he's lowering himself. Rock interviews without publicists, and he knows his audience. He climbs into our heads and says things we are afraid to say. It's all in the delivery, and the results are awesome.
Highlights of this discussion include Rock's thoughts on how being "a role model" is bullsh*t. (I'm still giving the side eye to Mark Wahlberg for believing his pardon will inspire troubled youth.) Rock also talks about how celebrity interviews are bullsh*t. That happens in Top Five — Rosario Dawson plays the journo who interviews "Bizarro Chris Rock" for a week. Let's do this because I'm already guilty of a long lead-in:
On celebrity feature interviews: "They're bad.The dream of getting that much access? Yes. You can kind of get it — because I've done it — if it's like a cover story in Rolling Stone. People cover stories are like a week, and they have to have access to your house and all this other stuff, so there are circumstances when you get it."

On celebs who reveal personal details: "I'm selling a movie. And I don't do press unless I've got a movie coming out. Like literally, why would I do press? People always want you to do press. You never see me on Letterman or something unless I have a movie coming out. Your time in front of the camera is finite. It's not definite. People interviewing you, it's all finite. You should definitely use it to better yourself."

The film pokes fun at platforms: "I definitely made a point to tell Leslie [Jones] to tell me to 'Stay black' in one scene. No one tells Brad Pitt to 'Stay white.' 'Ben Affleck, stay white.' What the f*** are you talking about, 'stay white'? I just tried to do a movie in a realistic tone. People always think, What were you trying to say? I'm not trying to say nothing, I'm just trying to entertain people, trying to make things that don't bore me. Trying to make things that feel authentic. Trying to make a movie that I haven't seen. In a tone I haven't seen. That's what I'm trying to do."

He's not political: "I'm not Public Enemy, I'm not KRS-One — I love those guys. Don't get me wrong. [Pauses.] I think I'm more Ice Cube. He stumbles across political themes from time to time, but he's literally just entertaining people. You might have the most militant record in the world and then he makes Are We There Yet?"

On being a role model: "Be a role model to your kids. Your kids watch you every day. They kind of do what you do. But the whole 'Be a role model to people' [idea] is kind of racist when you think about it. It's not like, 'Get on the back of the bus, n*****" racist. It suggests that my behavior is not natural. It's like, 'Hey I don't beat my wife because I don't beat my wife, not because I'm trying to help the race out.' Know what I mean? I read because I want to read. It's like, you have a negative image of your people as a whole if you're putting all of your eggs in my basket. Or a basket of my behavior. Really? I don't smoke crack because I don't want to smoke crack, not because I'm trying to help out. So you're saying if I wasn't famous, I'd just be in jail and cracked up if no one was watching me? No."

On celebrity breakdowns: "I appreciate anybody that can have a breakdown. Because breakdowns allow you to clean the slate. After a public breakdown — you can do anything. It's only going to go up after a public breakdown. It becomes 'At least he's not tearing up a supermarket' … 'At least he's not trashing a hotel room.' There's something admirable to anyone letting you know exactly how they feel and exactly how mad they are."

How that applies to Richard Pryor: "He didn't keep any of it in. He's like, 'I'm mad, I'm so mad, I'm going to shoot out the tires of this car.' I've been that mad, but I restrained myself."

On aging as a comedian: "It's weird, because when I'm in the States, it's a little older — when I go overseas, it is really young. I get offers to do colleges. I don't know, it's not really a number thing, just energy. Do you have enough energy to entertain a 25-year-old? Carlin had it until he was 70, was knocking out colleges. I think I'm probably best if you're 30. Paying some bills and have had a woman or man break your f***ing heart — I'm the comedian for you. If you're mad at your taxes and sh*t and you're, like, not really a Republican or a Democrat. If you like to question things, then I'm the comedian for you. Sometimes that's not a kid thing. But I'm cool with it. The 20-year-olds that like me are really f***ing smart."

On Hannibal Burress's stand-up routine about Bill Cosby: "You know what, I talked to Hannibal a couple of times. He had no idea this thing was going to blow up like this. I can't speak for him, but he did not do it for what's happened. He thought he was just telling a joke to the people there. He had no idea it was going to blow up."

On the Bill Cosby scandal: "Let it clear up. I don't know. I literally don't know. I wish I knew — I just don't know. I don't see the pictures — it's all just people talking. They've been talking. Yeah. I don't know. The whole thing is sad. It's just sad."
[From Grantland]
See? Rock's doing it again. He's sliding into controversial territory, but what he says is true. Studios lets him roll with it because they know Rock's got this. These discussions are his creations, just like Top Five is his baby. This movie is about many things but, in particular, skewers the media machine. Rock doesn't set out to offend, but when it happens, he owns his words. No fauxpologies from Rock. As always, you should read the whole piece. Rock is incapable of giving a bad interview. There's one part where he talks about how he gets recognized most for playing Pookie from New Jack City. Then he mentions how L.L. Cool J is known not for his music but for NCIS: LA, which is sad but funny.
This tour is mastery. Rock doesn't jump into our faces unless he promotes something. He's worked on this project for years, and now he's unleashing his careful work before he disappears and makes us miss him. That's why he's been successful for 30 years. Rock excels at self-censorship (see his words about Richard Pryor), but he still manages to be funny as hell and retain his bite. That's something I admire and struggle with in all areas of life. Chris Rock is banal and profane but full of truths.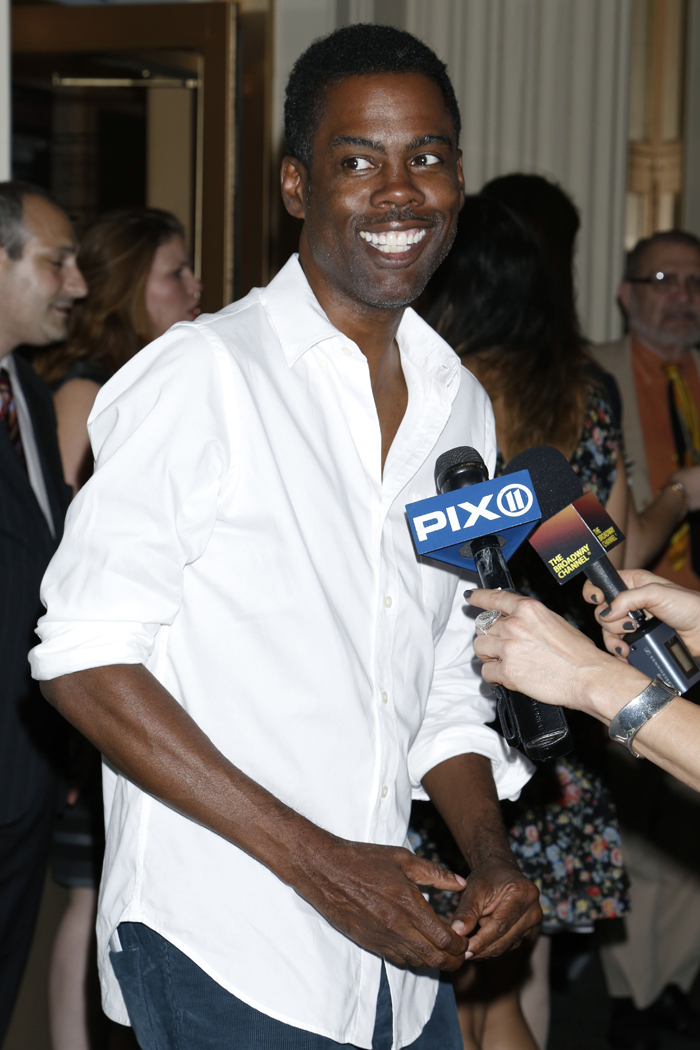 Photos courtesy of Fame/Flynet & WENN