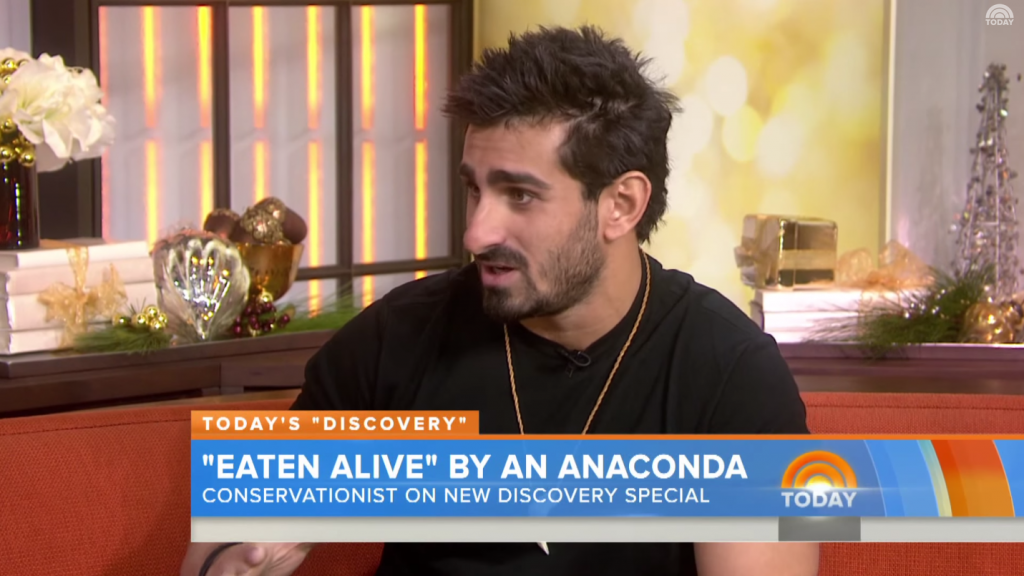 I almost put "spoilers" in the title but it's not like this was a show that people were particularly invested in. Naturalist Paul Rosolie, 27, claimed that he was going to be eaten alive by an actual anaconda in the Discovery special, Eaten Alive. Rosolie's aim was to raise awareness of the destruction of the rain forest, a cause for which he's passionate about. He was wearing a protective fiber carbon suit that he claimed would protect him while the giant snake ate and then regurgitated him, but it didn't end up mattering much. In the pretaped show, Rosolie called off the stunt when he felt him arm snap while he was getting squeezed. Many people (especially children of the 80s like me) have compared this TV special to the huge letdown of Geraldo Rivera's unveiling of Al Capone's vault. Discovery promoted the hell out of this special and Rosolie even did interviews giving the impression that the snake had eaten him. He said on The Today Show that "the last thing I remember is seeing the snake's mouth open straight at my face, everything went black. It was like being caught in a wave. You feel that crush… I couldn't see, I couldn't hear much." When asked how he got out of the snake, he said "They don't tell you how the tightrope walker got across, you have to watch it on Sunday." People did watch it, and while some found it entertaining others felt they were misled.
US Weekly has the best summary of this mess and a video is below:
Naturalist Paul Rosolie donned a protective outfit which he claimed would enable him to be eaten alive by an enormous anaconda snake, without being killed. But after a lengthy search for a suitable creature, Rosolie called time on the stunt after only his head had been consumed by the reptile, and Twitter exploded with disappointment.

The Amazon conservationist wore a carbon-fiber suit, to protect him from the snake's potentially heart-stopping constriction. Viewers watched as the snake bit his helmet. But before Rosolie could go any further into the snakes stomach (the promise of which had created outrage amongst animal rights activists), he called his security team to get the animal off him.

"I'm calling it, I need help!" he screamed as he felt his arm starting to break. There was no second attempt, and the animal was released back into the wild.
"I started to feel the blood drain out of my hand and I felt the bone flex," Rosolie explained, after his attempt. "And when I got to the point where I felt like it was going to snap I had to tap out," he said…

In response to the complaints, Rosolie has claimed that he carried out the risky move in a bid to raise money to save the snake's habitat in South America, and that the animal was not harmed.

"I wanted to do something to grab people's attention to the plight of the disappearing rainforests, something completely crazy," he said earlier this month. "Everything else has been tried."
At least he did it for a good cause. I wouldn't want anyone to get eaten by a snake for TV ratings of course, despite how misleading this was. What's more is that the anaconda used was actually raised in captivity. The show featured Rosalie hunting through the rainforest to find one. Rosalie had an explanation for that too "We didn't want to stress out a snake and then release her to the wild… We wanted to keep the suspense but really, it wasn't that big of deal for the snake. But people have been drawing such crazy conclusions, we let them wonder." Yeah, people were drawing the "crazy conclusion" that he would be eaten by the snake because the show was titled "Eaten Alive" and they kept claiming he would be eaten alive.
Here's the video of Rosalie getting squeezed by the snake. It's pretty scary as is. I doubt as many people would have watched if they titled it "The Anaconda from the San Diego zoo* squeezes a guy in a protective suit".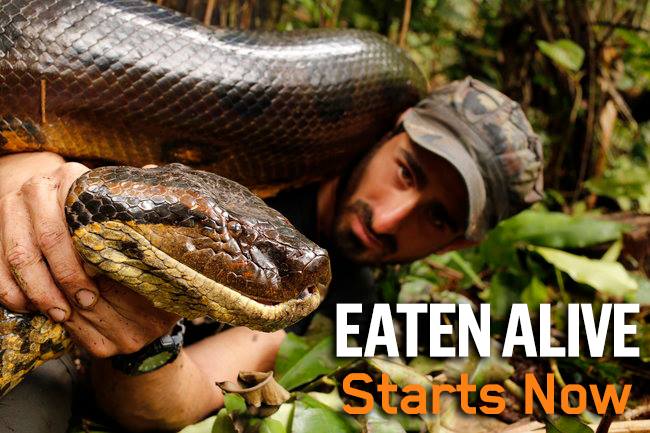 *I don't know which zoo the Anaconda was actually from.