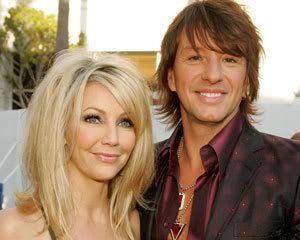 Richie Sambora is said to be desperate to reconcile with his ex-wife, Heather Locklear, after his split with Denise Richards. While I always assumed that Sambora wanted to live the single rock star life and that he was responsible for the breakup with Denise Richards, both The Enquirer and Star this week says that Richards dumped him. She was said to be fed up with his drinking following the loss of his father to cancer recently.
Richie is even said to have smashed his car through the gate at his house while driving drunk:
Richie Sambora… is begging ex-wife Heather Locklear to take him back, The Enquirer has learned exclusively.

What's more, the real reason Denise ended it with Richie is because of his excessive drinking – brought on by grief surrounding his father's death.

Richie's life spiraled out of control during the 18 months he was with Denise, who called it quits with the 47-year-old rocker because of his emotional problems and heavy drinking, according to her friends. In February, the troubled rocker smashed his car through the closed gate leading to his lake island home while intoxicated, the Enquirer learned…

"Now that he's at his lowest, all he can do is try to get them [Heather Locklear and daughter Ava, 9] back. Richie calls Heather in tears, begging her to give their marriage another try."
[From The National Enquirer print edition, June 4, 2007]
There's no way Heather is about to give Richie another chance, the article claims. Heather is said to have been very upset that Richie didn't invite her or their daughter Ava, 9, to his father's funeral. Denise Richards was there, but little Ava never got a chance to say goodbye to her grandfather.
Heather is also said to be daing her "Melrose Place" co-star Jack Wagner, and they sure make an attractive couple.
While The Enquirer says that Denise dumped Richie because he was drinking too much, Star lays the blame on Richie not being able to commit to another marriage right away.
This isn't the first time Richie Sambora is said to have begged Heather Locklear to reconcile after the dissolution of their 11 year marriage. Back in August, 2006 there was a story that he was still in love with her and sent her a bouquet of roses worth $500.