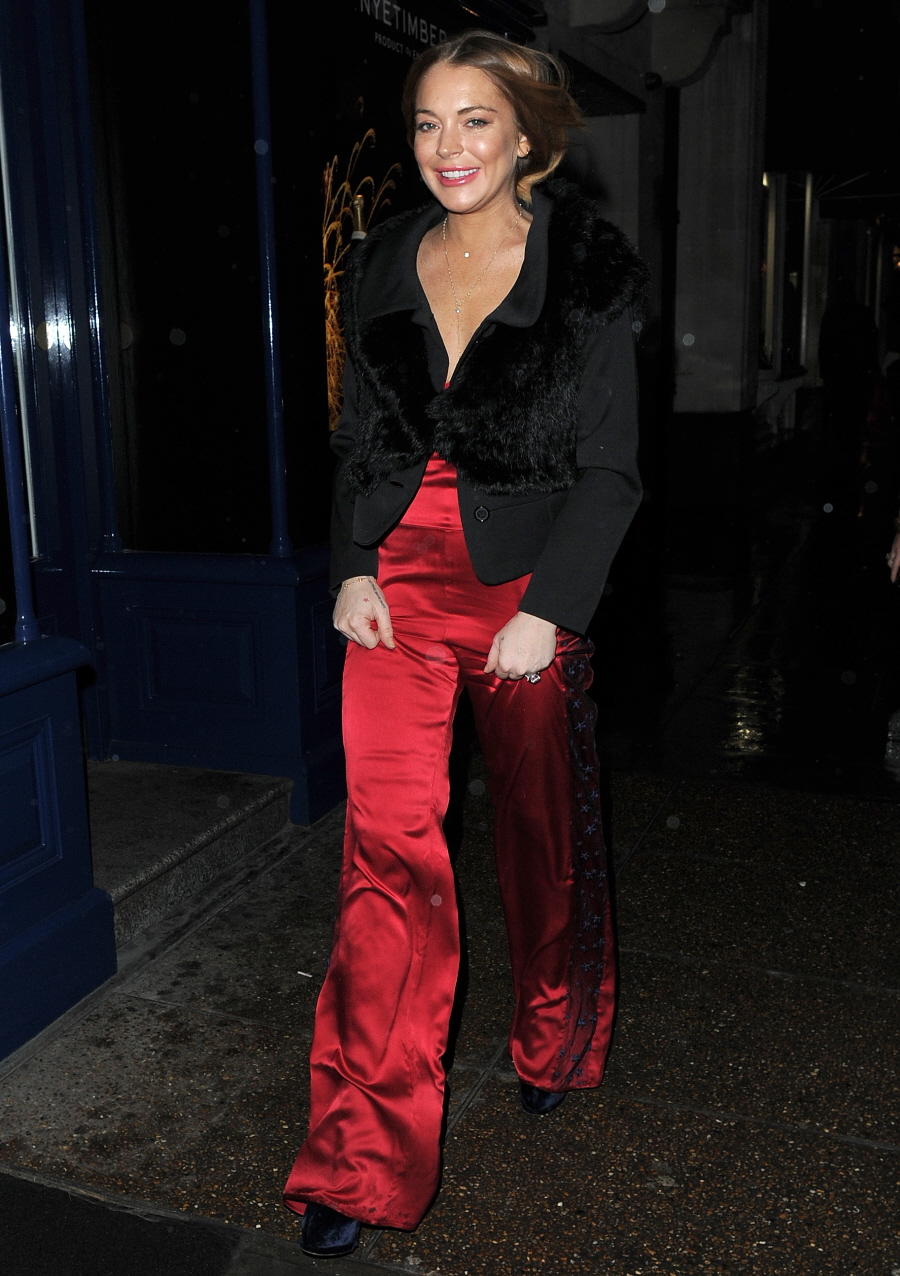 Here are some assorted photos of Lindsay Lohan out and about in London last week. I just never got around to posting them, because Lindsay really isn't a "thing" anymore. She's not so cracked-out that we need to talk about her in OMG Cracken terms, nor is she a completely sober success story of a person dealing with her recovery every day. She's "together" enough to make it through a play without any major shenanigans, but let's face it – she's still out partying at all of the hotspots every other night. Anyway, LL has a new interview with The Guardian – you can read the full piece here. She talks about how she desperately wants to do another play and how she's never, ever moving back to LA. Like, she's going to be living in London from here on out, I guess. Some highlights:
Her old life in LA: "In LA I didn't know what to do apart from go out every night. That's when my friends were free. And I would go out and there would be all these cameras there and that's when it became difficult."

She's moving to London permanently: Lohan has lived in the capital for nine months now, has a lease for another year on her flat in the West End, and is currently planning to make it her permanent home. She can't emphasise enough the liberation the move has given her. "I can go for a run here on my own," she says. "I do every morning, early, and I think how my friends in New York would still be up partying at that time. I needed to grow up and London is a better place for me to do that than anywhere else."

Her summer vacation in Greece: "It was the first time I have ever just been on a vacation by myself. I just wandered about on my own! I turned off my phone. It was so extraordinarily freeing for me. Like another life."

She'll never live in LA again: "I won't live in LA again, hell no. My friends tell me sh-t when they come over I don't want to hear. I don't even know who got married and who got pregnant. You turn on the news in LA and it is all gossip about people. All the stuff that is going on in the world right now and this gossip is the news? I love the BBC. I haven't heard myself mentioned on TV since I have been here. That has been really weird for me, and great."

She name-drops Al Pacino: "He said I know you are going to love this, it will be such a rush for you. He helped me get a routine; I like to meditate a bit before I go on to stage. He warned me the adrenaline you have after is tricky, it's late and you want to do something. I have let myself go eat, and then I have gone home."

She didn't miss one show, even when she was deathly ill: "One time I was sick with a bug, I had been vomiting all day, but no way was I going to miss a show. I was sitting there beforehand seeing spots in front of my eyes. I had a plan: if I felt sick on stage I was going to faint, play dead, pretend it was part of the script. Didn't happen fortunately."

What kind of work will she do in England? "I would like to do a period piece at least. I enjoyed having a British accent when I did Parent Trap so I guess I am halfway there. The way I see it, the longer I live here the less of a choice you will all have not to hire me for plays… "
I'm sorry, London. She's yours now. But London is luckier than many of those poor bastards in LA and NYC: at least Lindsay isn't driving in London, as far as we know. I think she's just taking taxis and public transport. Probably private cars too. And we still don't really know who is paying for all of this. I think Oprah probably is footing the bill for some of it, in some way. And I'm sure there's at least one sugar daddy in the mix too, to be determined. Still, this is probably the healthiest she's been in several years.
Oh, and "I enjoyed having a British accent when I did Parent Trap so I guess I am halfway there…" Oh, Lindsay. If anyone hires her for a Jane Austen adaptation, you're going to have to talk me off the ledge.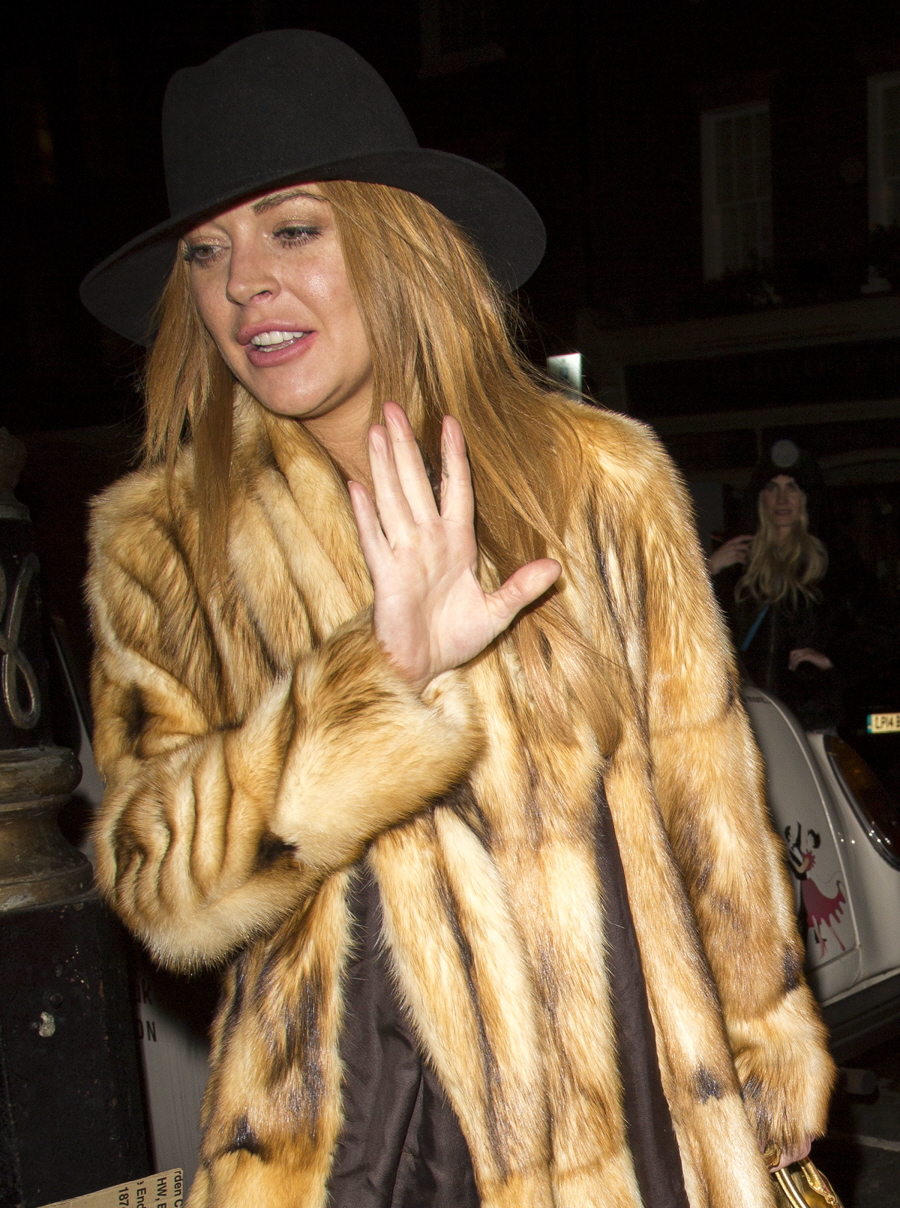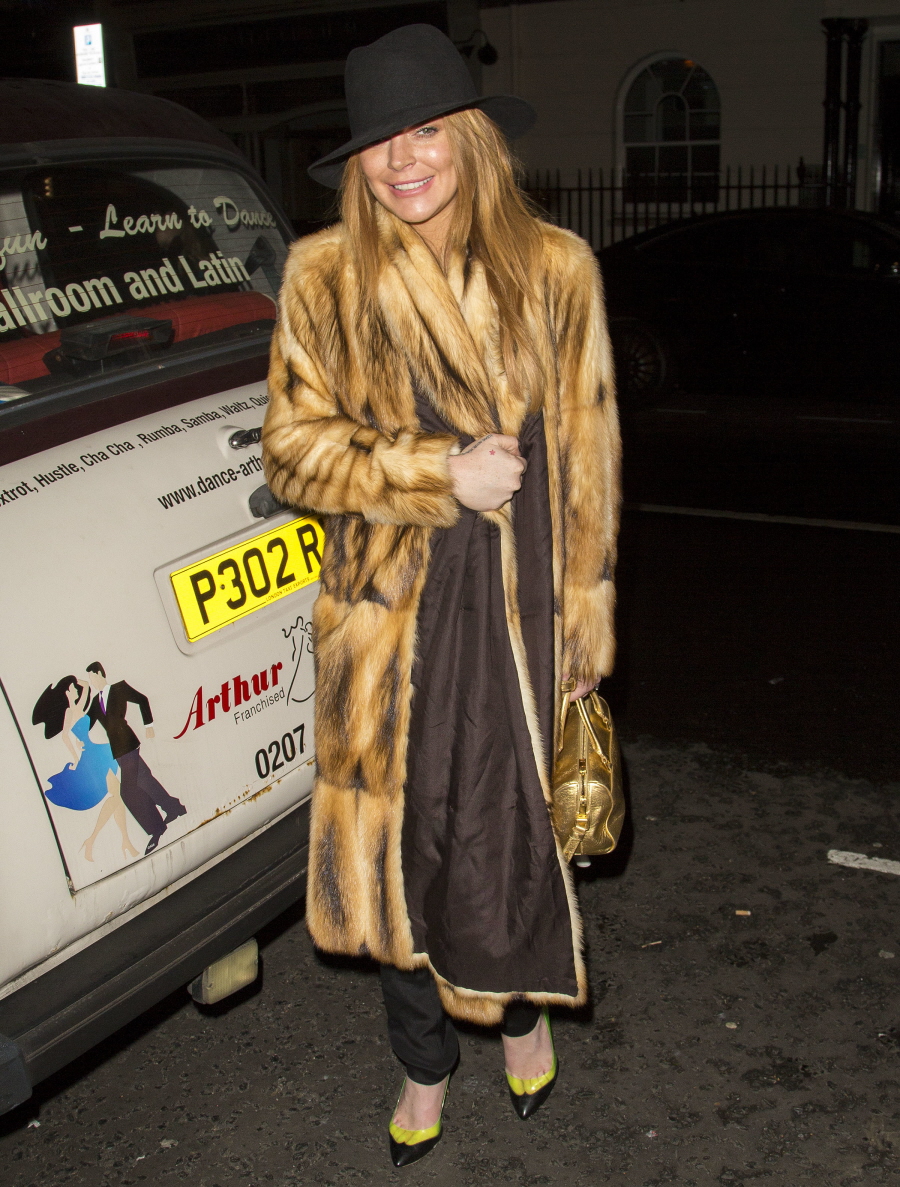 Photos courtesy of WENN, Fame/Flynet.