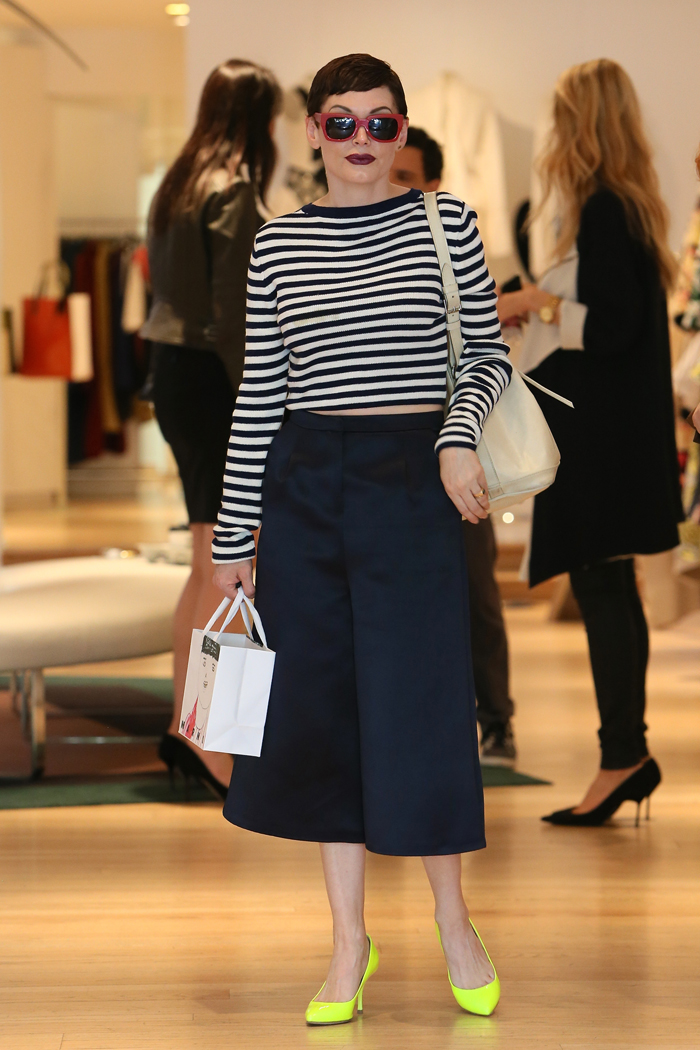 Not many people will care about this story or Rose McGowan's chartreuse pumps and newly short hair as she shopped on Melrose this weekend. I simply felt like reliving some Rose McGowan gossip from days past. Mostly because Rose is revising her past in a new interview with Flatt magazine. I'm not including the photos because her girls are on display, but you can see them here.
Rose is preparing to debut her first directorial effort, Dawn, which draws from Flannery O'Connor's A Good Man is Hard to Find. The story is about a serial killer, and the New York Times praised the film and said Rose had "the makings of a talented director." Huh.
Serious Rose is pumped about being a director, and she wants to reframe her sexpot past. I don't know why this is a problem for her. Rose played up her vampy ways for decades. But she's complaining about her semi-NSFW Rolling Stone cover from 2007. The shot featured Rose and Rosario Dawson promoting Grindhouse. Both women are wearing a few strings of bullets and nothing else. Rose says that was the moment she refused to be sexualized ever again. Even though she takes it off for this magazine too. Oh well, let's do these excerpts:
She's done with being sexualized: "I just grew up with not just an appreciation, but the desire to break down the study of film. Okay Rose, let's study the Lumiere Brothers, who invented the moving camera. Let's now study and focus on this. So when I was discovered for acting I thought, oh, this must be what I'm meant to do. But I was never comfortable in the role of basically being voiceless. I worked with some seriously misogynistic directors. And people get a pass because they're directors — but you don't get a pass for being a bad person, you just don't. I don't think any job. I got really tired of being sexualized. There was a moment, I was on the cover of Rolling Stone, with a fake tan and gun belt around me and breasts, they gave me some big bouffant hair and glossy lips, and I just was like, I've had it, I have just had it. I'm like sick of being sexualized, I'm sick of this. So I just checked out and I ran around and I had the most fabulous time. I figured out finally what was wrong. It was not that I wasn't meant to be an actress, it was just that I was meant to be in film, and I just was literally cast in the wrong role in life. And I'm good at acting, I like exploring different worlds and I like disappearing, but I spent 15 years disappearing into other people's bodies, into other people's minds, other people's clothes, eating what other people would eat. It wasn't that I didn't have amazing moments or got to do amazing things, absolutely. I'm an artist, but I never felt like I was an artist as an actor. Not because of how I was treated, because that's not how artists are treated, or should be treated, or people should be treated."

On female directors: "I think it's a great time for women filmmakers. Women are being afforded greater roles in their destiny, or roles in art, or roles as directors, but why should women be 'afforded' anything? I shouldn't just be allowed to have something — it is my right. It is my right to create as much as it's another human being's right, and I think that comes first. Somebody asked if I thought a man would have made Dawn, and I don't know if they could have. I don't know if it would have occurred to them.

"The Seattle International Film Festival put me and dawn was in the festival, which was an honor, but then under genre, they put 'woman director.' I feel bad because then of course I go on Twitter and I was like, 'Dear Friends on Twitter, please explain to the Seattle International Film Festival why a woman director is not a genre.' I got a letter back from them saying we can assure you: we are neither sexist nor racist. I was very confused by that one, and I said no. It's a passive sexism and that's dangerous. All the people that looked at that to go into the program, nobody waved a flag at that one, because it's normal. And that's what has to change, I think."

Her philanthropic efforts: "I support Children of The Night, they are who I earmark for things and anybody who's going to donate on my behalf, they work to support children and teen runaways. I'm involved in are working at Walter Reed Hospital. I've been working with the military in the USO for years. I've been to Afghanistan and Kuwait, and I've done a lot of stuff in the last seven years military. I'm very, very close to that world. I have the utmost respect for them, and it's beyond that. I think I would have been a really good soldier or officer, frankly. Except for I probably would have gotten kicked out for some reason or another, I'm sure. But I'm a fighter, I'm a born fighter, and I respect fighters, in any capacity."
[From Flatt]
Most of what Rose says about female directors is spot on. But Rose acts like she was promoting a wholesome project when she got her kit off for Rolling stone. Please. She was working on Grindhouse, which was full of innuendo and featured Rose rolling around in the tiniest skirt imaginable. She had sexy times in that movie, you know. And she hooked up with the married director, Robert Rodriguez. (They later got engaged and broke up). Rose was proud of the project. I remember hearing stories about how she considered that premiere to be her star moment, and she forbade the other actresses from wearing red that evening. Only one red dress allowed, I guess. Then Rose pushed Robbie Rod to remake Barbarella. Thank goodness that never happened. Poor Rose would have had to sexualize herself again.
These photos of Rose and Jamie King doing fashion week duck face are so weird.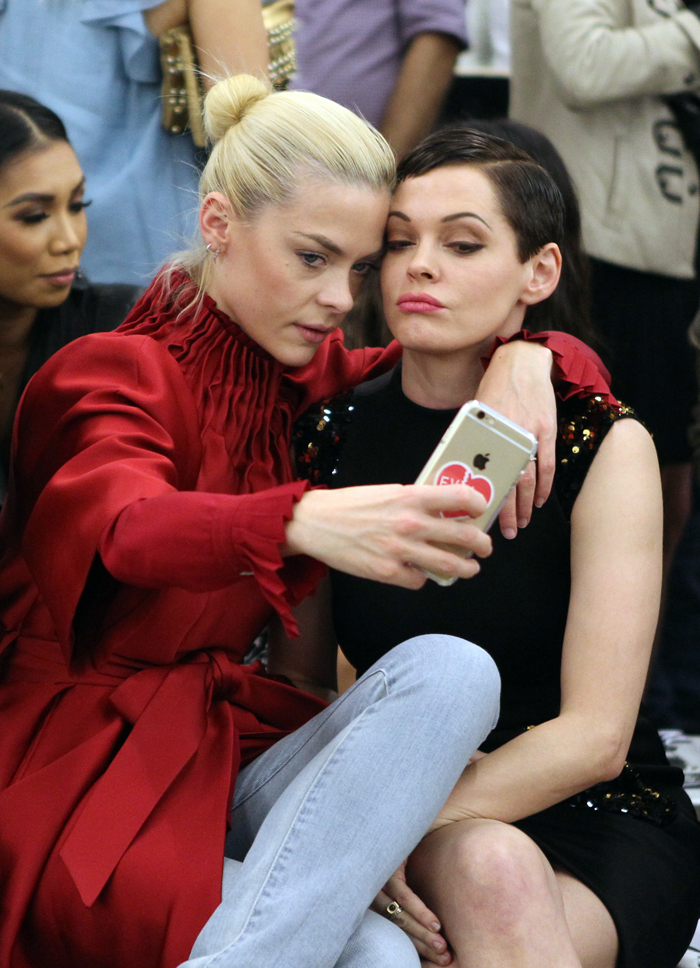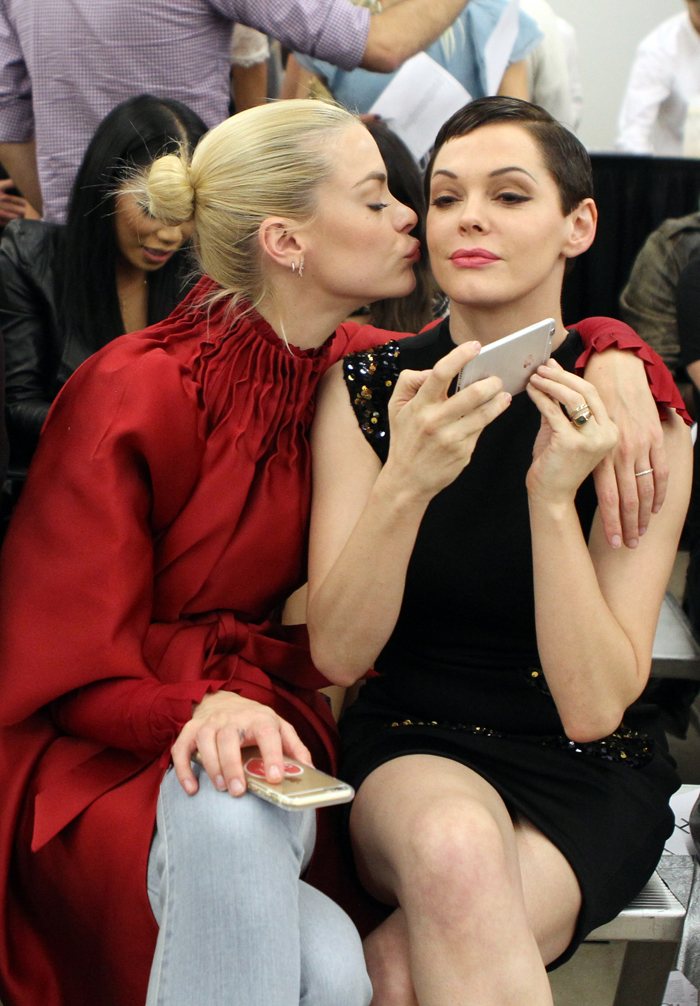 Photos courtesy of WENN