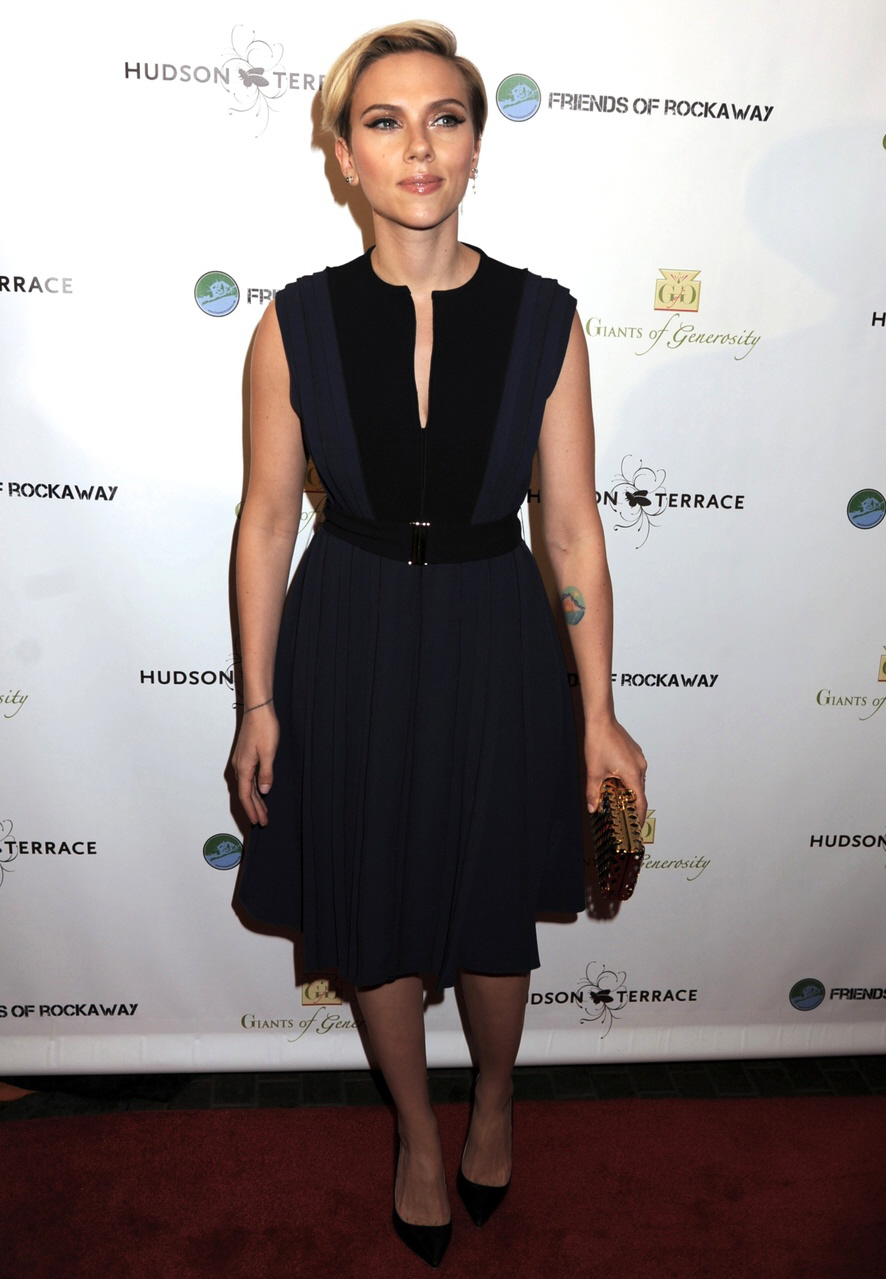 As we discussed yesterday, Amal Clooney was named the Most Fascinating Person of 2014 by Barbara Walters. Well, Babs also put Scarlett Johansson on the list, which we knew last week when the first excerpts from her interview came out. Those were the quotes I covered last week about breastfeeding and getting back into shape after her pregnancy. Well, ABC released the full video of the interview, and there are a few more interesting quotes. Did you know that ScarJo doesn't think she has a particularly good figure? Madness!
Way to make the rest of us feel bad, Scarlett Johansson! The 30-year-old blond bombshell admitted to having her own body insecurities Sunday on Barbara Walters Presents: The 10 Most Fascinating People of 2014.

"It's an okay body, I guess," said the actress, who welcomed her and Romain Dauriac's first child Rose Dorothy just three months ago. "I wouldn't say it's particularly remarkable, though. I don't like my thighs, my midsection."

And how does the newly married mama feel about being viewed as a sex symbol? "I never put on a sexy face," she told Barbara, "so I don't know what it means to act seductively."
I rolled my eyes at "I never put on a sexy face, so I don't know what it means to act seductively." Says the woman who has dressed up like a nouveau Marilyn Monroe for multiple ad campaigns, campaigns that often feature her "SexyFace" pose (lips apart, mouth open, eyes widened). Let's not play that game, Scarlett! But I feel her about her problem areas or whatever. I too have issues with my thighs and midsection and I always will. It's just my body type. And it's just Scarlett's body type too. That being said, she looks really great. I can't believe how quickly she's lost the baby weight.

More ABC News Videos | ABC World News
Photos courtesy of WENN, Pacific Coast News.