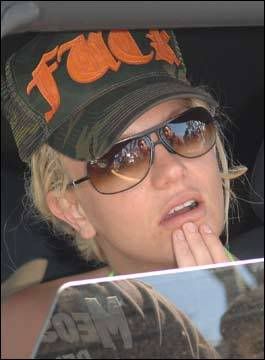 According to a recent issue of OK!, Britney is pretty happy that Paris Hilton is going to jail now that they're no longer friends, and blames Paris for ruining her reputation before she ended up in rehab. She is also said to be relieved that Paris is taking some of the gossip heat off by making her own very public mistakes:
Britney Spears wants the heiress to pay in prison.
Don't expect Britney Spears to sign a "Free Paris" petition anytime soon, as the pop star is now gloating over former pal Paris Hilton's jail sentence. And one insider tells OK! that Brit couldn't be happier she ended her friendship with the Simple Life star. "Britney is relieved to have distanced herself from her ex-party buddy," the source says. "Rest assured – you won't see Britney speaking to Paris through the glass petition in the jail on visiting day…"

[Britney] "blames Paris for a lot of her image problems that she had before rehab," the insider confides. "Britney is happy to be living clean and sober, far away from Paris' mess. She's also glad that the attention of making mistakes is now on somebody else."
[From OK! Magazine print edition, May 28, 2007, via Sammie's Effluvia]
The article has a pretty interesting inset filled with quotes from celebrities saying Paris deserves jail. Sophia Bush said "Karma's a bitch," Jane Fonda is quoted as saying "I'm glad she's being sentenced," and Brittany Murphy says "If you can't do the time, don't do the crime." (Murphy is about to learn that the hard way now that her husband is due to be deported.)
Of course Britney is glad Paris is going to jail. These two didn't just stop hanging out constantly because they were busy, they're said to hate each other, with Paris calling Britney "the animal" because all she does is follow her instincts without thinking.
Meanwhile it's questionable how "clean and sober" Britney is living, as the source is quoted mentioning in the article. She was said to be puking all over herself at Sky Bar on Sunday night, and had to be carried out. She was also said to have asked a photographer how Lindsay Lohan was doing. As if she cares.