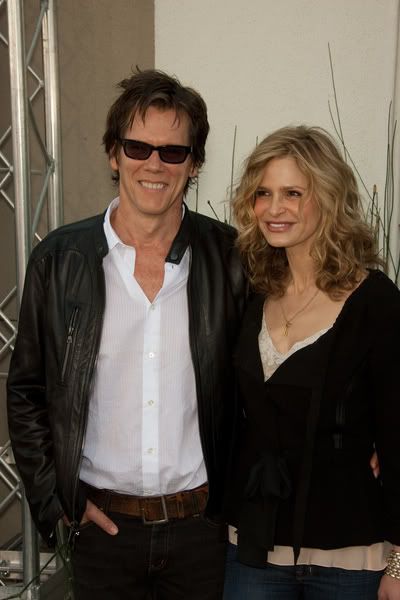 Kevin Bacon is on promotional duties for Taking Chance, an HBO film based on a true story of a military escort officer bringing a fallen soldier home. Casting Kevin Bacon was a smart choice – he's played military characters several times before, and the role offers the kind of profound drama that a great, under-rated actor like Bacon will do well with. In this OK!intervew, Kevin also talks about his love of his wife Kyra and their 20-year marriage:
On the latest Bacon Brothers CD, New Year's Day, Kevin Bacon sings the praises of his wife, Kyra Sedgwick, 43.

"I took the inspirational things she's said to me that are her life's mottos and wrote them into song," the father of two, 50, told OK! at the Feb. 24 Musicians On Call event in NYC. The result was "Kikko's Song."

The couple, who have been happily married for 20 years (amazing by Hollywood's standards) tells OK! that the secret to their wedded bliss is "We like each other's company," Kevin says.

Meanwhile, Bacon has taken on a new role in HBO's Taking Chance. Based on real-life events, the actor plays Lt. Col. Michael Strobl, a volunteer military escort officer who accompanies the body of 19-year old Marine Chance Phelps back to his home. It's something the actor recently says hit home.

"You know, I've got a son of my own and it's – it's almost kind of unthinkable (to deal with that kind of loss), and yet they have a certain, a real strength and a grace and kind of elegance about them that's really inspirational," he says.
From OK! Magazine
I saw the original "version" of Taking Chance when it was part of the PBS documentary series America at a Crossroads: Operation Homecoming, Writing the Wartime Experience. In its original form it was a short (under 20 minutes, if I remember correctly) vignette written by Lt. Col. Strobl. Taking Chance was one of the most beautiful and moving stories in a excellent group of real stories, poetry and short films of the war and home front, as told by the soldiers. Lt. Col. Strobl told of delivering the body of Chance Phelps to the small town of Riverton, Wyoming. Strobl's description of the quiet dignity of the town, the grief of the family, and the effect of one fallen soldier's funeral in one community is devastating. I've linked to the PBS transcripts, and if you need a good cry, read any or all of the stories.
Kyra Sedgwick and Kevin Bacon are shown on 3/8/09. Credit: PRPhotos