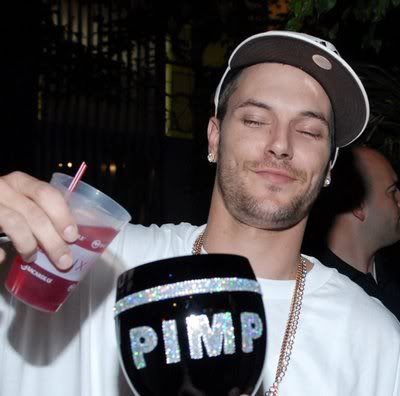 Janet Charlton is reporting that K-Fed is ponying up his own money to fund a follow-up to his widely panned album, "Playing with Fire." Federline is consulting with music business insiders and is working in his own studio to produce the album.
Kevin Federline is NOT giving up on his musical career. He is investing his OWN money to produce a second album. The fact that his first album Playing With Fire was received with little enthusiasm hasn't deterred him. He's consulting with friends he's made in the music biz, like Scott Storch, but basically he's doing everything himself in his home studio. Nowadays he says he only leaves home if he gets paid to do it. No more clubbing.
While K-Fed did gain some credibility by becoming a responsible father overnight and poking fun of himself in a commercial, it didn't increase his rapping talent one iota. He should focus on his career attending parties and capitalizing on his tabloid persona and give up his misguided dreams of rap stardom.
The National Enquirer is reporting that K-Fed is trying for full custody of his two boys with Britney, and that he followed her to Miami during her recent non-concerts there to try and get enough evidence for a custody battle:
[Britney's] soon-to-be ex-hubby Kevin Federline tailed her to Miami – hoping to dig up dirt on her for a vicious new custody battle!…

"Kevin flew the boys and their nanny to Miami," an insider revealed. "He plans to tap his spied in Florida to gather the evidence he needs to busy Britney doing drugs. He's determined to get full custody of their sons."
[From The National Enquirer print edition, June 4, 2007]
Despite K-Fed's image makeover, he probably wants custody of those boys for all the child support that will come with it, not that he doesn't love them. You don't see him fighting for custody of his kids with Shar.
In Britney's long-ass rant on her website, she made a reference to her kids, saying "I am sitting here at home and it is 6:25 and both of my sons are asleep. I am truly blessed to have them in my life."
Britney seems to treat her boys as playthings and has been criticized for only watching them when it's convenient for her. She would probably be devastated if K-Fed got full custody, but it's not like she's ready to take on the responsibility of watching them all the time anyway.
Picture below from Just Jared.