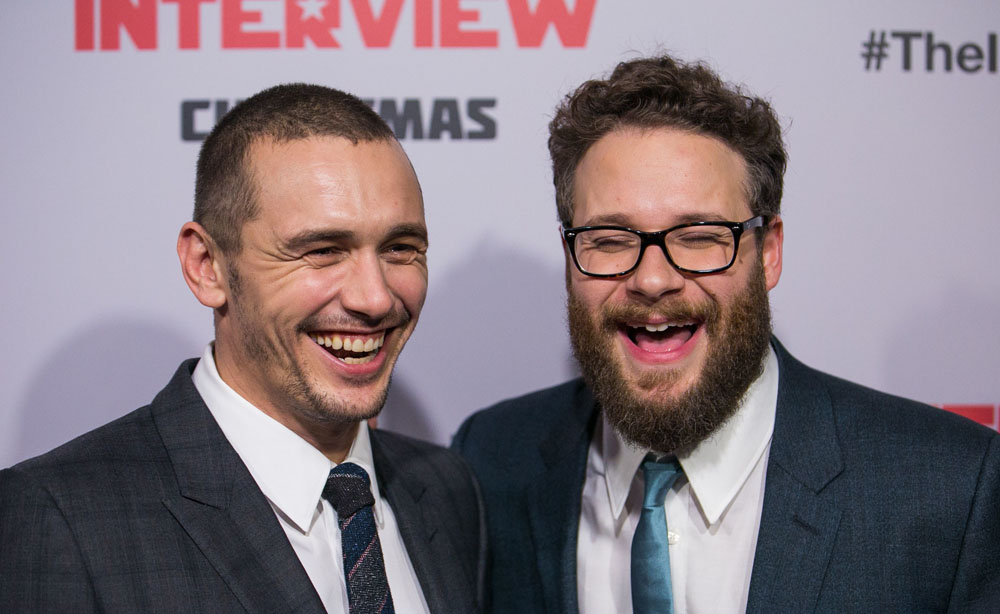 As you know, a traditional wide theater release of the Seth Rogen and James Franco comedy, The Interview, was originally scheduled for Christmas day. Movie chains refused to show the film after hackers threatened 9/11 type attacks on any theaters screening the movie. The threats were not deemed credible by the US government, but the movie was canceled anyway.
All of this of course followed the hacking of Sony's email system and the release of company emails which made several Sony executives look like petty a-holes. The hacking was reportedly tied to North Korea as retaliation against a comedy depicting the assassination of their dear leader. Tech experts believe it was an inside operation with help from a hacking group, however. (It's thought to be the same group taking credit for the Playstation and XBox outages.) Also, North Korea's internet access has been cut off three times in the past week.
While The Interview only received a limited release in about 330 independent theaters, it did surprisingly well and earned a respectable $2.8 million over the weekend. (The Hobbit was top at a busy Christmas weekend box office with Unbroken in second.) What's more is that The Interview was released for on-demand rental or purchase on Google Play, YouTube, XBox and its own website. It made $15 million as of Saturday on those platforms alone. That's not counting iTunes sales, as it wasn't available on iTunes until Sunday. Plus it's not offered as a VOD rental through any cable companies yet. Variety has some details. The Interview is now the top grossing online film for Sony. It's possibly the top grossing online film of all time, but we don't always know the VOD numbers for films.
After four days, "The Interview" ranks as Sony Pictures' highest-grossing online release of all time. It also outstrips recent VOD successes such as "Snowpiercer," which earned $7 million on demand, as well as "Arbitrage" ($14 million) and "Bachelorette" ($8.2 million). Sony's decision to provide numbers for "The Interview's" VOD sales and rentals give rare insight into the home entertainment results of a major film release, figures that usually remain shrouded in secrecy.

Sony did not disclose the financial terms of its deals with online distributors, but in the past they have been more favorable than the revenue split studios share with theater chains. During a theatrical release, ticket sales are usually evenly divided, but digital release tend to favor the studios behind the films.

"The Interview" will depend heavily on its on-demand grosses. The R-rated comedy cost roughly $75 million to produce and market — far more than most films that employ a simultaneous theatrical and on-demand strategy.

The film has been available on YouTube, Google Play and Microsoft Xbox since Christmas Eve, as well as a site set up specifically to show the film. Google Play and Google-owned YouTube are responsible for the bulk of the film's $15 million total, according to an individual with knowledge.
To celebrate the film's release, Rogen and Franco live-tweeted it on Sunday. Rogen also issued a statement thanking people for going to see the film. He said "I'm so grateful that the movie found its way into theaters, and I'm thrilled that people actually went out and saw it. The fact that people actually left their houses when they had the option of staying home is amazing."
Sony has done a good job marketing The Interview, although their word of mouth of course benefitted heavily from the hacking scandal. Prior to this I didn't even realize you could rent movies from YouTube and that service was launched in 2010. This kind of raunchy comedy is ideal for an online release and I hope that it makes some money for Sony. This whole debacle might just change the way major studios release films.
I'll probably rent this soon. I loved This is The End although The Interview isn't doing as well with critics.
Did you see James Franco and Seth Rogen's Christmas card? It's been out for a while but I just saw it recently. It's sorta NSFW and that image will get burned into your brain. I can't decide if that's a bad thing.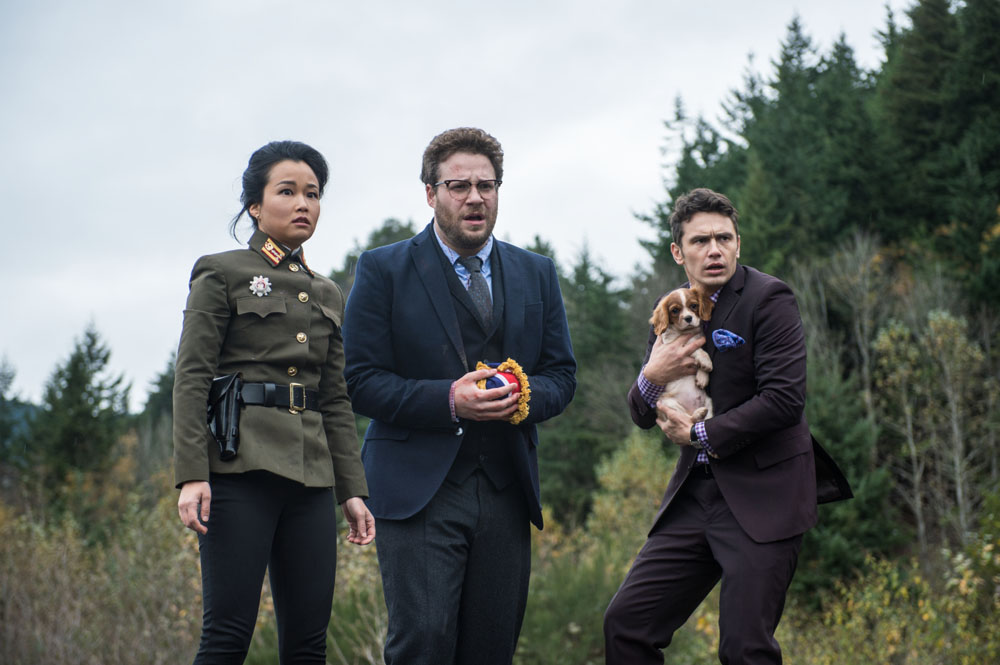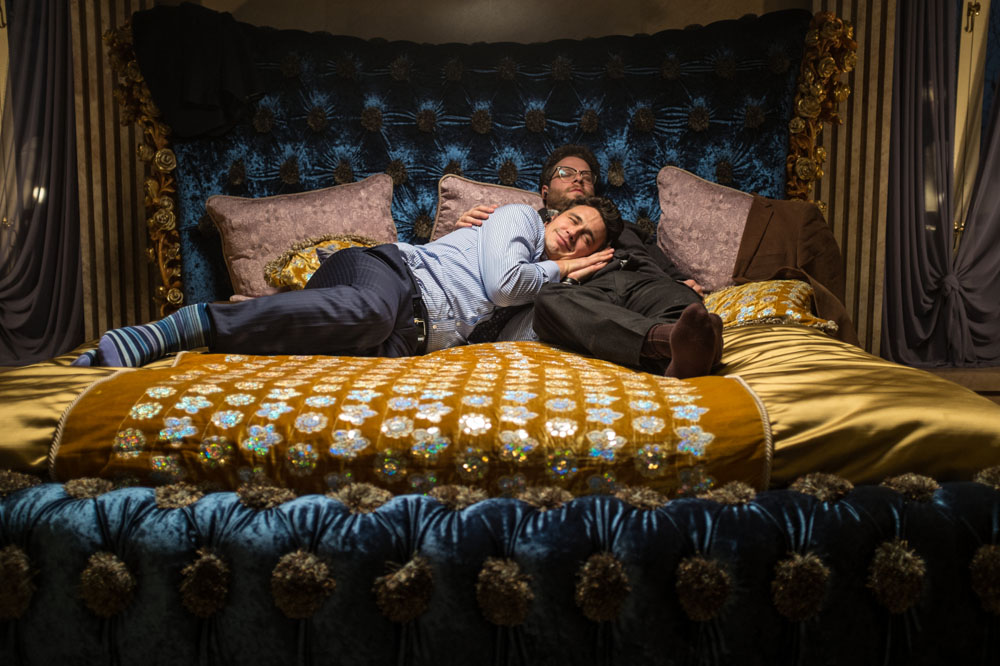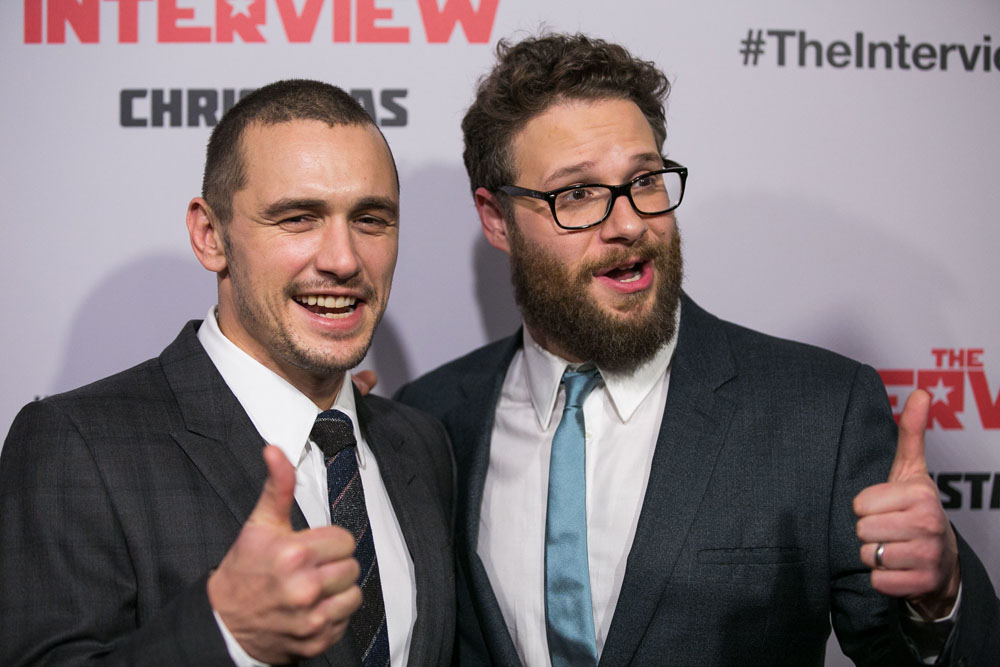 Photos credit: Sony/Columbia pictures and WENN.com