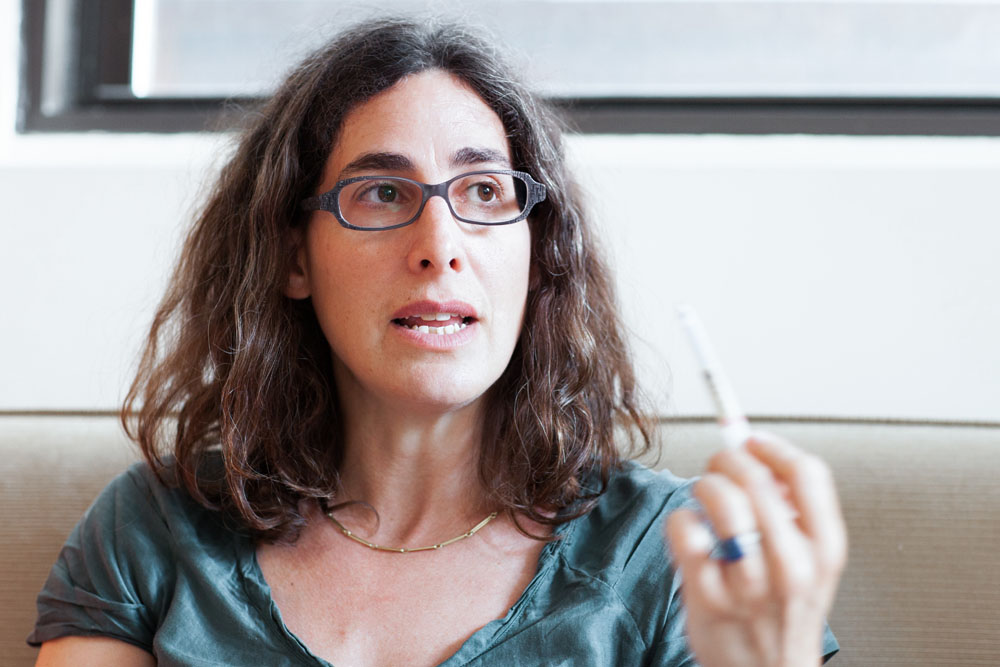 Serial host Sarah Koenig
This story contains spoilers for the Serial Podcast, an offshoot of NPR's This American Life. If you have not yet heard season one and wish to avoid spoilers, you may want to skip this.
Those of us who listened to season one of the excellent Serial Podcast were left with more questions than answers, most pointedly about Jay, the state's key witness in the case against Adnan Syed. Adnan was convicted of the 1999 murder of Hae-Min Lee, an 18 year-old high school senior in Baltimore. Adnan was just 17 at the time and his conviction hinged on the testimony of his friend Jay Wilds, who claimed that Adnan killed Hae and enlisted him to help dispose of the body. Jay's story about the night of the murder, and his role in helping Jay, changed several times during his testimony to police.
Up until now, Jay has refused to speak on the record about the podcast. Although he talked to Serial creator Sarah Koenig after she ambushed at his home, he would not grant an interview for the show. In a new interview with The Intercept, Jay relays what he claims happened on the night of the murder. Several details from that night have changed since Jay's testimony. In court, Jay swore that Adnan first showed him Hae's body, concealed in the trunk of Hae's car, in the parking lot of a Best Buy. To The Intercept, Jay claims that Adnan showed him the body in the driveway of Jay's grandmother's house. Jay also adds the detail that Adnan called him while he was outside of his grandmother's house. Adnan's cellphone calls from that day were submitted into court records, and this supposed call to Jay is not listed at all. What's more is that now Jay is claiming that he wasn't present when Adnan buried Hae, that he just helped him dig the hole. He told police that he was there when Adnan buried Hae. The inconsistencies in Jay's story make me question why he even did this interview at all.
The piece is long and it's part one that's been released from a three part interview. I'll excerpt some here and you can read more at the source.
When Adnan loaned you his car on Jan. 13, 1999, did he tell you it was because he planned on murdering Hae?
No. I didn't know that he planned to murder her that day. I didn't think he was going to go kill her. We were in the car together during last period—he was ditching the last period. And I said, 'Hey, I need to run to the mall 'cause I need to get a gift for Stephanie.'

He said then, 'No, I gotta go do something. I'm going to be late for practice, so just drop me off. Take my car, take my cellphone. I'll call you from someone else's phone when I'm done.'

I said, 'Alright, cool.' I dropped him off at school, went to the mall, then when I was done, I go back to my friend Jenn's house, where I normally go, sit and smoke with my friend.

Then he calls me and says, 'Come pick me up.'

So I go to pick him up, and when I get there he says, 'Oh shit, I did it.' I say, 'Did what?' He says, 'I killed Hae.'

At the Best Buy?
Yes.

Is this when you first saw Hae's body in the trunk of her car?
No. I saw her body later, in front of of my grandmother's house where I was living. I didn't tell the cops it was in front of my house because I didn't want to involve my grandmother. I believe I told them it was in front of 'Cathy's [not her real name] house, but it was in front of my grandmother's house. I know it didn't happen anywhere other than my grandmother's house. I remember the highway traffic to my right, and I remember standing there on the curb. I remember Adnan standing next to me.

Did you go to Leakin Park immediately after agreeing to help?
No. Adnan left and then returned to my house several hours later, closer to midnight in his own car. He came back with no tools or anything. He asked me if I had shovels, so I went inside my house and got some gardening tools. We got in his car and start driving. I asked him where we're going and he says, 'Didn't you say everyone gets dumped in Leakin Park?'

I said, 'Drug dealers, people who get killed by drug dealers,' and I'm thinking to myself, 'When did I ever say that?' So, as I'm riding with him to the park and it starts raining and I'm thinking to myself as he pulls over—and I'm thinking this is the spot he's chosen. I'm also thinking, 'What's making him think I'm totally okay with this?' Like if a car goes by, and I jump out and wave at them saying, 'Hey, this is a murderer right here.' But I didn't. I'm pretty sure it was my fear of going to prison for having a bunch of weed in my grandma's house. He knew I was afraid of that.

Did you and Adnan dig the grave?
Yes we dig for about 40 minutes and we dig and dig, and he's digging less and less. And at a certain point I say, 'Well fuck, I'm finished. I'm fucking done.' And Adnan's like, 'Oh, well, you're not going to help me move her are you?' And I'm like 'No, I'm not gonna help you move her.' He says, 'Ok, well, I'm gonna need you to drive back to her car."

Where was Hae's car?
Somewhere up around a corner up a hill, parked in a strange neighborhood. It's just on the street. I didn't know it was that close. He said, 'I'm gonna drive back down there [to the grave]. You follow me some of the way, and then I'll take care of it.'

You drove him to Hae's car nearby?
Yes. We get into his car, and he drives up around the corner to Hae's car. He says, 'OK, follow me halfway back down the hill [towards the grave site]," so he doesn't have to walk all the way back up the hill to get back to me in his car. I follow him halfway back down the hill, park, smoke some cigarettes. He's gone with Hae's car.

It takes him about half an hour, 45 minutes, and he comes back with gloves on, panting, like, 'She was really heavy.' That's all he says. That's about burying her.

Adnan had just buried Hae on his own?
Yes. When we were digging the hole, it's not like Hae's body was just lying next to us. She was still in the trunk.

Why is this story different from what you originally told the police? Why has your story changed over time?
Well first of all, I wasn't openly willing to cooperate with the police. It wasn't until they made it clear they weren't interested in my 'procurement' of pot that I began to open up any. And then I would only give them information pertaining to my interaction with someone or where I was. They had to chase me around before they could corner me to talk to me, and there came a point where I was just sick of talking to them. And they wouldn't stop interviewing me or questioning me. I wasn't fully cooperating, so if they said, 'Well, we have on phone records that you talked to Jenn.' I'd say, 'Nope, I didn't talk to Jenn.' Until Jenn told me that she talked with the cops and that it was ok if I did too.

I stonewalled them that way. No — until they told me they weren't trying to prosecute me for selling weed, or trying to get any of my friends in trouble. People had lives and were trying to get into college and stuff like that. Getting them in trouble for anything that they knew or that I had told them — I couldn't have that.

I guess I was being kind of a jury on whether or not people needed to be involved or whatever, but these people didn't have anything to do with it, and I knew they didn't have anything to do with it.

That's the best way I can account for the inconsistencies. Once the police made it clear that my drug dealing wasn't gonna affect the outcome of what was going on, I became a little bit more transparent.
It's making my brain hurt to think of all the ways that Jay's story has changed. I had a lot of help with this story from reddit, where sleuths are comparing this interview to Jay and his friend Jen's testimony. You can check out their thread for even more detailed discussion about this. Commenters on Entertainment Weekly are pointing out that Jay's story has now changed three times.
I don't know if Adnan is guilty, but now that we're hearing from Jay I have even more doubt that his testimony was enough to convict Adnan. I'm very interested to learn the results of the DNA tests ordered by The Innocence Project. I also wonder how Serial is going to dissect Jay's interview. I hope they do an interim podcast to discuss this. It's a major development.