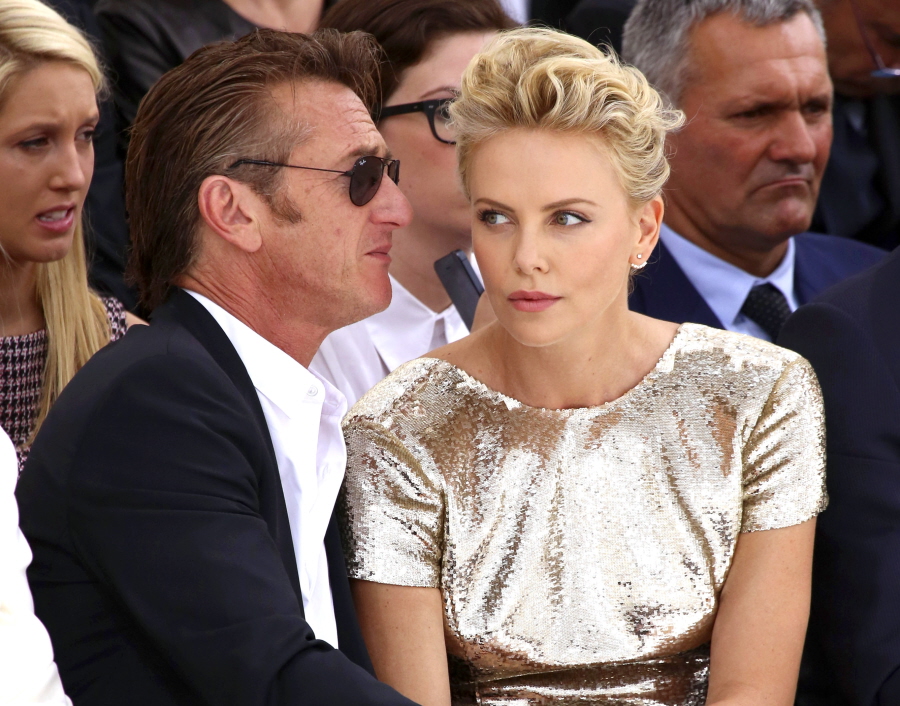 This is pretty much the one-year anniversary of Charlize Theron and Sean Penn getting together. At this time one year ago, they went on holiday together in Hawaii. It took days/weeks for everyone to realize that Sean and Charlize were actually vacationing together in a romantic way. But once that realization kicked in, we still spent the entire year going, "Really? They're really together? And it's still working out? What in the world?" They even went to Africa together to film a movie for several months and they're STILL romantically involved. Amazing. So would it be any big surprise to learn that Sean proposed to Charlize during a recent trip to Paris?
Paris is known as one of the most romantic cities in the world. And it sure seems Sean Penn felt its influence. The actor reportedly asked Charlize Theron to 'take their relationship to the next level,' when he proposed on a trip there in late November, a source revealed to UsWeekly on Monday.

And the actor looked every bit the doting fiancé as he put a protective arm around Charlize on a trip to the cinema on Sunday night. After sharing a cigarette outside the Los Angeles venue, the 54-year-old led Charlize inside as they chatted animatedly. The outing came as it emerged that the 39-year-old actress and her beau had secretly got engaged, although the beautiful blonde wasn't yet wearing any bling.

The source added: 'There's no ring, but they are committed.'
My take: it's not a real engagement without a ring. Maybe that makes me old-fashioned and people are about to yell at me, I'm sure, but a ring makes it REAL. Before the ring, you're just two people talking about what it would be like to get engaged/married and you're probably living together already. Which I think is probably where Charlize and Sean are. Charlize and Sean split their time between Sean's place (which he completely child-proofed for Jackson) and Charlize's place. Plus, I've always believed Charlize when she says she's not interested in marriage. Sean is "the marrying kind" obviously (he even married Madonna, for the love of God), so it should be interesting to see how this plays out. Will Charlize hold strong with her anti-marriage stance? Or will Sean Penn (of all people!) change her mind?
Some photos of Charlize at Whole Foods with Jackson the day after Christmas – look at his pink kicks! Awesome.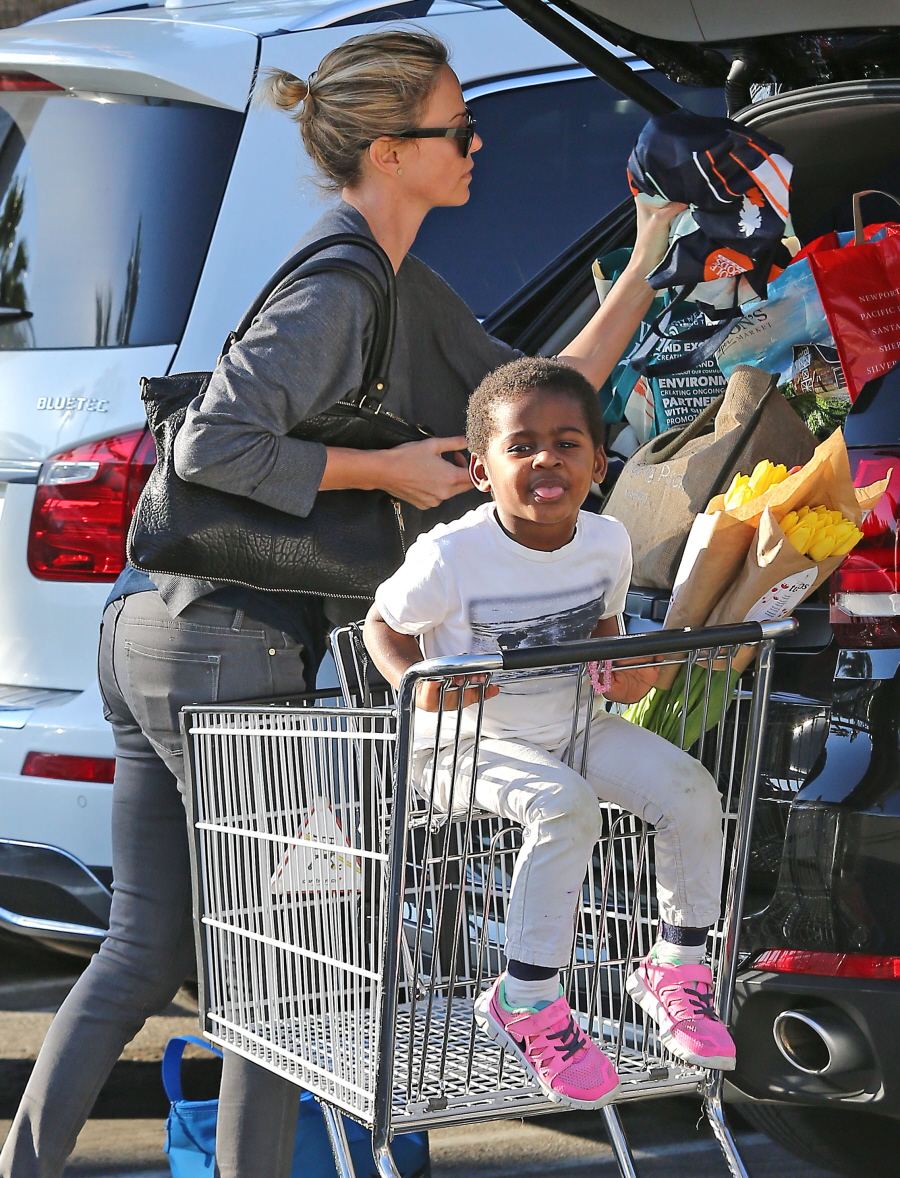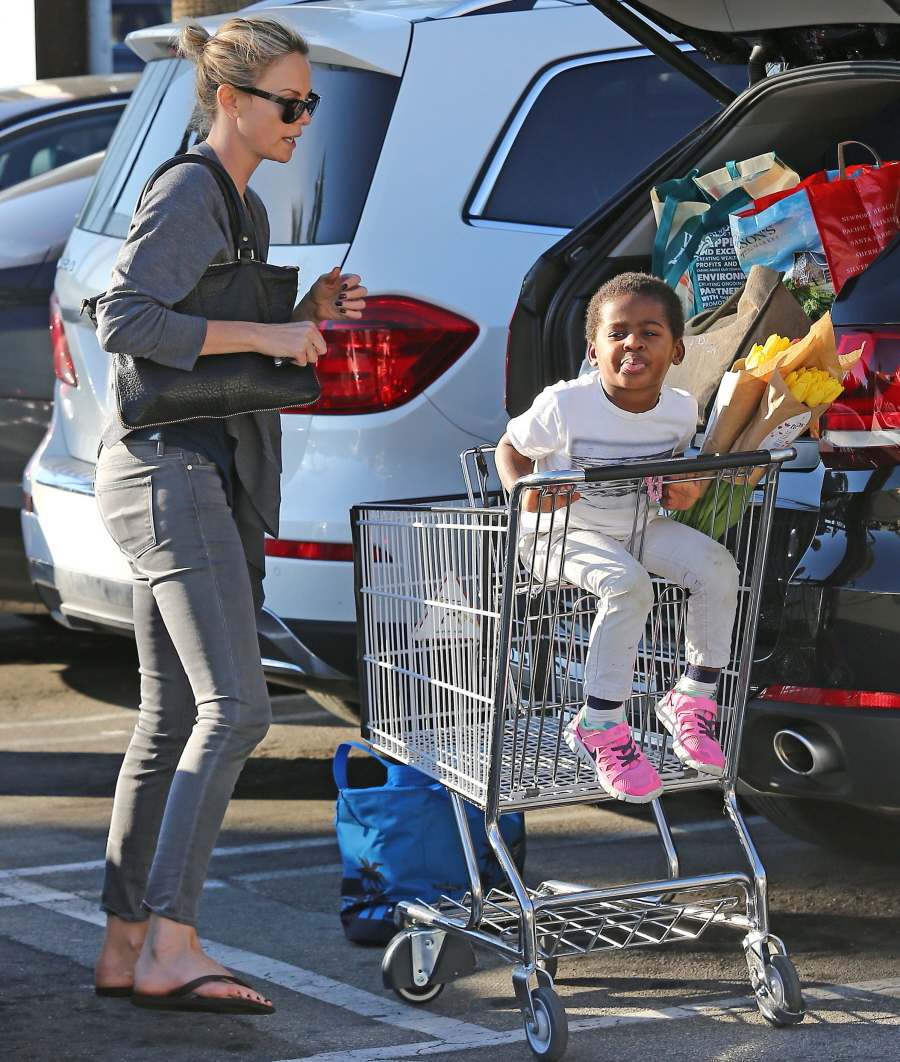 Photos courtesy of Fame/Flynet.