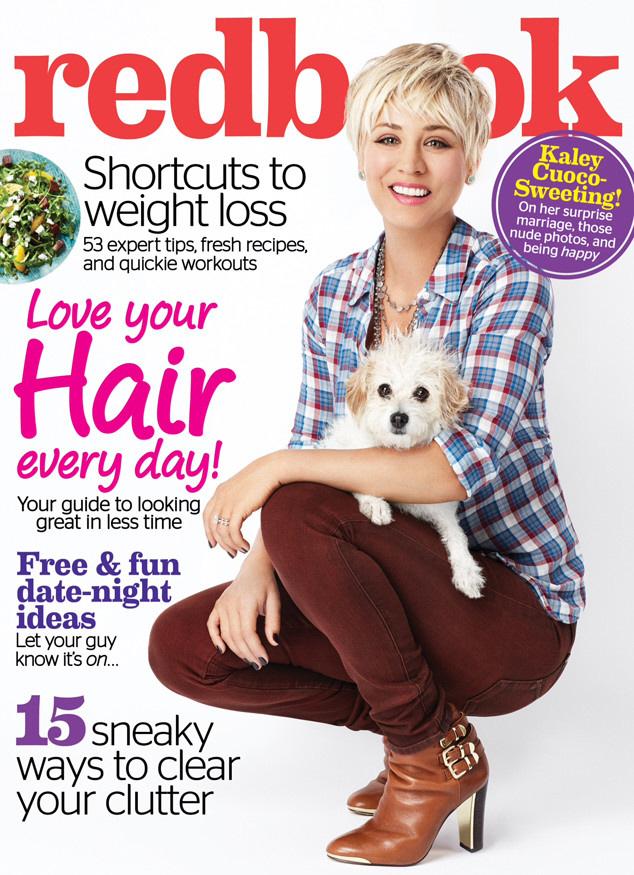 Kaley Cuoco spent her Christmas in a hospital, maybe getting a nose job. No, not really. She had some kind of surgery on her nose, something like a deviated septum I guess. She claimed that she hasn't been able to breathe properly for years, and she blasted the "haters" for saying that she had a Christmas nose job. Just my opinion: she talks openly about her boob job, why wouldn't she talk openly about a nose job? So, she probably did have real surgery on her nose (and perhaps it will be slightly smaller too). Kaley's husband Ryan Sweeting was there for her the entire time, because obviously. What else does he have to do?
Anyway, Kaley covers the new issue of Redbook. Can we start calling her Felicity Cuoco? Because she really did Felicity herself with that haircut. In the Redbook piece, Kaley talks about why she's NOT a feminist (because she's an idiot?) and why she loves traditional gender roles.
When asked if she's a feminist: "Is it bad if I say no? It's not really something I think about. Things are different now, and I know a lot of the work that paved the way for women happened before I was around… I was never that feminist girl demanding equality, but maybe that's because I've never really faced inequality. I cook for Ryan five nights a week: It makes me feel like a housewife; I love that. I know it sounds old-fashioned, but I like the idea of women taking care of their men. I'm so in control of my work that I like coming home and serving him. My mom was like that, so I think it kind of rubbed off."

Her huge pay increase for TBBT: "All I think about is what it means for my family…and knowing there is security for all of us. My parents spent 16 years hauling my butt to LA for audition after audition. Every day they were helping me learn my lines, dropping me off, waiting for me, picking me up, giving me pep talks when I didn't get the jobs, taking me to tennis and horseback riding lessons. I remember always hoping I could help take care of them because they took such good care of me. Knowing I'll be able to just brings tears to my eyes."

Her boob job in 2004: "I had no boobs! And it really was the best thing ever! I always felt ill-proportioned. My implants made me feel more confident in my body. It wasn't about trying to be a porn star or wanting to look hot and sexy."
She makes me want to bang my head against a wall. These ladies today… there is so much profound stupidity. Maybe I could understand this ditzy "I've never thought about it because I've never experienced it" explanation from an 18-year-old, but Kaley is 29 years old. She's old enough to have thought about inequality and experienced inequality firsthand. So, let me explain this to Kaley: you can still be a feminist AND make dinner for your husband. Those two things are not mutually exclusive. If you choose to be barefoot and in the kitchen, that's fine. Because it's YOUR CHOICE. Feminism is allowing every woman to make their own family choices, marriage choices, sexual choices, economic choices and more.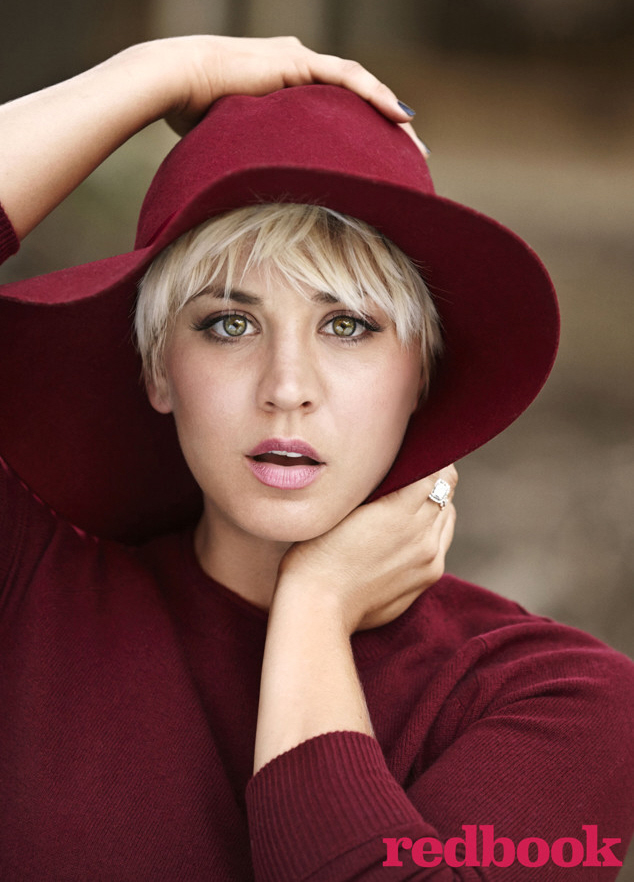 Photos courtesy of Redbook.