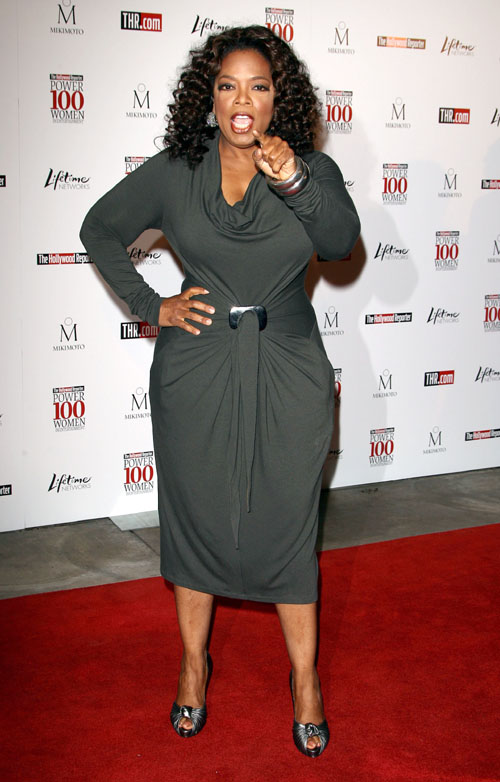 When the story first broke about Chris Brown's brutal attack on his girlfriend Rihanna, several celebrities expressed shock that Brown was capable of such behavior. This list of Brown apologists included the Queen of talk, Oprah Winfrey. The daytime diva heaped praise on Brown because he was nice enough to visit the students at her school for girls in Africa. I bet she's regretting her Chris Brown love-fest now that more disturbing details have been leaked about the extent of his abuse on Rihanna, including his threats to kill her. Perhaps that's why Oprah has hopped off the fence recently and has attempted to reach Rihanna, both privately and on the air.
Oprah has outraged viewers and ignited a scandal with her reaction to the domestic violence shocker involving Rihanna and Chris Brown. Following the Feb. 8 incident – which could put the R&B singer behind bars for years for allegedly battering the 21-year-old – Oprah reportedly telephoned the "Umbrella" singer to offer comfort.

But skeptics blast the talk queen's call as nothing more than a brazen attempt to secure an interview, and as one Web site said, "lay the groundwork for an eventual on-air exclusive."

On her Feb. 20 show, Oprah created even more controversy by discussing a post-incident photo of a bruised Rihanna. …Gushing about Brown, Oprah called him "lovely…a wonderful, kind, generous guy."

But some viewers thought Oprah and (best friend) Gayle (King) went too far as they praised Brown for visiting Oprah's school for girls in Africa.

…The show was a surprise to fans who remember that Oprah herself had been a victim of abuse at the hands of men.

"It appears Oprah is trying to play both sides of the fence, trying to reel in either a Chris Brown or Rihanna exclusive interview," concluded an insider. "Her actions in public and in private in regard to the Rihanna-Chris Brown incident seem out of character for Oprah."
[From The National Enquirer print version, March 16, 2009]
Since Oprah likes to bill herself as some sort of expert/advocate on domestic abuse, she should have known that abusers are often charming and "nice" with other people. It's only behind closed doors that their abusive behavior comes out. Shame on Oprah for not condemning Chris Brown's actions from day one. But these days, tt would appear that Oprah has decided to give up on the Chris Brown angle. Just last Friday, Oprah addressed Rihanna directly on her show, advising the young singer that "love doesn't hurt" and she should wait before getting back together with Brown.
"You need somebody to tell you the truth in this moment. And the truth is guys, both Chris Brown and Rihanna, if I were your friend, I would call you up and I would say 'Give it some time, get yourself some counseling, take care of yourself, heal yourself first'," she said during the live broadcast.

"And also, 'Love doesn't hurt'. I've been saying this to women for years – love doesn't hurt. And if a man hits you once, he will hit you again. He will hit you again. I don't care what his plea is, he will hit you again.'"
I still find it interesting that Oprah doesn't come right out and say "get out of the relationship." Instead, she advises that they give it some time before getting back together. As if giving it time will stop Chris Brown from being an abuser. If the abuser were anyone other than a friend of Oprah's she'd be blasting him every single day on her show.
Oprah's in a dangerous position here. Like it or not, she is a powerful media influence and walks a fine line between raising awareness on a difficult topic like domestic abuse, and exploiting a painfully public incident to boost the ratings of her show. Perhaps she should avoid reaching out to either of them and just do a show on domestic violence in general. How about an entire show devoted to giving regular women support and resources to get out of violent relationships? That would do a lot more good than courting either Rihanna or Chris Brown.
Photo credits: FAME.