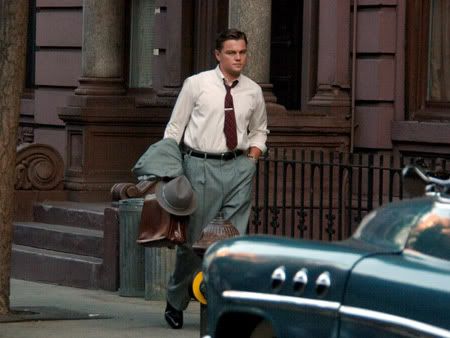 Leonardo DiCaprio and Kate Winslet are filming in NY city for their film Revolutionary Road, their first together since multi-Oscar winning Titanic in 1997. Here's the plot outline from IMDB:
A young couple living in a Connecticut suburb during the mid-1950s struggle to come to terms with their personal problems while trying to raise their two children. Based on a novel by Richard Yates.
The film is directed by Winslet's husband, Sam Mendes, who also directed Oscar-winning film American Beauty.
I love how Winslet and DiCaprio look in their 1950s outfits. DiCaprio's hair is particularly cute here, but I've always had a thing for him.
Leonardo DiCaprio is not a vegetarian, according to a waitress in a Syracuse, NY restaurant who served him a chicken club and fries during his visit to the upstate, NY city last weekend. While the enthusiastic young woman said she knows celebrities and recognized him immediately, DiCaprio was not noticed by the other customers at the restaurant. Waitress Erika DeSocio says "he looks like a normal guy," is not heavy, and "looked like he was from the Gap." He paid with a $20 bill for a $9 meal and let her keep the change. DiCaprio was thought to be visiting his girlfriend, Bar Rafeali, who is filming a movie there.
Here are the pictures of DiCaprio and Winslet filming. Winslet is shown talking to her husband in two of these pictures, and leaning over co-star David Harbour in another.. Pictures from Splash News, This is London, and Hello Magazine.