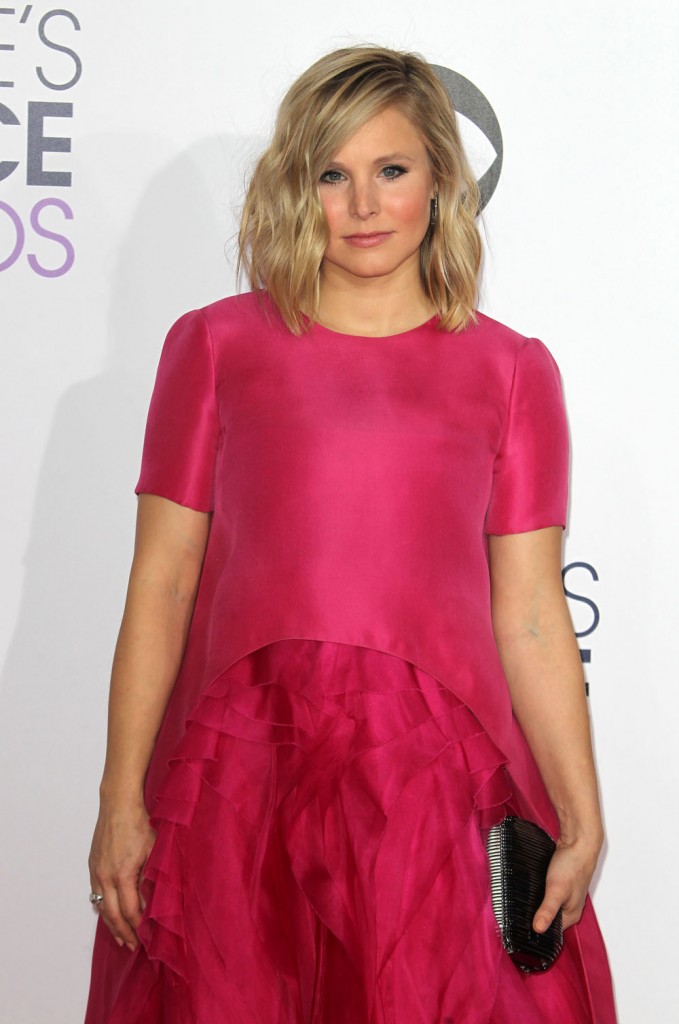 This morning we'll be bringing you more fashion from last night's People's Choice Awards on CBS. First up with have Kristen Bell in a bizarre fuchsia Monique Lhullier gown which is shaped, well, like a bell. Kristen gets a pass because she just had a baby before Christmas, but I hope she brings her fashion game in the future. I usually like Lhullier but this dress is just bizarre.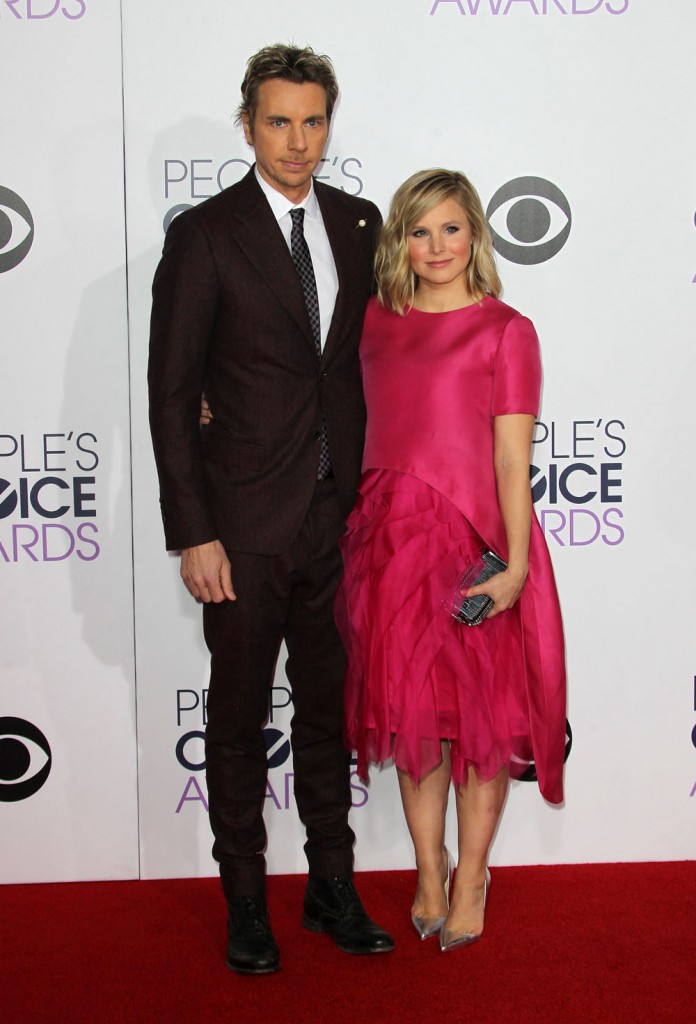 Kristen was there supporting her husband, Dax Shepard, who presented the award for Favorite Hip Hop artist, which went to performer Iggy Azalea. Dax's show Parenthood returns tonight for its final four episodes. I love that show so much, I will probably watch it again from the beginning at some point.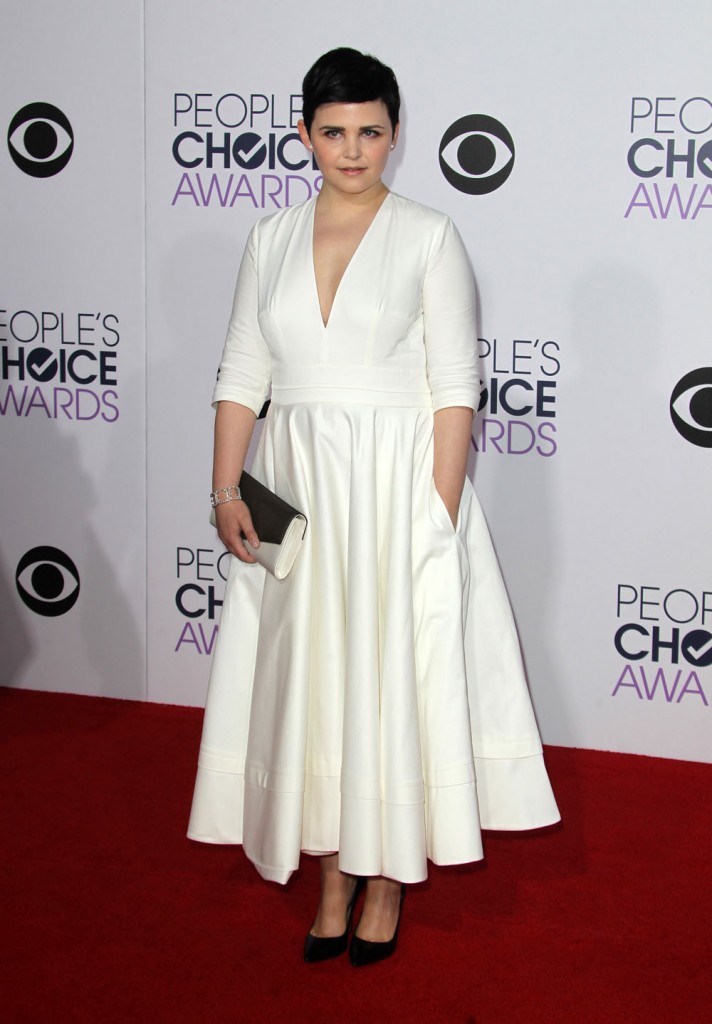 Here is presenter and Once Upon a Time star Ginnifer Goodwin in a white empire waist v-neck Delphine Manivet gown. Ginnifer loves avant garde looks and I think she's going for a balance here. I like that Ginnifer chose white for winter and that she went with a full coverage dress. There's something off about the fit, though. Plus it has pockets, which she used on the red carpet and on stage. That bugs. Ginnifer also just had a baby last June.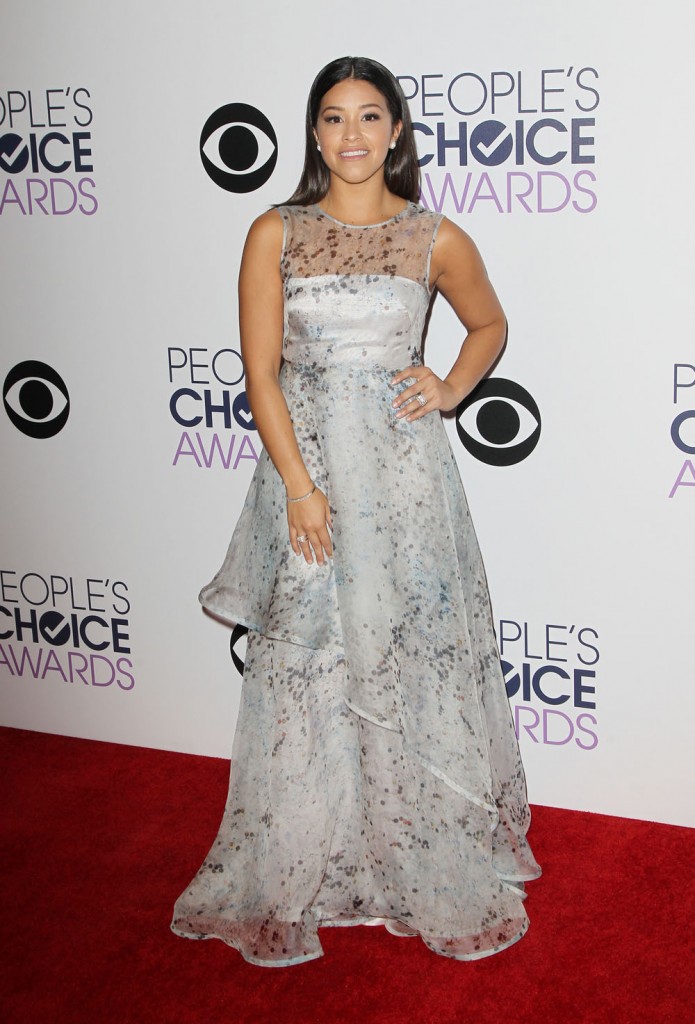 Gina Rodriguez, the star of Jane the Virgin, co-presented the Favorite Movie Actor award with Ginnifer. That went to Robert Downey, Jr. She was in this tiered sleeveless gown with a sheer overlay featuring an abstract dot pattern. I don't have a designer ID on this gown, but it's decent and pretty. I really dislike the flouncy skirt, though. Gina's show Jane The Virgin won for Favorite New TV Comedy. I haven't seen it yet, but I've only heard good things about it.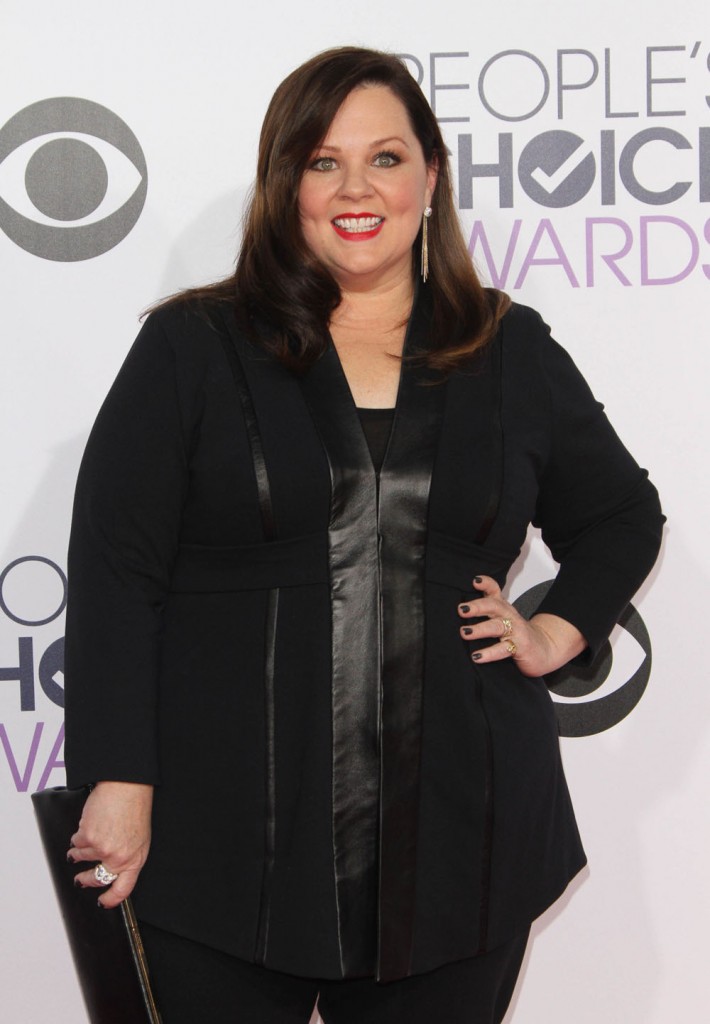 Here's Melissa McCarthy, who won for Favorite Comedic Movie Actress. She's in a killer pantsuit of her own design with leather accent lines. She usually wears David Meester gowns and I like that she's mixing it up. This suit looked striking and contemporary on camera.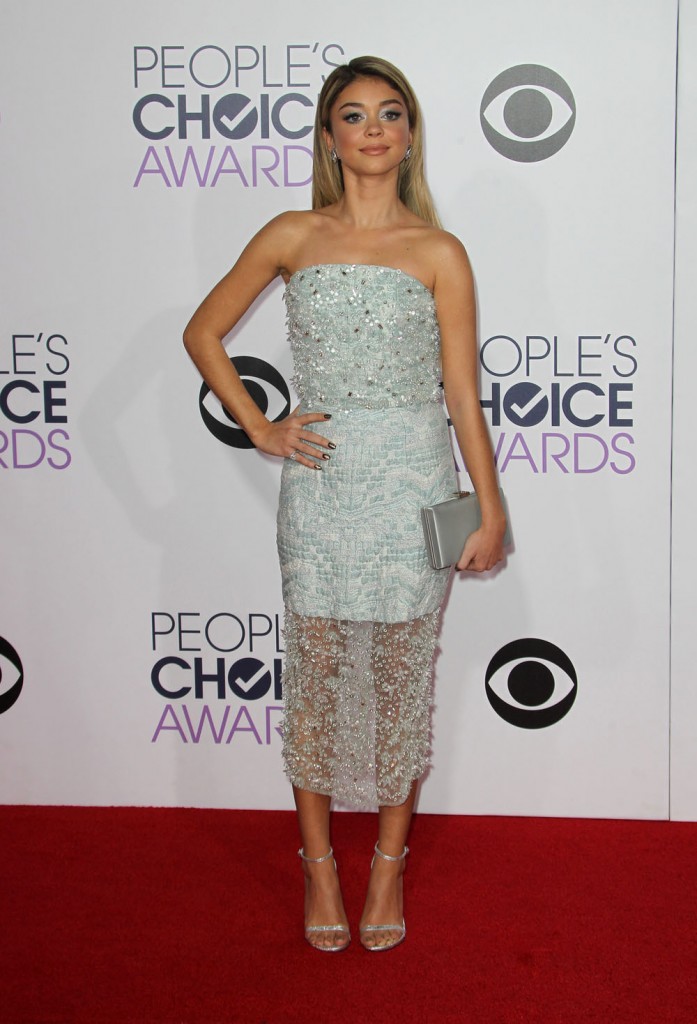 Presenter Sarah Hyland was in a strapless baby blue Christian Siriano gown featuring a beaded bodice, quilted skirt and sheer beaded skirt panel. There's way too much going on with this dress. It might have worked without the extra skirt extension. Plus she looked kind of orange.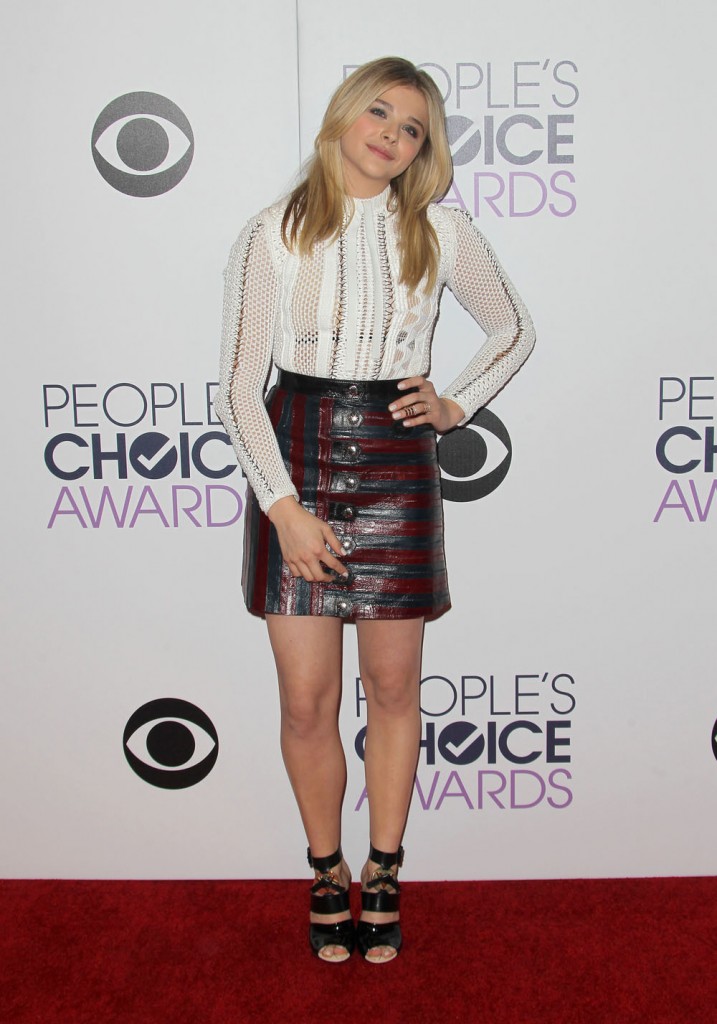 Finally here's Chloe Moretz in Louis Vuitton. This outfit looked much better on camera, probably because I wasn't paying attention to the details. It seems like the top should be see through but there's some kind of flesh-colored underlay that's keeping us from seeing her undergarments. Plus it has like rough stitching along the sleeves. I don't get it. Chloe won Favorite Dramatic TV Actress, for her role in If I Stay. She was very poised in her acceptance speech and dedicated it to her grandmother who passed away last year.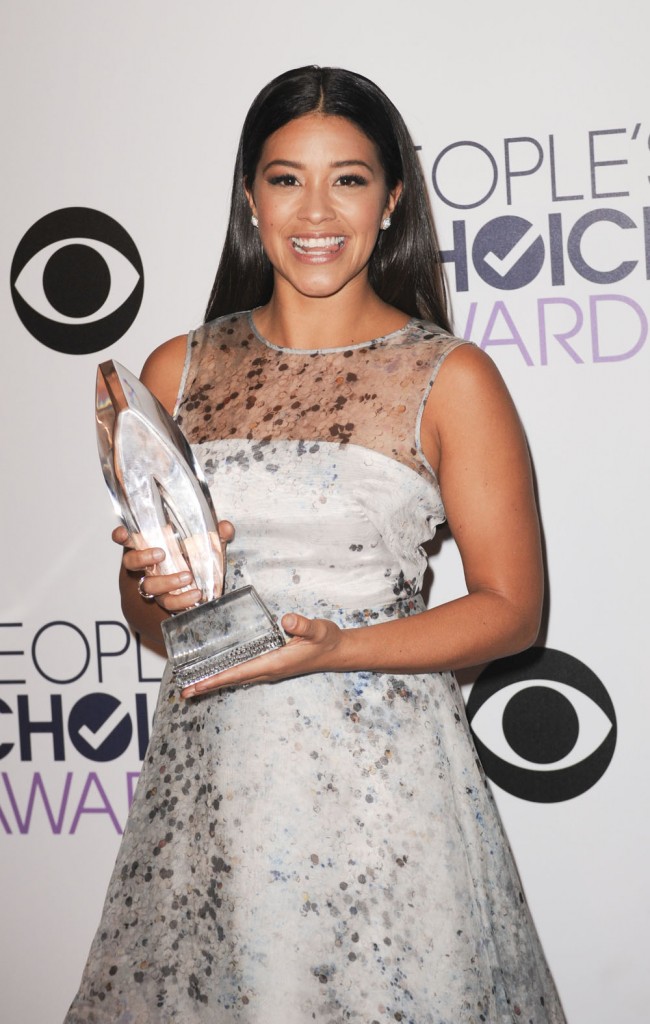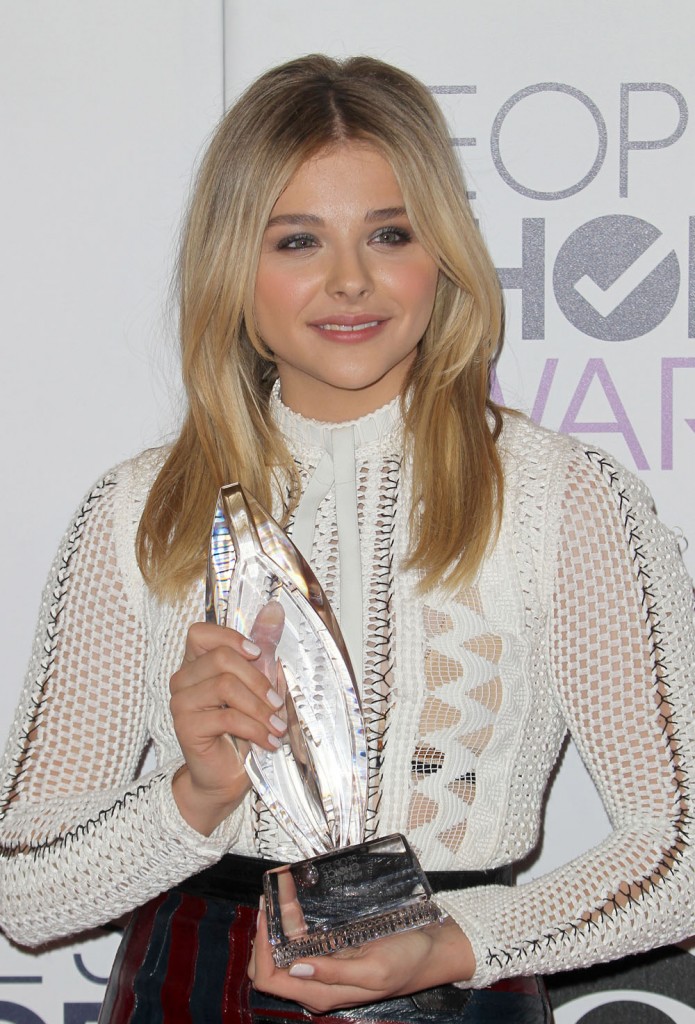 Photo credit: WENN.com