Patricia Arquette gave one of the best speeches I've seen in a while, and what made it even more memorable was that she was reading from a prepared statement and still managed to make it seem incredibly genuine. Arquette of course took home Best Supporting Actress for Boyhood and she's thought to be the frontrunner for an Oscar. Boyhood also won Best Director and Best Film. On the red carpet last night, Arquette told Natalie Morales that the events in the movie, filmed over 12 years, dovetailed with major things happening in her own life, like her divorce, and that she often thought of the milestones in her own life as related to the film. You could tell that she cares deeply about her work and her children, and how that is all kind of wrapped up together in this meaningful film.
In her acceptance speech she thanked director Richard Linklater and called the film "so human, so simple and groundbreaking and significant in the history of cinema." I especially loved the way Arquette ended her speech. She thanked her late parents and said that Ethan Hawke "reminded me of my own father," she thanked her boyfriend, artist Eric White, for loving her, and then she thanked her children "to my kids Enzo and Harlo who I love and respect with all of my heart. My favorite role in this whole life has been being your mom." I can't watch her speech again without crying.
Oh Arquette is wearing black Escada!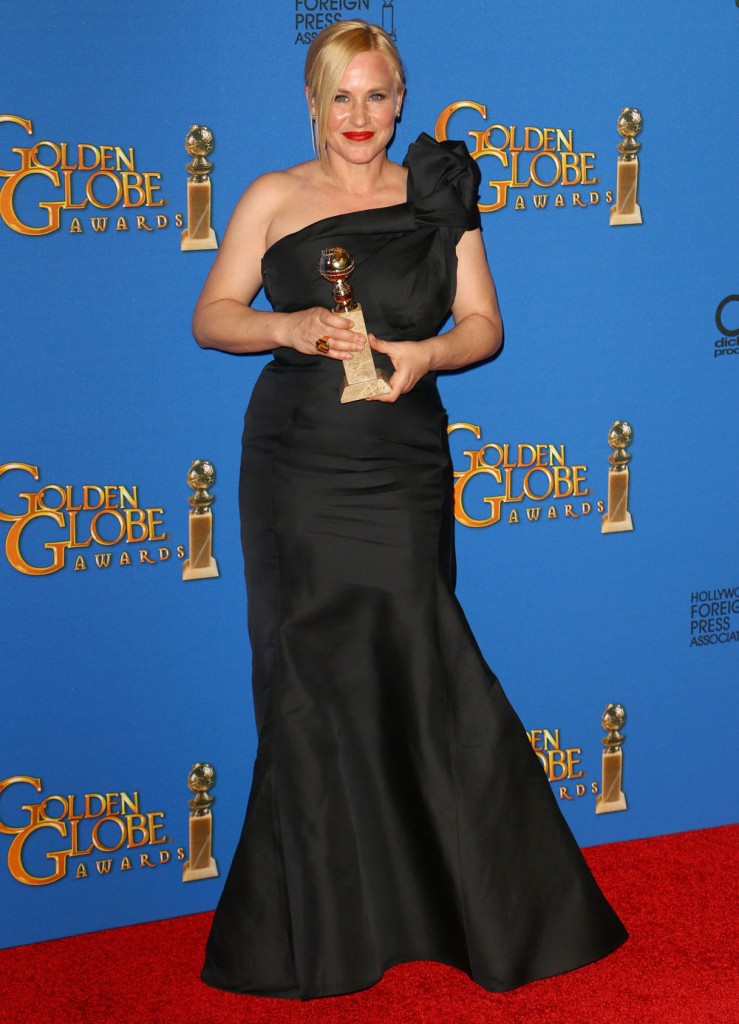 Gina Rodriguez of The CW's Jane The Virgin took home Best Actress in a TV Series, Musical or Comedy. This was widely expected and she did not disappoint. I tuned in to E!'s livestream coverage briefly and Kristin Dos Santos was enthusing about how down to earth yet charismatic Rodriguez is, and how she wins people over instantly during press tours. This was the first Golden Globe nomination that The CW network has ever received.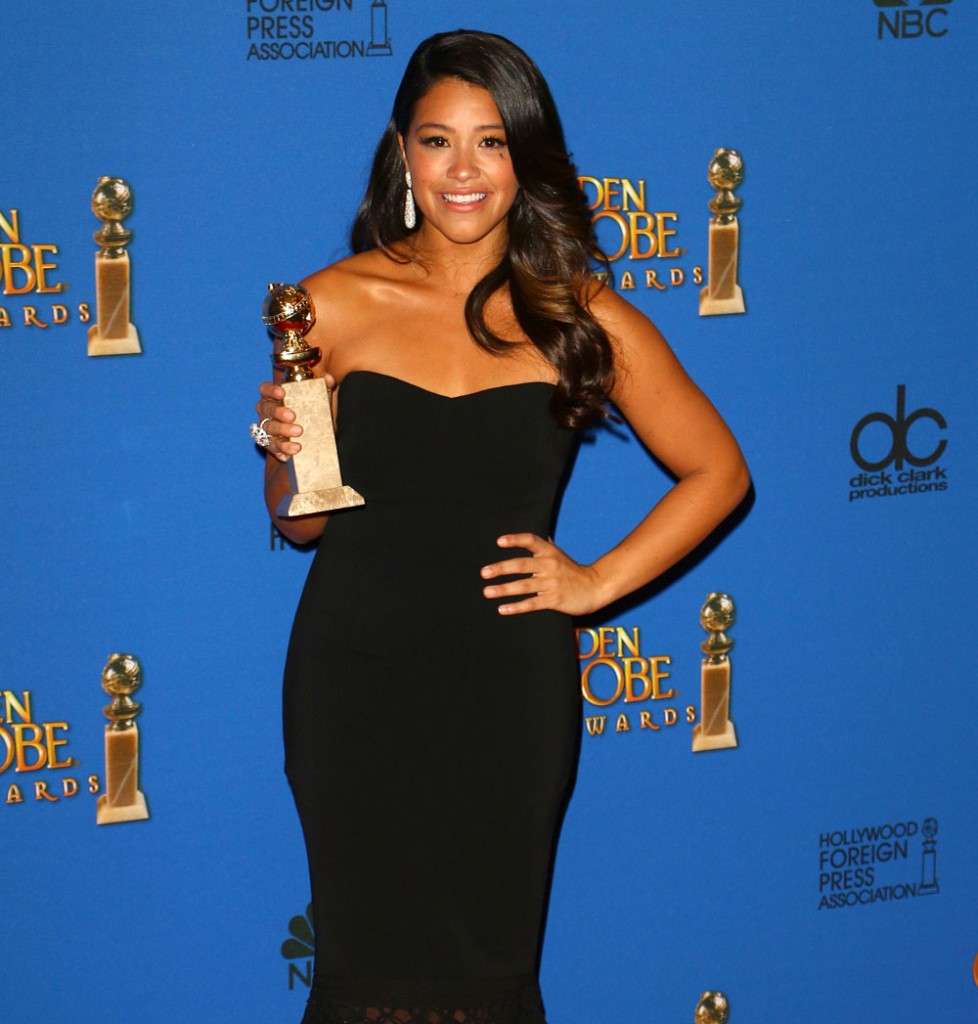 In her speech Rodriguez thanked her parents and she referenced her culture. "Thank you to my mom and my dad for telling to dream big, and never stop dreaming… This award is so much more than myself. It represents a culture that wants to see themselves as heroes." Like Arquette, she ended on a high note "My father used to tell me 'today is going to be a great day, I can and I will.' Dad, today is a great day, I can and I did."
Rodriguez is in Badgley Mischka, she looks gorgeous.
Here are Arquette and Rodriguez's speeches.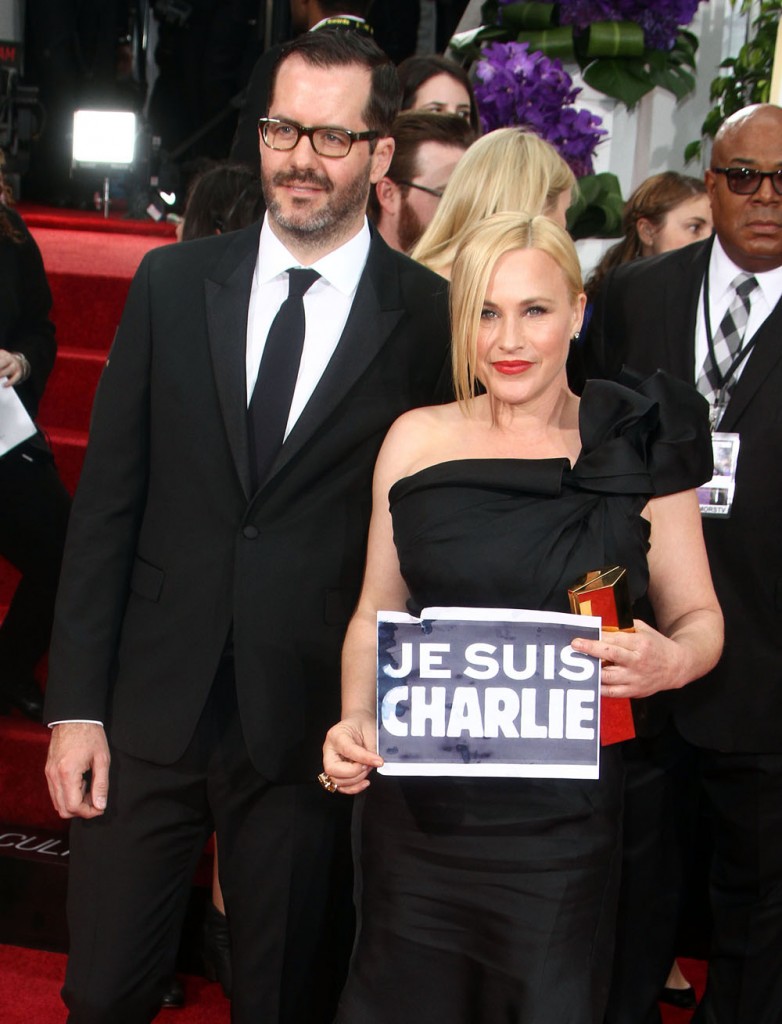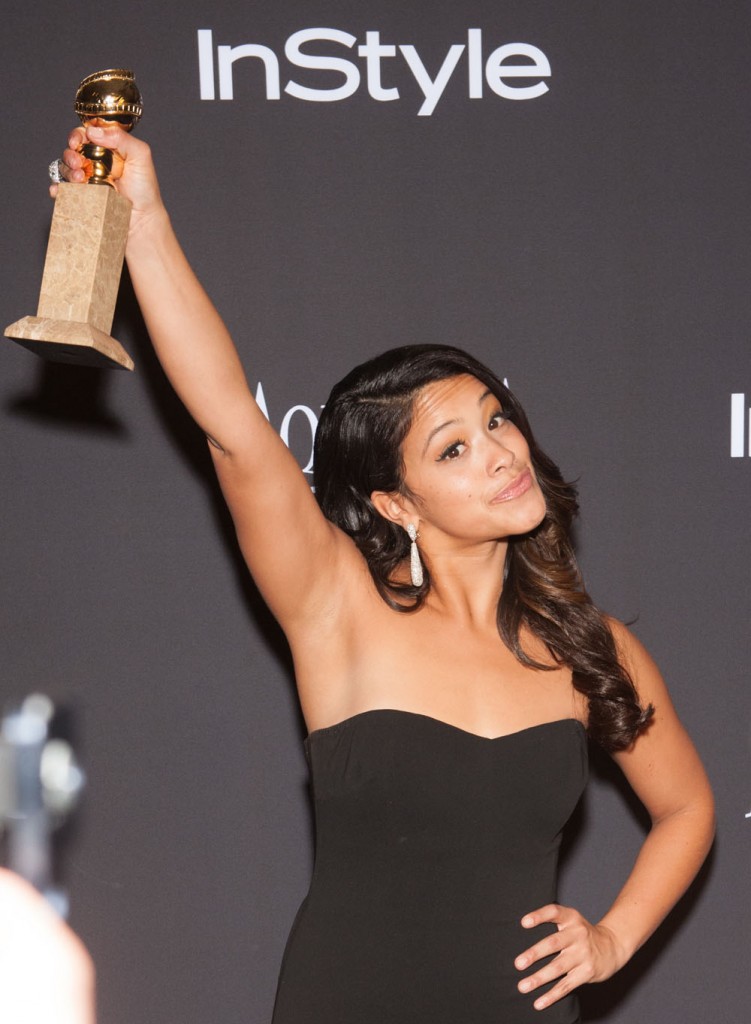 photo credit: WENN.com and FameFlynet