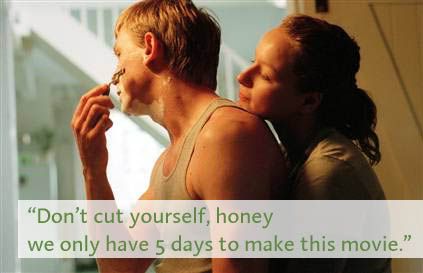 First he got his teeth knocked out, and now has "prickly heat" from a bad sunburn. Sure he looks hot in a swimsuit, and all the legitimate Bonds endorse him, but he's not too rugged:
Could anything else go wrong for jinxed James Bond star Daniel Craig?
It seems the actor is now suffering a nasty outbreak of prickly heat.
The strawberry-blonde one got a spot of sunburn while topping up his tan before filming in the Bahamas.
According to The Sun, a source on the Casino Royale set said: "It's driving him mad.
"He constantly wants to scratch. It's worst when he does a costume change. He's in agony.
"He's been moaning to his assistants that he's got prickly heat.
Poor Craig. Girly-men are in now, though, so at least he has that going for him.