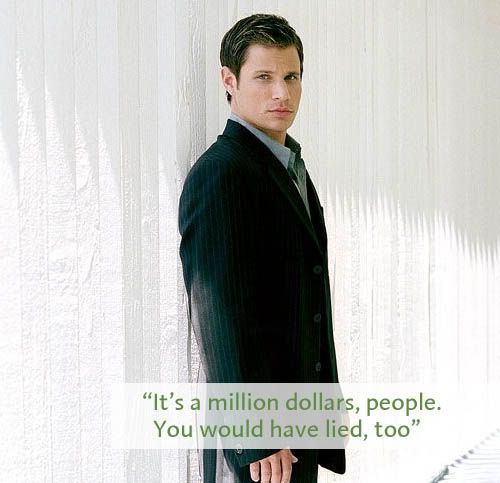 Media Take Out claims to have the exclusive story that Nick Lachey fudged his separation date to get his hands on the additional million Jessica made in the interim:
Nick Lachey recently filed his divorce response in L.A. Superior Court. In the response, Mr. Lachey shocked everyone by not only requesting spousal support, but by listing the couple's separation date as December 13th (disputing Jessica's claim that the couple separated on November 23rd). Some speculate that Lachey is claiming the later date so that he can share in the nearly $1 million Simpson earned during those extra days.
But Nick may have fudged the truth. MediaTakeOut.com has learned that on November 23rd, Nick's publicist released an official statement announcing that the couple had separated. According to the November statement, exclusively obtained by MediaTakeOut.com, the couple announced that "after three years of marriage, and careful thought and consideration, [they] decided to part ways". The obvious inconsistency between this official statment and Nick's recent divorce response is troubling to those close to Jessica.
You have to give the guy credit for trying, though. It's not like he doesn't deserve the money for putting up with Jessica.