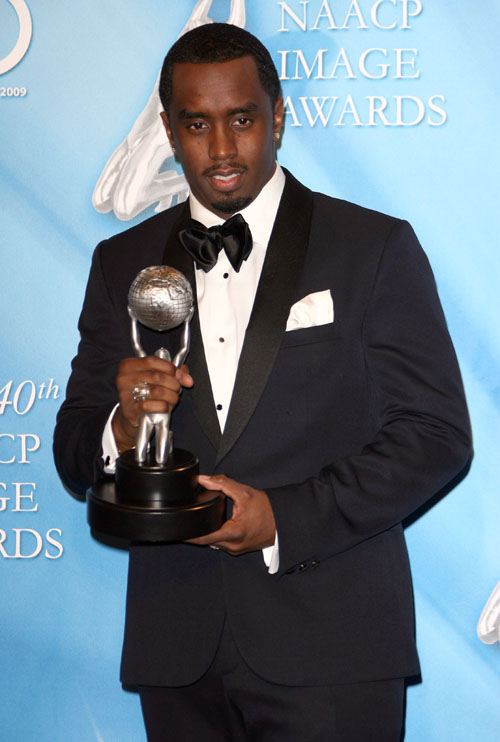 Diddy appeared on "Ellen" this morning, and Ellen got right down to business, taking him to task for lending Chris Brown his Miami compound to stage his play to reconcile with battered girlfriend Rihanna. Diddy got uppity at first, saying that it's his house, and he's free to have whomever he likes at his house. When Ellen said she wondered if it was sending the wrong message that it's okay for a girl to go back to a guy who hit her, Diddy spouted the typical "we don't know what happened" BS that many other Brown apologists have been spewing.
Sean "Diddy" Combs feels that he was merely giving Chris Brown shelter from the storm.

While being careful to note that he does "not think it's right for anybody to hit anybody," the hip-hop mogul said Tuesday on The Ellen DeGeneres Show that he offered up his Miami Beach mansion as a refuge for Brown and Rihanna last month as a favor to a friend.

"It was a dark time for them, and I was there as more of a support," Combs explained when DeGeneres, who also grilled the media-savvy multihyphenate about his twittering capabilities, asked him to "clear something up" for her.

Rihanna and Brown spent some quiet (minus the Jet Ski) time at Combs' Star Island estate at the end of February, what was believed to be their first reunion since Brown's Feb. 8 arrest for allegedly attacking Rihanna in his rental car after the pair attended a pre-Grammy party.

With friends like these, who needs hotels?

"It's my house, and I'm allowed to give my house to whoever I want to give my house to," Diddy said. "I don't cast a stone—cast judgment on anybody. So, if friends ask me for a favor, then I'm going to be there for a favor as long as I know the energy of the favor is positive."

He's not directly involved in the situation, he added, and "I'm not going to pass judgment on it. I'm going to be there as a friend."

DeGeneres said that she wouldn't wany any woman to think that returning to an abusive relationship is the right move to make.

"I don't think it's right for anybody to hit anybody," Diddy offered. "We know sometimes relationships get ugly…We don't know exactly what's going on. There are two young individuals involved.

"We need to pray for them, and we need to do things to support them."
So, contrary to earlier reports, Diddy knew full well what Brown was up to when he called looking to crash at the rap mogul's private Miami pad. Kudos to Ellen for questioning Diddy on this. Normally, she's an easy interviewer and lets her guests off the hook, but this time, she seized a great opportunity. Diddy didn't like being put on the spot, but that's too bad. He should be. He completely contradicted himself in the interview by saying he didn't want to get involved or take sides. Guess what? You facilitate their reconciliation, that means you got involved and took sides. I also don't like the way Diddy is insinuating in the video clip that Rihanna was hitting Chris Brown. It's true that we "weren't in the car with them," but we did see the photos of Rihanna's bloody, bruised face. Did we see photos of Chris Brown beaten up – or with even a scratch on him? It wasn't Brown's blood the police found in the car, it was Rihanna's. I wonder…what was Diddy on the show to promote – or, was he put up to it by Chris Brown's PR machine?
Here's Diddy at the NAACP Awards. Photo credits:Fame.