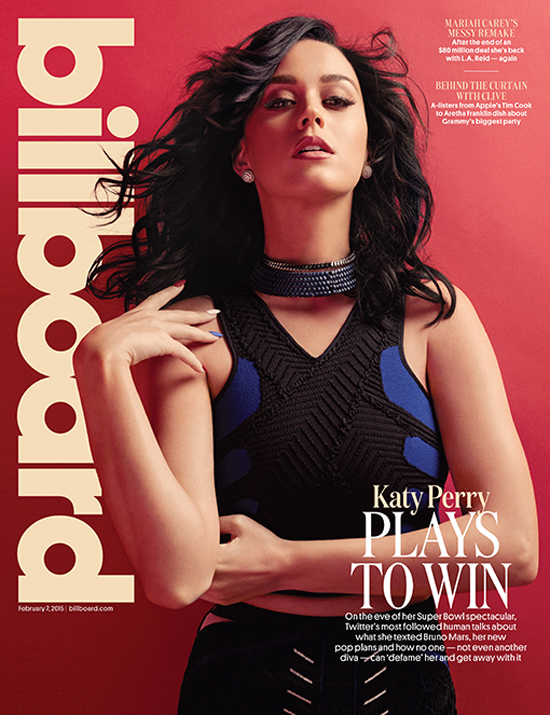 Are you ready for the Super Bowl? Katy Perry is doing overtime to promote the halftime show. Katy talked up her faux-empowerment songs as a main attraction. I'm more excited about the Lenny Kravitz angle. The AP says Missy Elliot will also guest. Katy spoke at an NFL press conference to reveal how she's rooting for the Seahawks. She promised, "Nothing in my performance will be deflated." Katy said she'll involve real-life lions and sharks during the "Roar" part of the montage. Let's hope the sharks are metaphorical.
What else? Katy spoke with Time to tease a big surprise: "When you hear the first ring of the chord … I think jaws will drop and faces will melt." Really? This will be a 12-minute medley with costume changes, fire, and brimstone. I'm kidding about the brimstone, but one of Katy's creative directors commented (to Billboard) upon a giant banana bursting into flames. (Sounds like hell to me.) Here's more where Katy also discusses giving away Butters the dog because her "empire" is all-consuming:
On Super Bowl nerves: "Everyone has been asking me if I'm going to be nervous before the halftime show. I'm like, I'm f—ing human. This is the biggest event of my career. Those [other] performances are clean and streamlined. They're about the catalog, the songs. I like Madonna for the graphic effects she brought. [Beyonce] brought so much strength, so much sassiness and just the right amount of sex. She's an icon. Elvis, The Beatles, Michael Jackson — she's in that category. I'm not. She's like five notches above me, and those levels are compounded in difficulty. I want the show to be quintessential Katy. It's like the exclamation point on the whole last cycle. This is the cherry on top of everything I've already done."

On halftime controversies: "You can't control other people, and hopefully they're on the same path with you. My special guests don't have any agenda other than the music. But you can never be too sure."

On the Taylor Swift feud: "If somebody is trying to defame my character, you're going to hear about it."

She got a dog last year & gave it away: "I was going through a breakup and I was like, 'I'm going to get a dog!' But honestly, I have to run an empire, and as much as I love animals I don't know if I have the mind capacity to do it."
[From Billboard]
I'm glad Katy didn't pay much lip service to the "mean girl" feud with Taylor Swift. That stuff is juicy, but Katy should keep girlfights out of the Super Bowl discussion. There are faint buzzings about Katy throwing shade at Taylor during her halftime show. I don't think that will happen. Katy acts like a junior high schooler, yet I doubt she wants to give Taylor any attention and take away from the Katy extravaganza.
Did you notice how Katy talked up Beyonce so much to Billboard? All pop stars bow down to the Bey. Here's Katy's football rack posting with hot Deion Sanders and sportscaster Melissa Stark at Thursday's NFL Experience event.
Photos courtesy of Billboard & Getty