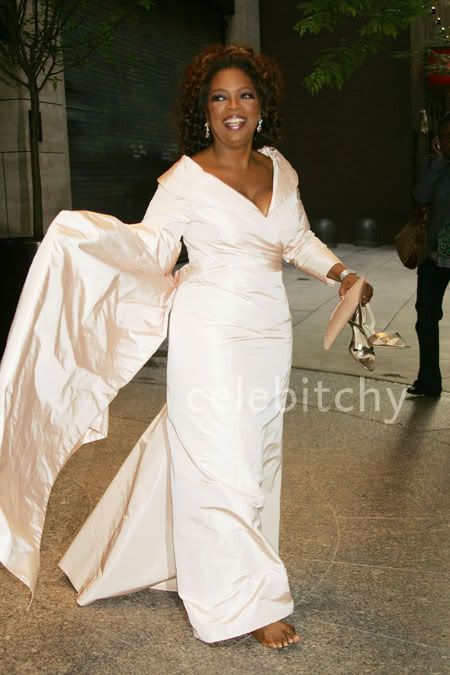 Oprah Winfrey's 74 year-old dad, Vernon Winfrey, was said to be writing a tell-all book about the annoying bilionaire talk show hostess, but he quickly changed his tune once Oprah's lawyers got to him. Oprah was shocked to hear that her dad was planning a book about her, and told several news outlets when they contacted her about it that there was no book in the works. Oprah later said she was upset to hear about the book from the press, stating "I would have preferred to have known my father was working on this. It would have been a nice gesture, a courtesy."
When asked about the book and if Oprah got him to stop working on it after the news got out, Vernon said "No. It's just on hold, ok?"
Among the news that Oprah doesn't want brought back up in the public sphere is the fact that she was raped by a cousin at age 9 and that an uncle also molested her. As a result she became promiscuous and got pregnant as a young teen. She had a baby boy at the age of 14 that was sadly born premature and lived only days.
She has discussed her painful past, but she surely doesn't want these stories brought back up again and that's thought to be reason why her father has said the book is on hold.
The Enquirer is reporting that in Vernon's planned tell-all, he was set to say that his daughter should have been beaten more. Not that he should have tried to prevent her abuse or understand her better (although he could have said that, I'm just reporting on what was covered) but that some harsh physical punishment would have set her straight:
In the book, Vernon claims his daughter was an "out of hand, unruly child" who should have been physically punished more harshly.

"I don't mean time in, time out," he writes… "I mean the rod of correction, swung hard and often… children need roots and limits and discipline."

Of Orpah's troubled childhood, he writes: "It was worse than I realized. She had dark secrets. Some I didn't discover till she was a grown woman, till it was too late."

One such secret was a teenage pregnancy when Oprah was 14 that resulted in the birth of a premature baby boy who lived only days.
[From The National Enquirer print edition, June 11, 2007]
Although Oprah's premature baby boy was news to me, I did read about it in a related story about Vernon's book in the NY Daily News a couple of weeks ago. It seems like the news has been out for a while.
Oprah's dad sounds like a mean old codger if he saying that kicking her ass would have solved all the very real problems she suffered after being abused. Oprah's not my favorite person, in fact I think she's full of shit, but no wonder she didn't want her dad publishing a book about her. She's moved on from all the terrible things that happened to her as a child and no wonder she doesn't want that brought up again.
Vernon said in an earlier interview with the Enquirer that Oprah and her longterm boyfriend, Stedman Graham, would never get married because "Stedman doesn't really bring anything to the table that Oprah needs."
Oprah is said to be talking to her dad again after being blindsided by the news of his upcoming book.
Here's Oprah leaving her NY hotel barefoot in her Ralph Lauren gown before attending the CFDA fashion awards.
Thanks to WENN for this photo.