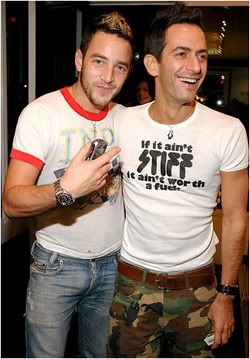 Page Six reported today that designer Marc Jacobs was back with his hooker boyfriend, Jason Preston, who famously got a large tattoo of Jacobs' logo across his right forearm.
Jacobs got a tattoo for Preston too. The Post says he got the initials JP above his belly button.
Meanwhile The NY Daily news hints that Jacobs' stint in rehab was just a cover. In a pretty obvious blind item, they say that his rehab stint may have been a cover for plastic surgery. Since he has quite obviously lost weight and changed his entire look, that's possible:
Which designer is the subject of rumors within his own company that his latest stint in rehab was just a cover while he healed from cosmetic surgery?
And this isn't just a story about how these two are back together. Jacobs' maybe on-again boyfriend was photographed in quite racy photographs getting raunchy with a gay porn star at an event. They could have just been joking around, but the pictures are too explicit to look like anything but cheating to me.
When questioned about his relationship with Jacobs, Preston said that he and Jacobs aren't speaking. Guess those dual tattoos are just painful reminders of fleeting love, and Page Six is out of date.
Here's one pic of Preston making out with another guy. The rest are not for the homophobic or people offended by sexually explicit drunken poses, and are available at GaySocialites.com.