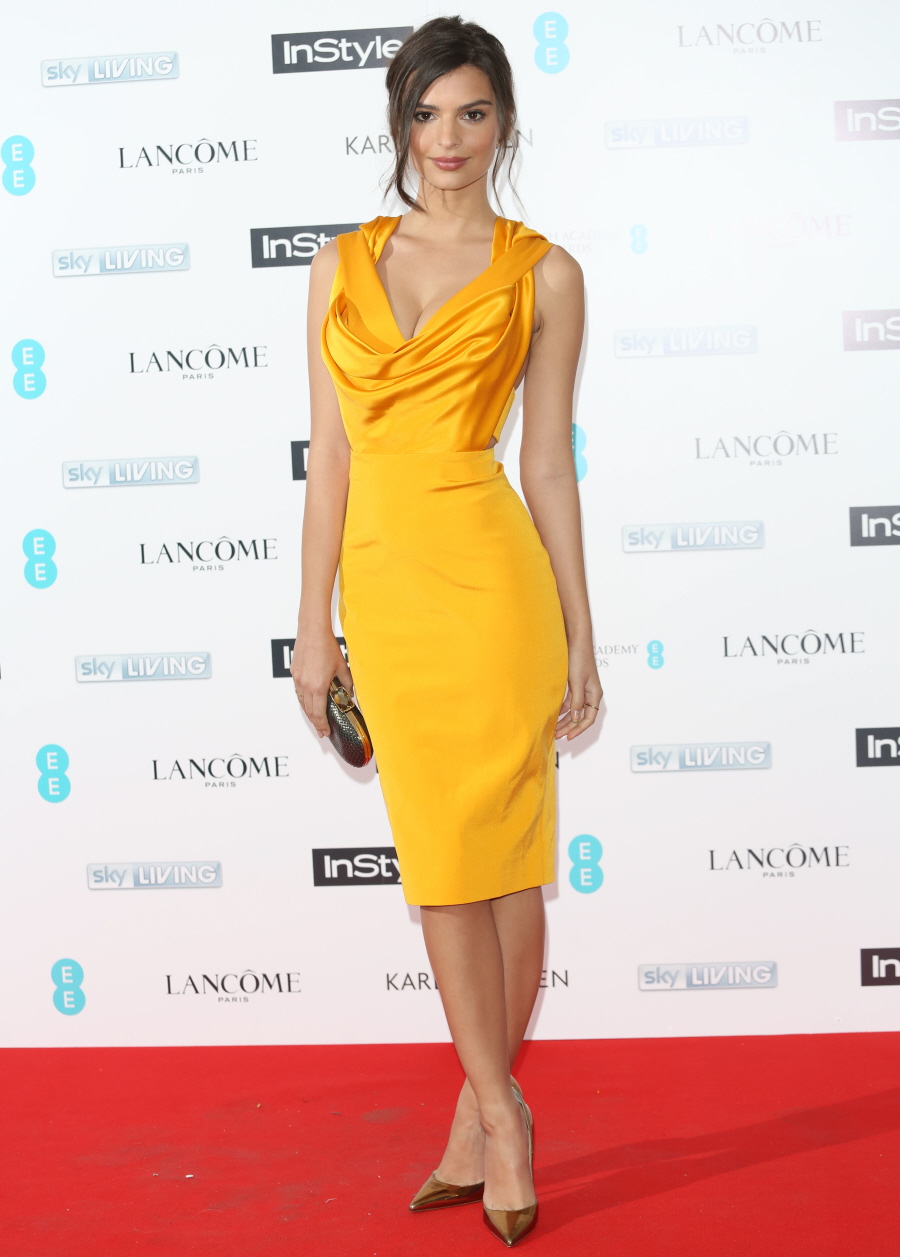 Emily Ratajkowski has been in London this week. I'm including some photos of her outside of the BBC Radio Studios (black coat pics) and some of Emily at the InStyle pre-Bafta party on Monday evening (the yellow Cushnie et Ochs Spring 2015 dress). I guess she might be around for the BAFTAs on Sunday? Maybe as a presenter. I'm surprised she hasn't been around more this awards season – her film debut in Gone Girl was reasonably well-received and the film scored some big nominations. Anyway, while in London, Emily gave an exclusive interview to The Daily Mail – you can read the full piece here. Emily has talked about feminism and her feminist views before. Her definition of feminism is "being sexy and sexual and owning her body." Which, when you think about it, means Emily has a better grasp of feminism than Kaley Cuoco. Some highlights:
Defending the "Blurred Lines" video: "I think you can be a sexual woman, empowered and be a feminist. I think sexuality should be empowering to women, it's not always misogynistic or exploitative."

Why she agreed to the video: "I had initially turned it down. I was eventually convinced by the director, who I really liked, to do it. It was kind of a good opportunity for me in a way because I couldn't really speak to the lyrics as I didn't write them, but I could about the video. I had all kind of ideas to say so it ended up being a good platform, because on the other side I think people were like 'well let's hear what the girls think.'"

Scoring the part in Gone Girl: "It was really surreal. I had read the book when it came out and it was a total page turner and stuck in my mind. I think that because I had gone through the audition process I had a little bit more confidence because they picked me, so hopefully I was there for a reason."

How she did her nude scene with Ben Affleck: "There was only a few camera guys and David [Fincher] and Ben which made it a lot easier. '[Ben] just made me feel comfortable as a friend and that made it all feel good. You don't really have much time to be overly self-conscience."

Will she continue to act? "I'm definitely being really selective, especially coming from a modelling background and having an opportunity like Gone Girl where people are taking me seriously. And I have David in my corner… I want to establish myself as someone who can act and doesn't have to rely on my figure or modelling background."

She's not chasing after an Oscar: "I don't know about winning Oscars, I don't think you should have those goals. I like acting, it's creatively fulfilling; it's fun, it makes me feel good and it's a hard job, but when you do a scene and you know you've nailed it there's nothing better than that."
Is she a genius? Nope. But she's not a complete idiot either. She's a 23 year old model-turned-actress trying to find some footing in a new and exciting career. I wish her view of feminism was more nuanced, political and economic, but frankly, I'll take what I can get. The freedom to be a sexual person is part of feminism too. As for how Ben Affleck made her feel comfortable… you guys know what I think. Ben hand-picked Emily for that role. He coached her privately too. And David Fincher likes to do a million takes. That's like a whole day of Ben motorboating Emily on camera.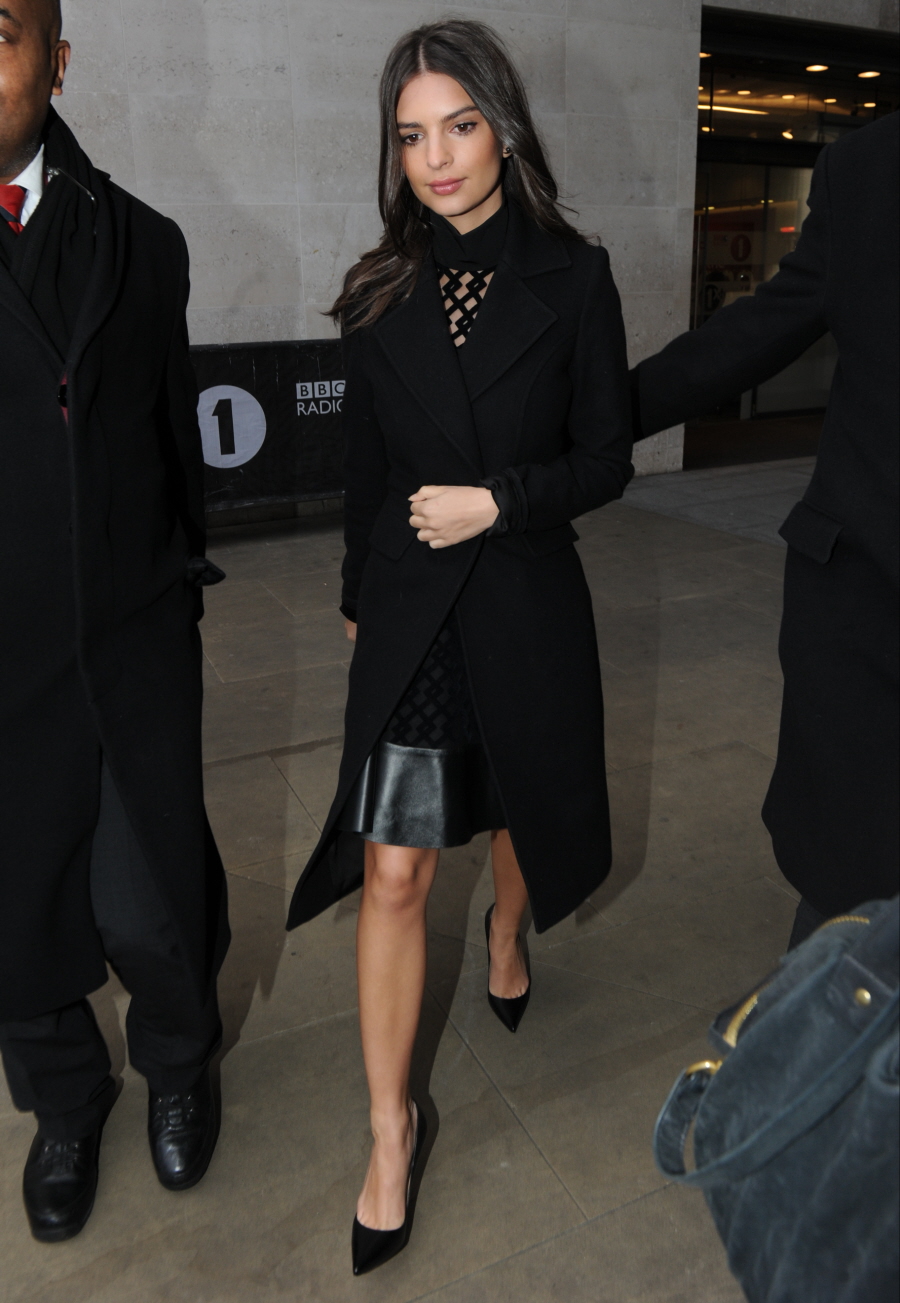 Photos courtesy of WENN.