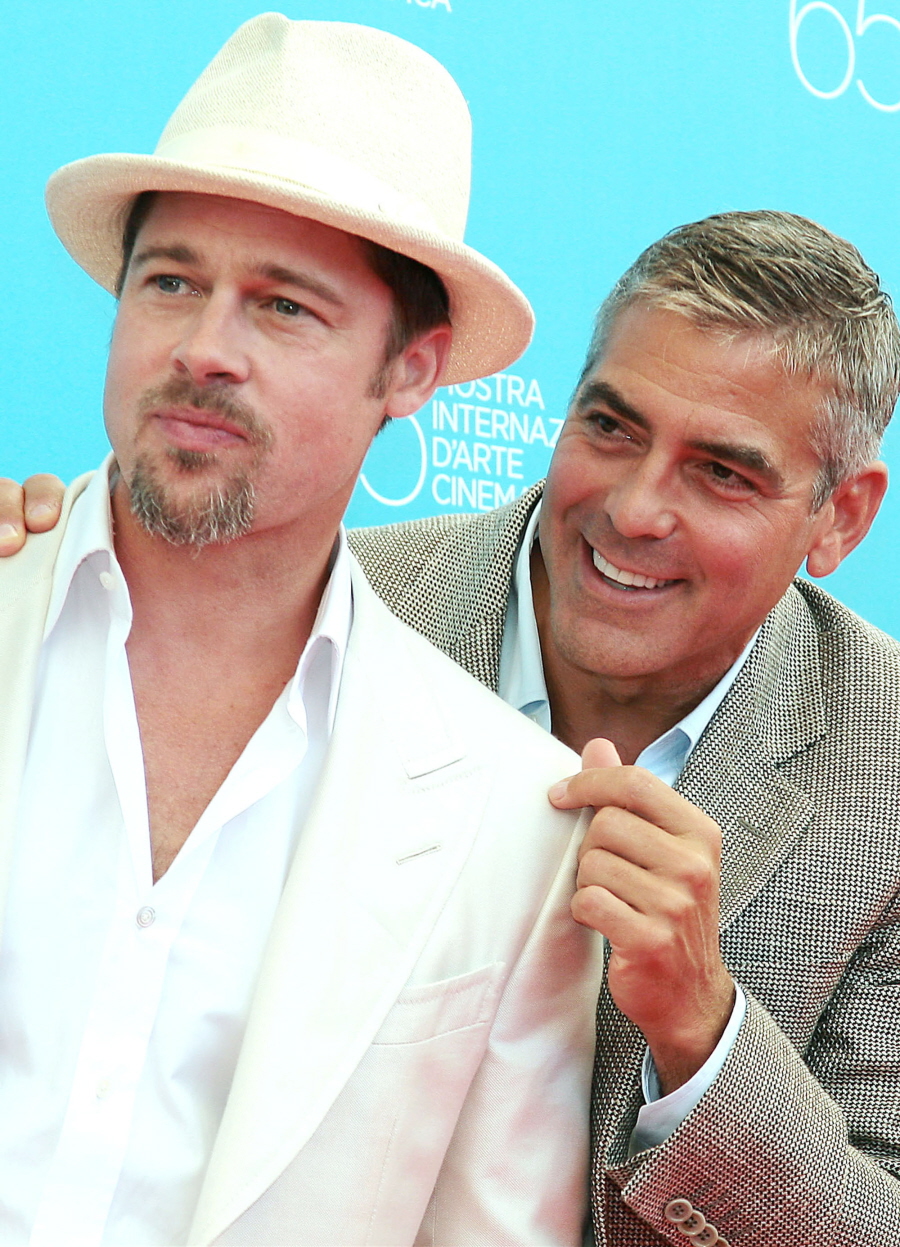 I've thought for a long time now that George Clooney and Brad Pitt have never really been BFFs. They were friendly enough making the Oceans movies, but they never go out of their way to hang out with each other, especially once Brad got with Angelina and became a father. They were never bros, at least not in the way Clooney is bros with his dude-friends. So, how did that happen? Why did George and Brad never fully develop a bromance? Is it because they just had different life priorities? Is it because George always seemed slightly jealous of Brad (just my opinion)? Or is it because Brad thinks George is totally immature? BOY FIGHT!
George Clooney and Brad Pitt are at "war," according to OK!, which claims the "bromance" has "come apart at the seams" because Clooney is too childish for Pitt.

An insider says: "Brad's changed, and George hasn't. That's where the issue lies." OK! explains that Clooney's fondness for pranks and "frat-boy ways" is specifically what now separates him from Pitt. "At times, Brad actually finds George's behavior embarrassing and childish. That's something he never thought he'd think," a source claims.

OK! points to Clooney's recent time drinking tequila with Jennifer Aniston in Cabo San Lucas over the holidays. "Brad chuckled when he read about the trip… He thought it was typical George, trying to prove he's still Mr. Fun. Brad's got this holier-than-thou attitude at times, and George has put him on a pedestal, which hasn't helped."
Gossip Cop's insider says it's crap, which… I mean, sure. As I said, I don't think George and Brad have been close for a while a now, if they ever were. Does Brad think George is immature? Eh. I think George is immature. I would imagine that any father of six would look at George's life and think, "Kind of superficial." Which is exactly why George has made such a radical 180 in the past year, trying to convince everyone that he's not a punchline in one of Tina Fey and Amy Poehler's jokes.
Photos courtesy of Getty, WENN.