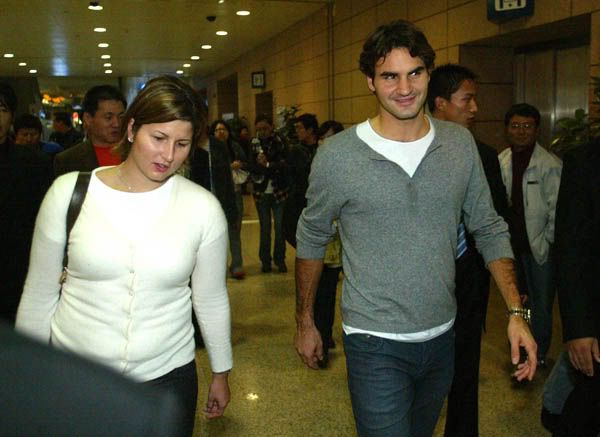 Here's a confession: I barely follow any sports at all. Football, baseball, soccer, basketball, I just don't care. I never have. The Oscars are my Super Bowl. The Golden Globes are my… whatever baseball has as their final thing-amajigs. But even I follow tennis. Just because I like the guys. And Roger Federer is lovely.
My interest in Federer started, oddly enough, with a profile of the Swiss hottie in Vogue Magazine several years back. The article had information about this girlfriend – Mirka Vavrinec. She's not just some tennis groupie, some fly-by-night hook-up that in it for the publicity. Federer's manager was quoted as saying something about how Mirka is essential to Team Federer. They've been together for years, and they are each other's best friend. So it's very happy news that the two are expecting their first child together. Federer confirmed the news on his website, and OK! has the details:
He's conquered the tennis world, now it's time to pass a little of his expertise on to the next generation.

On Thursday, 13-time Grand-Slam champion, Roger Federer, announced he is expecting a baby this summer with girlfriend Mirka Vavrinec . This is the first child for both Federer and Mirka. The tennis champ is in Indian Wells, Calif., for the Masters' Tournament.

On his official website Federer writes:

"Dear Fans,
I arrived in Indian Wells earlier this week and I am eager to get back out on court. My back is feeling much better and I am ready to go.

I also have some really awesome news to share with all of you: Mirka and I are excited to let you know that we will be parents this summer! Mirka is pregnant and we are so happy to be starting a family together. This is a dream come true for us. We love children and we are looking forward to being parents for the first time. Mirka is feeling great and everything is going well.

Speak soon and thanks for all your continued support! Roger "

Well ladies, looks like Roger is officially off the market!
From OK! Magazine
Uh, Roger, you were off the market all of those years you were with your girlfriend, before she got knocked up. But no matter! I'm very happy for Roger and Mirka. She seems like a very nice girl who is very invested in Roger Federer the person, not Roger Federer the tennis champion.
In interviews, Roger seems so low-key, and almost excessively polite, compared to his intensity on the court. I bet he'll make a great dad, and I bet the kid starts training early for future tennis glory.
Roger and Mirka are shown at the airport in Shanghai on 11/5/07. Credit: WENN.com. She's also shown doing her makeup at the US Open on 8/28/07. Credit: Jano/starmax/Newscom.