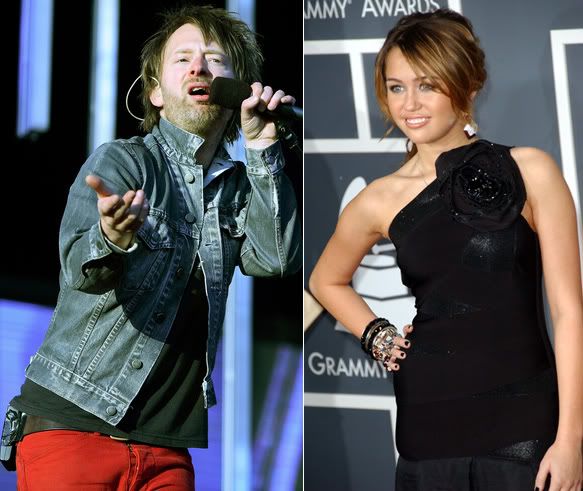 Thom Yorke of Radiohead has hit back at Miley Cyrus' public complaint that the band wouldn't meet her, 'cause she'd already texted all her friends and was like totally embarrassed. Yorke said that Miley has a "sense of entitlement" that she'll lose once she "grows up":
In a radio interview last week (ends06Mar09), Cyrus said, "My manager asked and said, you know, 'Miley, she's really obsessed and she'd really like to meet them,' and they were like, 'Yeah, we don't really do that.'"

Cyrus was left humiliated by the slight – because she had already boasted to her friends about meeting the band.

She adds, "I left 'cause I was so upset. I wasn't going to watch! I'd already texted all my friends, we were all freaking out."

And the teen sensation was so hurt she made an instant decision to expose Radiohead as mean guys – something that has annoyed Yorke.

In a statement issued to magazine Us Weekly, the Fake Plastic Trees singer says, "When Miley grows up, she'll learn not to have such a sense of entitlement."
Zing!
Radiohead have long held a policy of not doing that kind of media thing, and letting their music speak for itself. It can come across as kind of snobbish, but I like that they're proving you can sell albums without having to have an accompanying television show, clothing line, and running stream of paparazzi pictures.
Miley wasn't the only one who got the brush off, Kanye West also got knocked back with a very s
Kanye West also has a bone to pick with the band. During his "VH1 Storytellers" taping, West told the audience he, too, was snubbed by the British band at the Grammys. He was so mad that when Radiohead performed, "I sat the f— down."

So, much in Kanye's style, the guys addressed the beef rumors on their Web site, Dead Air Space. "Wish us all a safe journey," Radiohead frontman Thom Yorke blogged. "If you still like us and you're not one of those people I have managed to offend by doing nothing, xx."
Couldn't they have set up a meeting with Kanye and Miley? That would have solved everything!
It's unusual for Thom Yorke to respond to this kind of thing, but maybe he was annoyed that Miley got a lot of publicity for her comments, more than Radiohead received for their performance. I have no idea why Miley and Kanye thought that Radiohead should meet them, they have nothing really in common musically. Oh that's right – Radiohead are the darlings of the music press and Kanye and Miley wanted a piece of that. If Kanye and Miley were real fans they would have respected Radiohead's wishes and be content to see their performance.
Photo credit: PRPhotos. Yorke is shown performing in London on 6/25/08. Cyrus is shown at the Grammy Awards on 2/8/09